Justin Verlander is a 39-year-old veteran who's already won two Cy Young Awards in his 17-year career. Shane McClanahan is pitching in only his second major league season with the Tampa Bay Rays. But while they may have vastly different resumes, these two pitchers are likely to duel for the American League Cy Young Award over the second half of the 2022 season.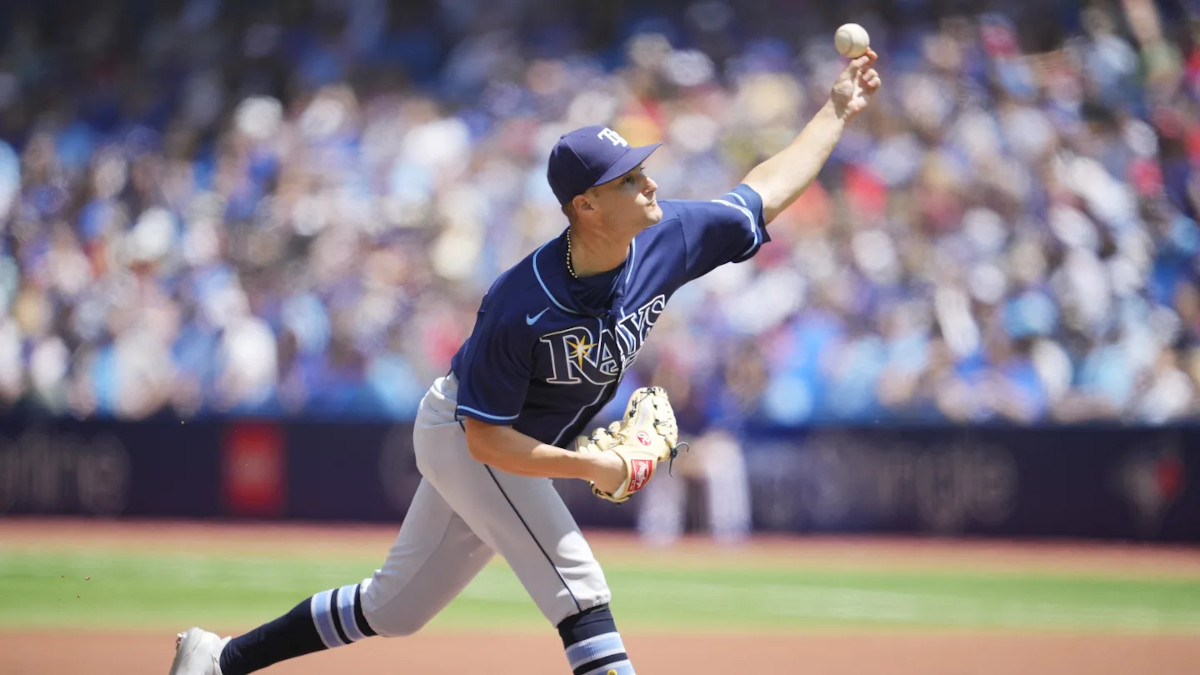 FanDuel Sportsbook lists McClanahan as the slight +250 favorite over Verlander (+270) for the AL Cy Young.
Improved control, repertoire leading McClanahan to success
McClanahan has improved by leaps and bounds over his rookie season. In 2022, he's gone 9-3 with a league-leading 1.74 ERA and 133 strikeouts to make himself a likely choice for the American League's starting pitching in the All-Star Game.
Tampa Bay pitching coach Kyle Snyder says McClanahan deserves the nod over Verlander and other candidates.
"I get that Justin Verlander has come back and had a wonderful season," Snyder said, via the Tampa Bay Times. "But if you're looking at who's done what in the first half of this year – if that's the criteria, which I'm guessing it should be – I think Shane's been the best pitcher."
McClanahan throws four plus pitches, baffling hitters with a powerful fastball and unhittable breaking balls. But the biggest change for McClanahan may be his commitment to cutting down his walk total this season. His walk rate has dropped from 2.7 per nine innings in 2021 to just 1.6 this year.
"You just get really tired of walking people," McClanahan told MLB.com. Luckily, I have the opportunity to work with Kyle Snyder and everybody in this Rays organization, and they've given me the opportunities to prove myself and I'm very thankful for that."
Verlander dominating in return from injury
Meanwhile, Verlander is throwing as well as he has at any time in his career after missing 2021 due to injury. So far in 2022, he's 10-3 with a 2.03 ERA over 97.1 innings in 15 starts. He leads the league in wins and is second in ERA.
While Verlander isn't striking out batters at his normal rate, he's finding ways to get outs and lead the Houston Astros staff yet again, even at this late stage of his career.
"Just trying to be smart," Verlander told reporters while talking about how he's guiding his body through a long season. "Just trying to listen to doctors and everybody and take as much time as I can and try not to push things.
Still, Verlander ranks eighth in the American League in innings pitched. That workload could come down a bit prior to the playoffs. Or it could increase, as Verlander starts to pitch more regularly on a fifth-day schedule.
"I plan on getting there," Verlander said. "I think I did it three or four times in the first half. The only thing I haven't done is gone repetitious five days."
While McClanahan and Verlander are the clear Cy Young favorites, there are a few other candidates stalking them closely. Gerrit Cole (+850) remains a factor thanks to his 7-2 start and a 2.99 ERA for the first-place Yankees. Meanwhile, Shohei Ohtani (+1100) is in the running for both MVP and AL Cy Young, as his 7-4 record and 2.68 ERA puts him among the best hurlers in the league, if a step behind the leaders in the race.