The cream rose to the top during the preliminary rounds of the Airthings Masters, with World Chess Champion Magnus Carlsen, Hikaru Nakamura, and Wesley So sitting tied for first during the round-robin portion of the tournament.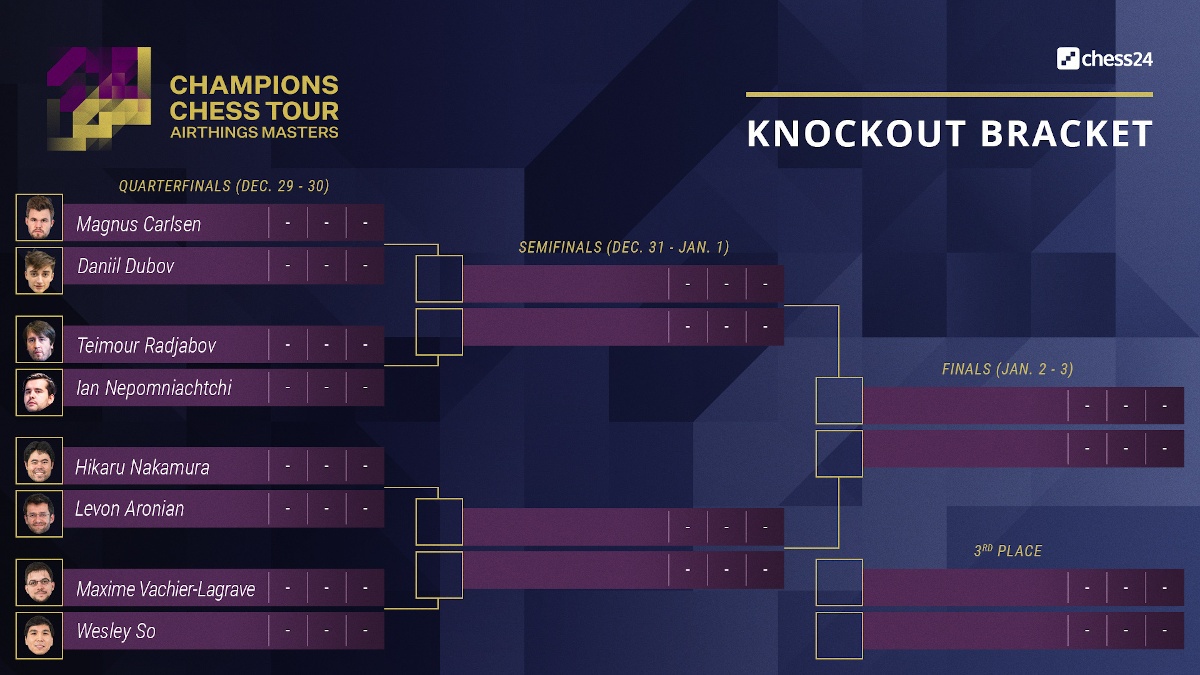 Carlsen, So, and Nakamura each scored 6.5/11 in the preliminary rounds, enough to lead a tightly packed field. The three took the top seeds – in that order – heading into the knockout rounds.
Dubov, MVL Grab Final Knockout Berths
Ian Nepomniachtchi and Teimour Radjabov also safely advanced on six points, while Levon Aronian made it through on 5.5.
It was a thrilling end to the prelim stage of the $200,000 Airthings Masters. Here are some highlights. #ChessChamps https://t.co/eqhmr4g3Py pic.twitter.com/OtvVZ3VCjw

— Champions Chess Tour (@ChampChessTour) December 28, 2020
That created a mad scramble at the cut line of five points. French grandmaster Maxime Vachier-Lagrave came into Monday with little hope of advancement. A final round victory with Black over Alexander Grischuk vaulted him into seventh place.
Daniil Dubov qualified in eighth after starting the final day of the Airthings Masters preliminaries in first place. That left Grischuk and Pentala Harikrishna on the outside looking in on tiebreaks. Anish Giri and David Anton Guijarro failed to qualify, scoring just 4.5 points each.
Final standings after the prelims of Airthings Masters. #ChessChamps pic.twitter.com/E6YsywsCih

— Champions Chess Tour (@ChampChessTour) December 28, 2020
Dubov's fall from grace set him up for a quarterfinal matchup against Carlsen. The World Champion rounded into form, moving up the standings on Sunday and Monday to take the top seed.
"It was a good day today, I played a lot better than I did yesterday and the day before. It was more of a typical performance in that sense," Carlsen said after Monday's play. "[My top form] is coming for sure. I didn't feel in too much of a killer mode today, but I just think the positions didn't warrant that particular mode."
High Draw Percentage Plagues Airthings Masters
The tournament format also steered players toward conservative play. Eight of 12 players qualified for the Airthings Masters knockout rounds. Players knew that an even score – 5.5/11, or what a player would score if they drew every game – would almost certainly be enough to go through.
As a result, there were only 18 decisive results out of 66 preliminary games. More than 72% of the games ended in draws.
Just at the risk of irrational debate, but isn't the draw percentage of rapid starting to look … classical? #ChessChamps

— Jonathan Tisdall (@GMjtis) December 27, 2020
That shouldn't be the case in the knockout rounds. As in the Skilling Open, the Airthings Masters will feature a best-of-two match series beginning in the quarterfinals. Players will compete over two four-game mini-matches on consecutive days. Should each player win a match (or if both matches end in 2-2 draws), then blitz tiebreakers – and, potentially, an Armageddon game – will determine who moves on.
The eight remaining players will be competing for a $60,000 first prize, part of a $200,000 total purse for the tournament. The winner will also earn an automatic berth into the Tour Final.
As a major on the Champions Chess Tour, the Airthings Maters also features double tour points. Those points could prove valuable, as only the top eight players in the tour standings are guaranteed to be part of the field in the next event.