Sergio Aguero will leave Manchester City this summer once his contract with the English Premier League giant runs out, the club confirmed on Monday.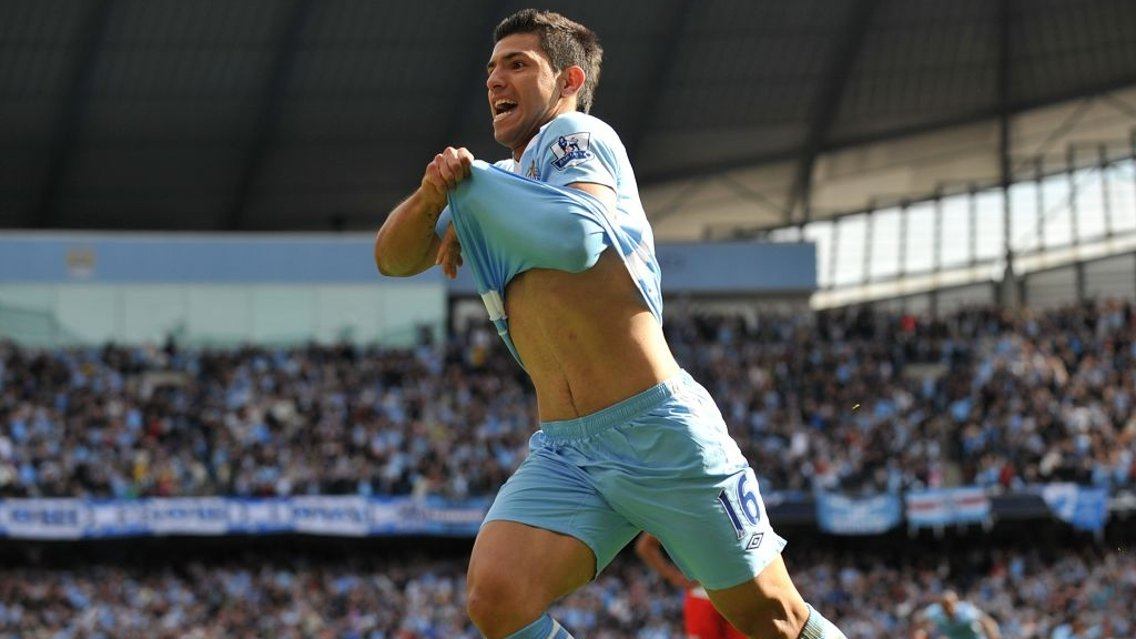 Aguero has been playing for City since 2011, joining for $44 million from Atletico Madrid. He is regarded as one of the club's best-ever players, and City has special plans to mark his departure.
He has 181 goals in 271 Premier League games. The 32-year-old Argentinian is the highest active goal-scorer in the league and the fourth all-time after Alan Shearer (260), Wayne Rooney (208), and Andy Cole (187). With 257 goals in 384 games for City across all competitions, Sergio is the club's all-time goal-scorer. His career total of 422 goals at the club and National-team levels, places him eighth among the world's active goal-scorers rankings.
Manchester City made the announcement of Aguero's departure official through a statement published on the club's website on Monday.
"Manchester City will bid a fond and emotional farewell to legendary striker Sergio Aguero when his contract expires in the summer. Treasured by City fans and a global icon of the game, Aguero is one of the most decorated and respected footballers to wear the sky-blue shirt," City's message read.
Instant impact: Aguero brought City the title after 44 years
It didn't take long for the diminutive striker to become a cult player at the Etihad Stadium. Just 1.73 meters tall (5 feet, 6-and-a-half inches), Aguero is far from being the prototype center-forward in the English game. Still, he didn't waste any time and took the Premier League by storm, scoring 23 times in his debut season. His most important goal in the entire campaign came right when it mattered most.
On the final day of the season, Aguero threw the city of Manchester into an earthquake of emotions. His 94th-minute goal for a 3-2 win over QPR gave City the title and left local rivals Manchester United baffled. It was City's first English league title since 1968.
Manchester City is building a statue to honor Aguero
Nicknamed Kun after the hero of the Japanese cartoon series Kum-Kum that he watched as a child, Aguero is leaving after a fairy-tale 10 years. And he'll do it as a City superhero. Khaldoon Al Mubarak, City's chairman, has revealed plans to place Aguero's statue alongside those of former Belgian captain Vincent Kompany, who left the club in 2019, and of Spanish offensive dynamite David Silva, who joined Spanish La Liga team Real Sociedad last summer after also spending 10 years with Man City.
"Sergio's contribution to Manchester City over the last 10 years can't be overstated. His legend will be indelibly etched into the memories of everyone who loves the club, and maybe even in those who simply love football. It gives me great pleasure to announce that we will be commissioning an artist to create a statue of Sergio to live at the Etihad Stadium alongside the ones under construction for Kompany and Silva," Mubarak told the City website.
The club plans to say its goodbyes to Aguero at the last home game of the season against Everton on May 23. City is hopeful that the pandemic's effects will slow down by then, so fans will be allowed back into the stadium in the thousands.
Aguero took to Instagram to send a message to City's faithful after his departure was formally announced.
"A huge sense of satisfaction and pride remains in me for having played with Manchester City for a whole ten seasons – unusual for a professional player this day and age," Aguero wrote. "A new stage with new challenges will begin and I am fully ready to face them with the same passion and professionalism."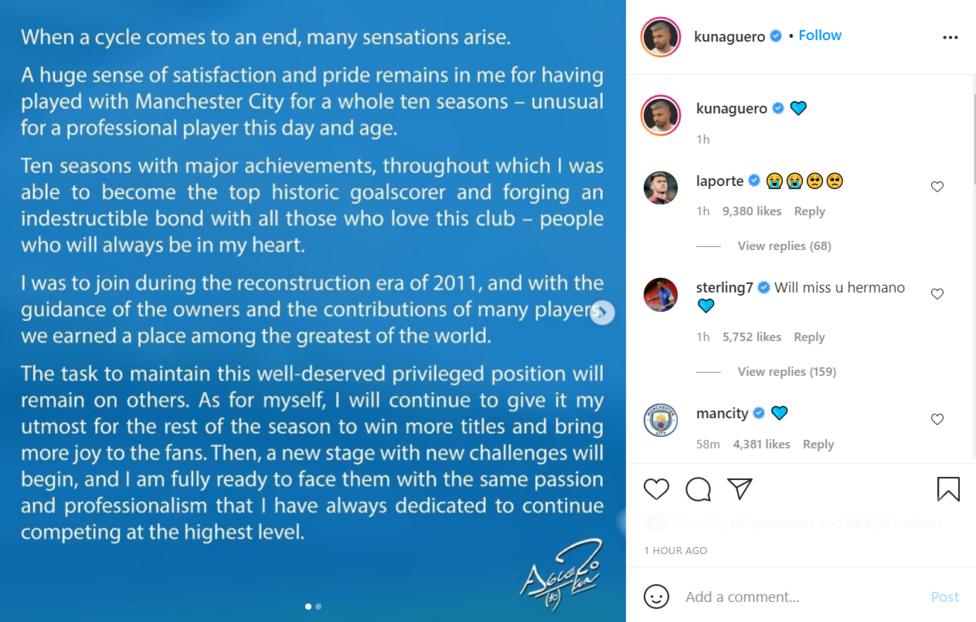 Barcelona, Juventus, Chelsea, PSG: Where next for Aguero?
The current season has been Aguero's worst at City. Due to injury, he could only play just 14 games in all competitions, scoring just three goals. Guardiola's team is first in the Premier League, 14 points clear of Manchester United, with eight games to go until the conclusion of the championship. City has a chance of winning a historical quadruple this season: they are in the League Cup final (where they'll face Jose Mourinho's Tottenham Hotspur on April 25), and also in the FA Cup semi-finals, and in the Champions League quarterfinals (vs Borussia Dortmund).
Aguero's next challenge could be in Barcelona, which has already approached him. According to TyC Sports, newly elected Barca president Joan Laporta hopes to convince superstar Lionel Messi not to leave this summer by signing one of his best friends in football. Juventus, PSG, and Chelsea are also monitoring Aguero's situation.
Aguero is at +225 for joining Barcelona, while heading back home to Argentina at any Primera Division club is at +500. Partnering up with Cristiano Ronaldo at Juventus is at a huge +1000.