With the MLB season delayed indefinitely due to the coronavirus outbreak, the New York Yankees are still concerned about a rib injury with their star slugger, Aaron Judge. Heading into spring training, the Yankees were dealing with injuries to three key players: OF/DH Giancarlo Stanton, starting pitcher James Paxton, and Judge in right field.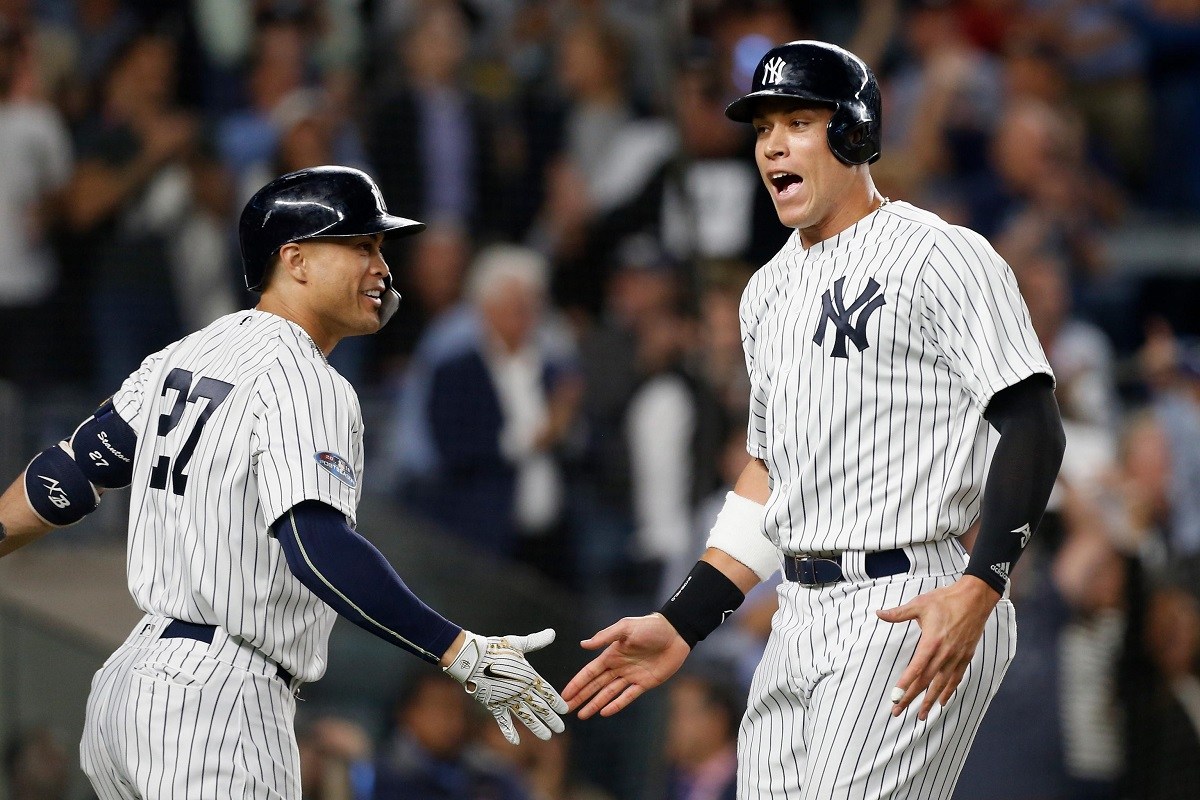 Rumors suggest that baseball could resume with spring training in June with a hopeful return by early July. If you work in marketing, what could be better to hype than that America's pastime returning on America's birthday on the Fourth of July?
While officials are trying to figure out the future of baseball in a post-pandemic world, players have been left on their own to work out and stay in shape. The delayed start of the season allowed injured players time to take advantage of the shutdown to heal and reduce how many regular-season games they would miss.
The Yankees experienced a ridiculous amount of injuries last season. We started referring to them as "Bronx ER" our OG's coverage. At one point, one of the local beat reporters started a tally of which starters weren't injured, because it was a significantly smaller list compared to which Yanks were on the IL.
The Yankees hoped they could fade injuries in 2020, but the woes of the Bronx ER continued at the onset of spring training. So how has the shutdown and delayed season affected those injured players?
Mystery? Aaron Judge Rib Injury
Judge, 27, suffered a stress fracture in his right rib sometime at the end of last season while diving for a ball in the outfield. He played through the pain during the remainder of the season and the postseason. Neither Judge nor the Yankees knew the severity of his injury.
At the start of spring training, Judge missed some time due to shoulder and pectoral soreness. An MRI revealed the stress fracture in an unusual spot. Doctors suggested surgery to remove a rib to help the injury heal faster. Judge skipped surgery and hoped rest would heal it.
Judge got lucky with the shutdown because it gave him at least two months (and counting) to convalesce.
"We're using this time, he's using this time, to continue to heal," said manager Aaron Boone. "I don't really have much more for you other than, obviously, it's been very productive having the chance to have this time to allow that rib to heal and that is happening."
Judge, a native of Northern California, remained in Florida during quarantine. He continued to rehab at the Yankees training complex in Tampa.
In 2019, Judge missed 60 games. In 2018, he missed 50 games. He hit 27 home runs in each of his last two seasons. In 2017, Judge won the AL Rookie of the Year by smacking 52 home runs and driving in 114 runs. At the time, he set the MLB record for most homers by a rookie.
Paxton Back Surgery
The Yankees lost starting pitcher James Paxton to back surgery at the start of spring training. The Yanks thought the Big Maple could miss up to three months of the season.
Paxton led the staff in strikeouts and ERA in 2019. After signing super-ace Gerrit Cole, the Yanks expected Paxton and Masahiro Tanaka to battle for the #2 spot in the rotation.
Last season, Paxton went 15-6 in 29 starts with a 3.82 ERA and 1.28 WHIP.
"Paxton has done great, (I) feel really good about the decision to go ahead with the surgery, and every step of the way it's gone pretty smoothly for him," explained Boone. "He threw his fifth bullpen maybe the other day and continues to report that it's going well. Really encouraged where James is."
After back surgery, Paxton remained at his home in Wisconsin, where he had been quarantining. The Yankees expect Paxton back in the starting rotation whenever the season begins.
Perpetual Infirmary, Giancarlo Stanton
Giancarlo Stanton, 30, missed the start of spring training with a Grade 1 right calf strain. The team expected their DH and outfielder back by the start of the regular season.
"Giancarlo is doing well," Boone told the YES Network. "He's still reporting in Tampa and going through his rehab. When we get ready to go, he should certainly be ready to be back and part of things."
Stanton earned his reputation as the best home run hitter in the National League in the mid-2010s. He achieved that feat on one of the worst rosters in baseball, too. In eight seasons, Stanton smacked 267 home runs, but his team never won 80 games just once. The Marlins lost 90+ games five times during Stanton's tenure in Miami, including 100 losses in 2016.
The Yankees sought to assemble a postmodern version of the M&M Boys (Mickey Mantle and Roger Maris) with two guys that could jack 50-plus homers each. The organization expected a bona fide slugger like Stanton, paired with the AL Rookie of the Year in Judge, would reap 100 combined home runs per season. On paper, the Stanton/Judge combo looked outright frightening. In reality, injuries prevented both players from reaching their full potential.
After a slow start in 2018, Stanton finished the season with 38 home runs and 100 RBI. That was 21 fewer than his 59 jacks and 132 RBI in 2017 with the Marlins.
In 2019, Stanton appeared in only 18 games. He connected on three home runs and tallied 13 RBI. The Yanks overpaid Stanton $26 million to hit three dingers.