The bad beats continue for the New York Yankees in the latest episode of Bronx ER. Aaron Judge is the latest high-profile member of the Yankees to catch the injury bug with a fractured rib. The team announced Judge will be out indefinitely, but tests revealed he's had the injury since last September.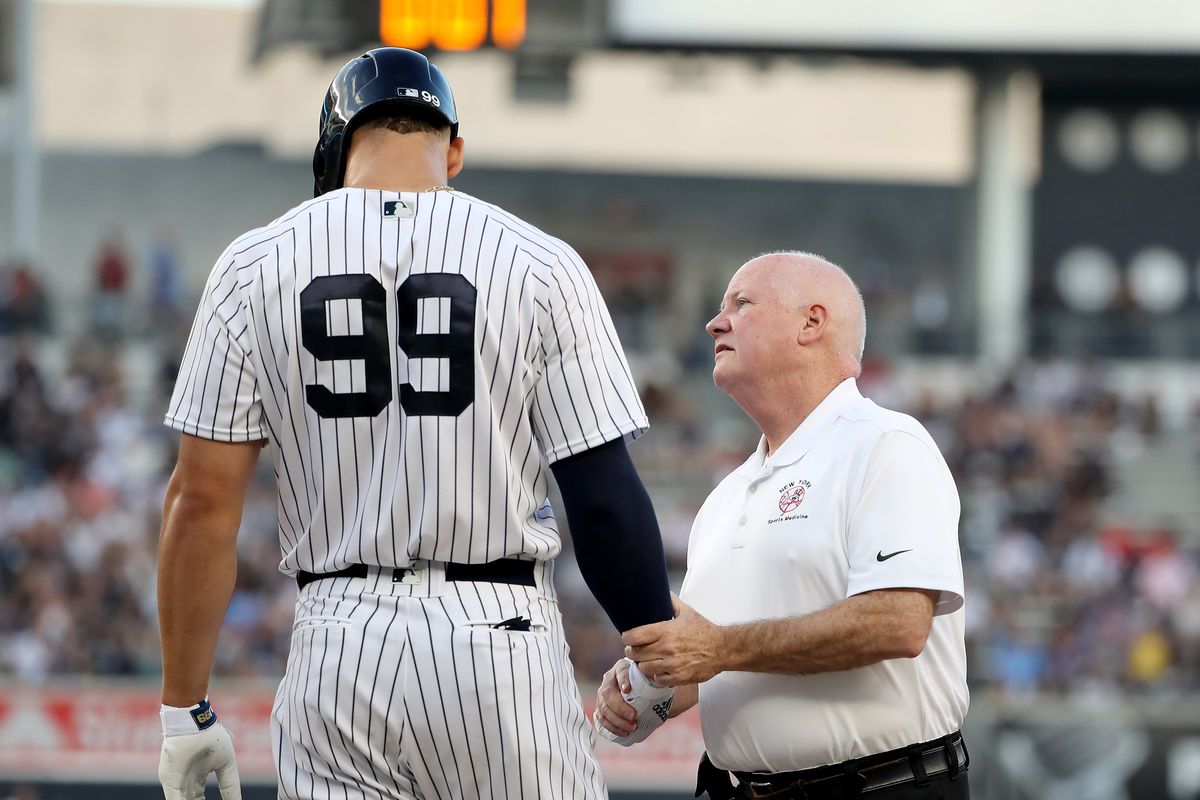 The Yankees initially shut Judge down in the first week of spring training with a shoulder injury. Two weeks later, an MRI revealed a stress fracture in his first rib.
"Hopefully we'll re-assess in two weeks where he's at, as far as the bone's healing," said Yankees manager Aaron Boone. "And then we'll hopefully have an idea of what that looks like."
Judge joins other big names on the Yankees who went down with injuries, including Giancarlo Stanton (calf), Luis Severino (Tommy John surgery), and James Paxton (back surgery).
In 102 games last season, Judge hit .272 with 27 home runs and 55 RBI. He slashed at .272/.381/.540. Judge missed nearly two months of the 2019 season with an oblique injury.
"It's tough," Judge said. "In '18, having the fluke injury, getting hit, that's nothing you ever want to have happen. Then the following year, straining an oblique, early in the season, too, that's pretty tough."
In 2018, Judge fractured his hand after he was hit by a pitch. He missed over a month of action while it healed. He returned late in the season, but didn't look like his old self until the playoffs.
During his rookie campaign in 2017, Judge played 155 games and hit .284. He crushed 52 home runs and knocked in 112 runs, winning the AL Rookie of the Year award. At the time, Judge set an MLB record for most home runs by a rookie. Fans caught a glimpse of their next superstar, but he's yet to play a full season since 2017.
Cracking the Rib, Catching the Crack
The Yankees claimed it took them so long to pinpoint the source of injury because they didn't know they were looking for a rib issue when they assumed Judge had a shoulder strain.
"Aaron Judge had MRIs on shoulder, chest, bone scans, CT scans, X-rays, all these things, and it was just this particular CT scan that ultimately found the injury," explained Boone. "It was, for whatever reason, an injury that is difficult to spot in kind of the normal battery of tests that you'd have."
The Yankees suspect Judge injured his rib back on September '18 against the Los Angeles Angels. Judge dove for a ball hit by Albert Pujols, and landed on his side.
"I felt a crack, felt a pop," said Judge about the dive.
He missed the next game, but returned to the lineup two days later. Judge played through the pain the remainder of the season and all throughout the playoffs.
"You got adrenaline flowing, you got postseason coming up," said Judge. "That's the main concern. I want to be out there on the field. So, I told them the symptoms. I did all the strength tests, everything was coming back alright. Just some pain in the shoulder, so (I) get a couple shots and got ready for the postseason."
Judge Rib Surgery?
The Yankees and Judge didn't rule out surgery. Judge and the Yankees would prefer to allow the stress fracture to heal on its own, but the time frame is unknown.
"If this injury does not heal in a timely fashion, then Aaron Judge will have the rib removed via surgery," said general manager Brian Cashman.
The latest injury drama is a similar situation to both James Paxton and Luis Severino. If players were injured all offseason, why did the organization wait until the start of spring training before everyone underwent thorough testing? If Paxton had surgery as soon as the season ended, he'd be ready to roll by spring training. Severino will miss at least a full season with Tommy John surgery, but they wasted several months of potential rehab.
In Judge's case, why the heck did they not keep an eye on their giant slugger and franchise star?
"Aaron went into the offseason just thinking that rest would handle it," said Boone. "He was able to do all his normal workouts in the winter, his throwing and hitting, and then as he got down here and really started ramping up, especially the hitting side of things, that's when it got to a point where he needed start getting some answers."
If Judge ends up needing surgery, this should have been nipped in the bud in early November and not in March. Then again, the fact that it's been 5.5 months and the injury hasn't fully healed is troubling. What will two weeks really do?
Despite another injury-plagued season looming over the Bronx, the Yankees are 4/1 odds to win the 2020 World Series.