The horror show known as "Bronx ER" continues for another season in Gotham. The New York Yankees announced that starting pitcher Luis Severino has an elbow injury and will undergo Tommy John surgery. He will miss the entire 2020 season.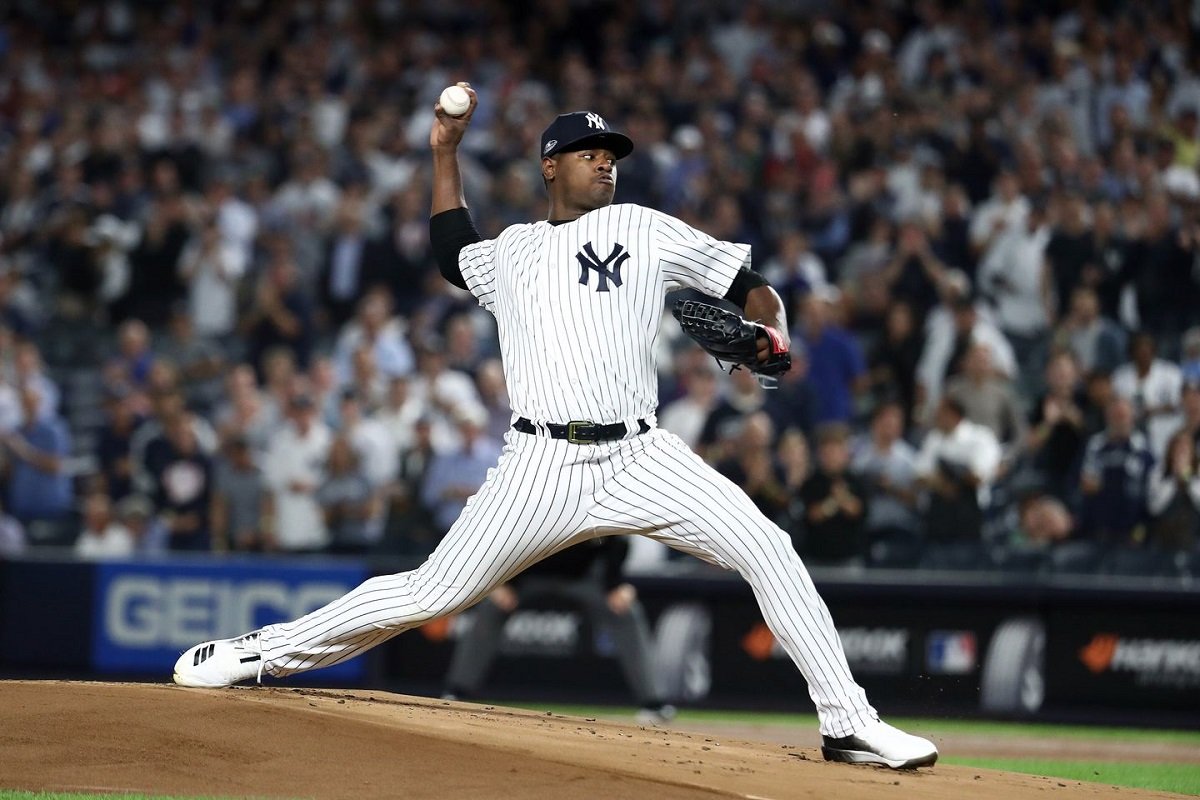 The Yankees shutdown Severino last week due to discomfort in his arm. An MRI revealed a minor tear in his UCL.
"After examining Luis Severino, the doctors concluded that Tommy John surgery is necessary," said Yankees general manager Brian Cashman.
Severino, who missed a significant part of last season with a shoulder injury, will miss the entire 2020 season. Players usually miss a full season or more while recovering from Tommy John Surgery, but the Yankees hope Severino will return sometime in 2021.
Since his debut in 2015, Severino started 88 games and relieved 11 games. In 2018, Severino emerged as the Yankees ace with a 19-8 record (2.39 ERA and 1.14 WHIP). During his first full season as a starter in 2017, Sevy went 14-6 in 31 starts with a 2.98 ERA and 1.04 WHIP.
2020 NY Yankees Projected Rotation
Gerrit Cole
Masahiro Tanaka
JA Happ
Jordan Montgomery
Jonathan 'Johnny Lasagna' Loaisiga
INJURED: James Paxton, Luis Severino
Severino appeared in three games at the end of 2019 after missing almost the entire season with numerous injuries and setbacks. Sevy went 1-1 with a 1.50 ERA and 1.00 WHIP, which was essentially a tune-up before the postseason. He went 0-1 with a 2.16 ERA in two October starts for the Yankees, who were eliminated in the 2019 ALCS by the Houston Astros.
Sevy Dunzo, Rotation Takes Another Hit
Severino is the second starter the Yankees lost to injury this month. James Paxton had back surgery and will miss three to four months while recovering.
Last season, the Yankees ran an infirmary at Yankee Stadium with the ridiculous amount of injuries that occurred from the start of the 2019 season. Dubbed "Bronx ER," the Yankees still won the AL East and secured 103 victories with a AAA squad for most of the season.
Right now, every Yankees fan is saying, "Thank God for Gerrit Cole."
The Yankees acquired Cole in the offseason after he bailed from the Houston Astros. Cashman didn't mess around and opened up the Steinbrenner vault to snag the top arm on the free-agent market. Cole signed for a record-setting contract worth $324 million over the next nine seasons.
Cole is currently the Cy Young favorite in the American League.
The Yankees don't have Domingo German for the first half of the season while he serves a suspension (63 games) for a domestic abuse violation. German excelled last season filling in when Severino missed the start of the year with a shoulder injury.
Next Man Up: Montgomery and Johnny Lasagna
Without Paxton and Severino, manager Aaron Boone will rely on Jordan Montgomery and Jonathan "Johnny Lasagna" Loaisiga. Luis Cessa thrived last season as a long reliever. Cessna is also in consideration for a starting job.
When in doubt, there's always the opener method. Last season, Boone experimented with Chad Green opening games and then handing the ball over to Severino in the second inning.
Deivi Garcia, the Yankees' most-touted pitching prospect, has been compared to Pedro Martinez. Garcia quickly rose through the ranks in 2019. After an impressive stint in AA, Garcia ended his season in AAA.
With a second starter down with an injury, there's a greater chance the Yankees promote the right-handed Garcia to the big leagues. Even if it takes Severino longer to recover from Tommy John surgery than expected, at least the Yankees have a young arm that will be ready to roll by 2021.
With spring training underway in Tampa, other younger pitchers have a chance to prove their worth to Boone.
Ben Heller missed most of last season while rehabbing from Tommy John surgery, but he could be a possible replacement for Severino.
Albert Abreu is a right-handed prospect out of the Dominican Republic that has developed ahead of schedule.
Right-hander Mike King spent last season in AAA and appeared in a couple of September call-up games.
According to a recent update by the Mirage Race and Sports Book in Las Vegas, the New York Yankees are 4/1 odds to win the 2020 World Series. The Los Angeles Dodgers recently became the new favorite to win the World Series. The Dodgers jumped to 3/2 odds after they acquired Mookie Betts and David Price in a blockbuster trade with the Boston Red Sox.