New York Yankees left-handed starting pitcher, James Paxton, experienced a back injury and he's expected to miss up to four months after recovering from surgery.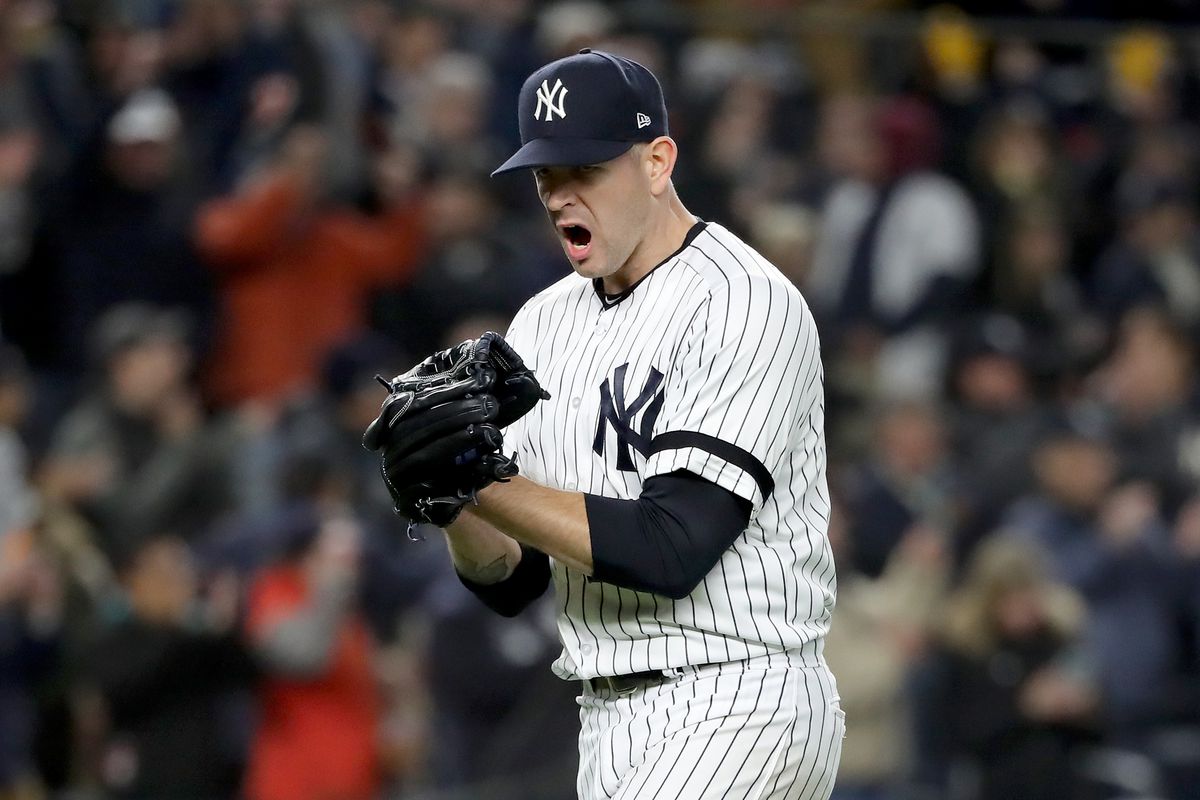 Paxton, 31, became one of the best starters for the Yankees in the second half of the 2019 season. After a slow start with a 5-6 record and a 4.72 ERA, Paxton went on a heater and won 10 decisions in a row with a 2.50 ERA.
Overall, he started 29 games in his first season with the Yankees and finished with a 15-6 record, 3.82 ERA, and 1.28 WHIP.
In October, Paxton went 1-0 with a 3.46 ERA in three playoff starts. The Yankees were knocked out of the ALCS by the Houston Astros, who were recently implicated in a cheating scandal.
2020 NY Yankees Starting Rotation
Gerrit Cole
Masahiro Tanaka
James Paxton
Luis Severino
JA Happ
Domingo German**
** Suspended for 63 games
Paxton experienced pain in his back during his first season with the Yankees, but he played through the injury. He missed several starts with a sore knee.
"(Paxton) pitched extremely well, especially in Houston," said Yankees GM Brian Cashman. "When he started ramping up his winter program about four weeks or so ago, he started feeling symptoms again."
Earlier this week, Paxton underwent back surgery. The Yankees revealed he had a microscopic lumbar discectomy, including the removal of a peridiscal cyst.
The Yankees originally acquired Paxton, dubbed the Big Maple because he's 6-foot-8 and from Canada, last offseason. The Seattle Mariners traded Paxton to the Yankees for pitching prospect Justus Sheffield. Paxton once tossed a no-hitter during his time with the Mariners.
Bronx ER… Again?
Last season, the Yankees were dubbed "Bronx ER" due to their numerous injuries. It seemed like almost every starter spent time on the IL at some point during the season. Several players spent multiple stints on the IL.
Aaron Boone should have won Manager of the Year for his stellar work guiding the Yankees AAA team to 100-plus wins and an AL East division crown.
2019 Yankees Starting Rotation
Masahiro Tanaka (15-11)
James Paxton (15-6)
Domingo German (18-4)
JA Happ (12-8)
CC Sabathia (5-8)
In his final season before hanging up the spikes, CC Sabathia only started in 23 games. He finished with a 5-8 record, but he passed 250 wins and reached the 3,000th strikeout milestone.
Boone also employed an opener strategy in the second half of the season. Boone sent Chad Green (4-4) to the mound to pitch the first inning and occasionally some of the second inning. Then he'd turn the ball over to Nestor Cortes (5-1) or Luis Cessa (2-1) and then relied on his well-stocked bullpen for the rest of the game.
New Spring, New Ace
JA Happ seemed like the odd man out once the Yankees signed Gerrit Cole. Cole finished second in the AL Cy Young voting even though he went 20-5 with a 2.50 ERA.
Happ's name was mentioned in multiple trade rumors this winter. However, with Domingo German suspended for 81 games after a domestic abuse incident, the Yanks needed Happ to fill in. German served some of the suspension at the end of last season, but he'll miss the first 63 games of the 2020 season. That's roughly 13 starts that German will miss.
With the recent news about Paxton injury, the Yankees will need Happ more than ever as he moves into the #4 spot in the rotation.
Jordan Montgomery has been penciled in at #5 in the rotation. Montgomery spent most of last season recovering from Tommy John surgery.
Expected 2020 Opening Day Rotation
Gerrit Cole
Masahiro Tanaka
Luis Severino
JA Happ
Jordan Montgomery
The Yankees are fairly deep in the starting department, so they can weather their first storm of the season while Paxton recovers from back surgery. Jonathan Loaisiga (2-2), aka Johnny Lasagna, filled in for CC Sabathia for a couple of starts last season. Luis Cessa (2-1) is also an option. The Yankees also have a top pitching prospect, Deivi Garcia, who might finally make it to the "Show" this season.
According to the Mirage Sports Book in Las Vegas, the Yankees are 4/1 odds to win the 2020 World Series. The LA Dodgers recently jumped ahead of the Yankees at 3/2 odds after they pulled off a mega-trade with the Boston Red Sox to acquire Mookie Betts and David Price.