The New York Yankees boast the best record in baseball at 23-8 mostly in part to stellar pitching and home runs. Aaron Judge leads the MLB with 11 home runs, and teammates Anthony Rizzo and Giancarlo Stanton each hit nine HRs.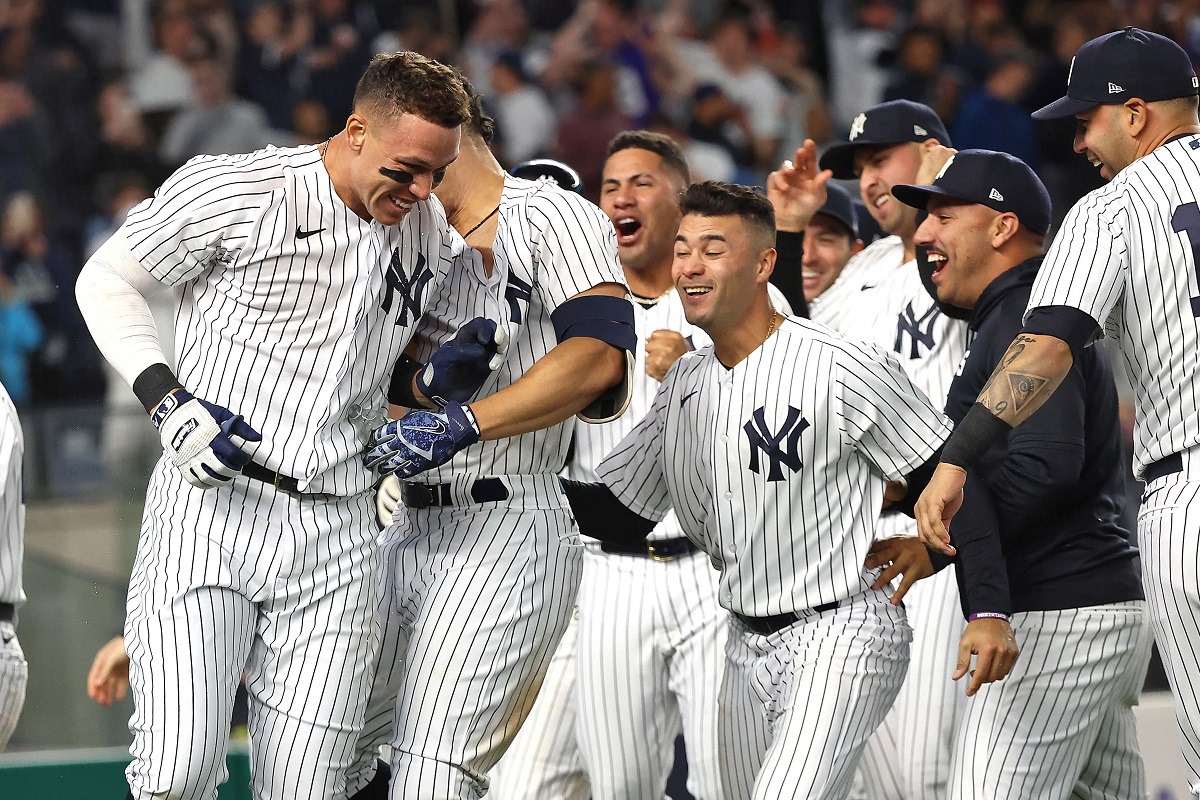 In last night's 15-7 victory against the Chicago White Sox, the Yankees combined for four home runs. Josh Donaldson broke out of his slump with a three-run home run, Judge smacked a solo dinger late in the game, and Stanton crushed two home runs in the rout.
Overall, the Yankees lived up to their Bronx Bombers moniker when they combined for 44 home runs through the first 31 games. It's a good pace, but nothing close to the 307 home runs that the 2019 Minnesota Twins crushed with the Bomba Squad. The Twins barely edged out the Yankees, who hit 306 dingers that season. In 2018, the Yankees actually broke a 21-year single-season for home runs.
Let it G 👊 pic.twitter.com/rqfx7WrRm9

— New York Yankees (@Yankees) May 13, 2022
Stanton Goes Yard… Twice
If Stanton and Judge can remain healthy this season, the two sluggers can easily combine for 100 home runs. Stanton had an unfortunate string of bad injury luck since joining the Yankees in 2018. He appeared in 158 games in his first season in pinstripes, and cracked 38 home runs. However, the injury bug took over in 2019 and he played in just 18 games and hit a paltry three home runs.
During the pandemic-shortened season in 2020, Stanton appeared in only 23 out of 60 scheduled game and hit only four long balls. Last season, Stanton had his healthiest season since his first year in the Bronx with 140 games and he smacked 35 home runs.
Stanton has nine home runs this season, but when everyone in the lineup is hitting well, there's no soft spots in the middle of the batting order. He's obliterating the ball with a 98.1 mph average on batted balls, which is ranked #1 in the MLB.
"You know if you don't get it done, the guy in front of you or behind you will," explained Stanton. "It's good, it lets you kind of get deep into your at-bat and not rush your plan and try to execute best as possible."
On Thursday night, Stanton crushed home runs in his first two at bats. By the third inning, he was 2-for-2 with two home runs and 4 RBI.
Stanton finished the night 3-for-4 with six RBI. He now has 28 RBIs, for second best in the majors behind Jose Ramirez from the Cleveland Guardians.
Crush Hour. pic.twitter.com/Ag95NVCWrc

— New York Yankees (@Yankees) May 13, 2022
Judge: #99 Wants the Bag
Judge and the Yankees were unable to come to terms with a contract extension before the season began. Both parties were far apart in what each thought was fair compensation. The team reportedly offered Judge $30.5 million a season, and he rejected it.
"We're not going to talk about it now going forward," said Yankees general manager Brian Cashman. "Whether that means we're not going to talk, I'm not saying that, but we're not going to talk about it publicly.  But he's been great. But that's no surprise, because he is great."
Judge will test free agent waters at the end of the season. One of the reasons he's playing so well right now is that he wants to get the bag. A big one.
On Tuesday night, the Yankees defeated the Toronto Blue Jays – their AL East foe and biggest rival for the AL East crown – in a comeback win in the bottom of the ninth inning. The Yankees trailed 5-3 with two runners on base. Judge hit his tenth long ball of the season with a 3-run blast. It was his first walk-off home run at Yankee Stadium, which erupted when the moment he got good wood on the ball.
"It's a weird feeling," said Judge. "You hear the crowd going crazy and you see the bench, you see guys jumping over the railing. A special moment you get to share with them."
Against the White Sox last night, Judge hit his 11th home run of the season with a monstrous solo bash to left field in the top of the seventh to give the Yankees a 7-4 lead.
Pardon me.
Are you Aaron Judge, sir? pic.twitter.com/09dbj7TubW

— New York Yankees (@Yankees) May 13, 2022