A pair of freshmen big men are the favorites to get selected with the top pick in the next NBA Draft, set for June 23 at Barclay's Center in Brooklyn. Jabari Smith — a versatile freshman from the Auburn Tigers — is the betting favorite to become the #1 pick in the 2022 NBA Draft at +100 odds or even money. Chet Holmgren — a 7-foot-1 freshman from Gonzaga — is the closest competition for Smith at +160 odds to become the #1 pick.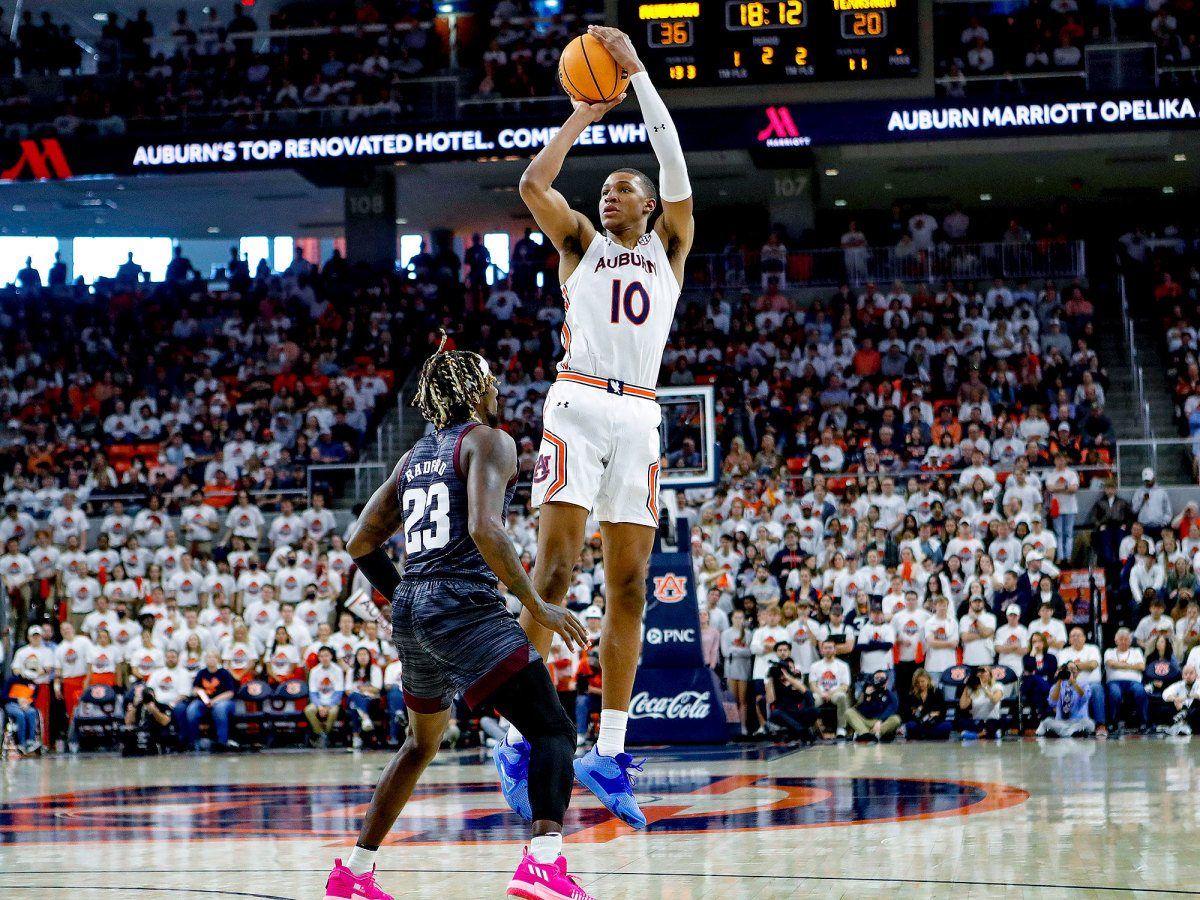 Paolo Banchero and Duke are still alive in March Madness after securing a trip to the Final Four. Banchero is another freshman and the third-best betting favorite on the board at DraftKings at +300 odds to become the #1 pick in the 2022 NBA Draft.
---
2022 NBA Draft #1 Pick Odds

Jabari Smith +100
Chet Holmgren +160
Paolo Banchero +300
Jaden Ivey +2500
Keegan Murray +10000
Johnny Davis +20000
Jale Duren +20000
Benedict Mathurin +20000
Shaedon Sharpe +20000
Tyty Washington +25000
Ochai Agbaji +35000
---
Keegan Murray, a sophomore forward and the Big Ten's leading scorer out of Iowa, recently declared for the NBA Draft. He's projected as a top-five pick, but he's +10000 odds to become the first pick.
The NBA is waiting until the end of the season to determine the draft lottery. They set forth anti-tanking measures, but you can guess which teams will be in the running for the #1 pick, such as the Houston Rockets, Orlando Magic, Detroit Pistons, and Oklahoma City Thunder.
Jabari Smith +100
Smith, a 6-foot-10 forward, averaged 16.9 points and 7.4 rebounds per game with Auburn this season. He shot an impressive 42% from 3-point range and demonstrated his ability to score from anywhere on the court.
Smith is a multi-positional player and playmaker for a big guy. He's strong enough to handle traditional big men, and he's quick enough to defend smaller guards on the perimeter, which is the primary reason he'll be the #1 pick.
Smith had an awful game in the second round of March Madness during an 18-point shellacking against Miami. He struggled with just 10 points on 3-for-16 from the floor, including 1-for-8 from 3-point land. On a positive note, he hauled down 15 rebounds and added three blocks in the loss.
Even though everyone who watched March Madness saw Smith play his worst game of the season (and of his short career at Auburn), he's still the favorite at -100 odds to get selected as the #1 pick in the upcoming NBA Draft.
Smith grew up in Georgia and loved both football and basketball, even though his father – Jabari Smith, Sr. – played professional basketball. When Smith got too tall for football, he focused on basketball instead. The elder Smith played his collegiate ball at LSU and was drafted by the Sacramento Kings in 2000. He bounced around the league and played pro ball in Puerto Rico before heading overseas to play in Iran, Turkey, and Spain.
Chet Holmgren +160
Holmgren, a true 7-foot teenager, averaged 14.1 points, 9.9 rebounds, and 3.7 blocked shots per game for Gonzaga. He shot 60.7% from the floor and 39% from 3-point range. He was Gonzaga's secondary scoring option behind Drew Timme.
The big knock against Holmgren is that he's too skinny. He's listed at 190, but that's being way too generous. He's a toothpick and makes the Unicorn look like Patrick Ewing. He's like a smaller version of Kristaps Porzingis (pre-knee injury), who is a giant with slick guard skills, but who also blocks shots with his 7-foot-6 wingspan. He can dribble, create his own shot, and score buckets in transition.
Opposing teams tried to bang and bully Holmgren, but despite getting tossed around like a ragdoll, he always held his own and never backed down. If he can bulk up and improve his free throws, he can have a decent career.
Holmgren is a legit lottery pick, but he's not in the same category as Smith. This might be one of those instances where he should stay in school one more season and put on some weight before he heads to the NBA to face brick-houses like Draymond Green, or DeAndre Jordan.
Holmgren is the second favorite on the board at +160 odds to become the #1 pick in the 2022 NBA Draft, but he's most likely not going to get picked #1 even though the folks at The Ringer slated him at #1 if the Houston Rockets win the lottery.
Paolo Banchero +300
Banchero is another 6-foot-10 freshman with serious guard skills. He led Duke in scoring with 17.1 points, 7.7 rebounds, and 3.2 assists per game. He shot 47.8% from the floor, but needs to work on his long-range shooting after connecting on only 33.3% of his treys.
My brother referred to Banchero as the Italian Jayson Tatum. That's a heck of a comparison. However, Banchero is the best player among the 2022 Final Four teams. He hit some huge buckets down the stretch and finished with 22 points for Duke against Texas Tech in the Sweet 16.
Scouts like Banchero because he can play more than one position and has the guard skills to be a point forward, even though Coach K used him as a post-up player.
Banchero isn't just an ISO guy who can beat his opponent off the dribble. He has savvy pick-and-roll skills and makes good decisions as a playmaker and short-roll passer. He can handle either role in the PNR, and has the size to set picks and pop out for a 3-pointer.
Banchero — once considered the favorite for the #1 pick in the 2022 NBA Draft — saw his odds slip to +300, but he's still among the top three on the prop betting board with Holmgren and Smith.