Keegan Murray, the versatile 6-foot-9 sophomore forward from the Iowa Hawkeyes, is leaving school after declaring himself eligible for the 2022 NBA Draft.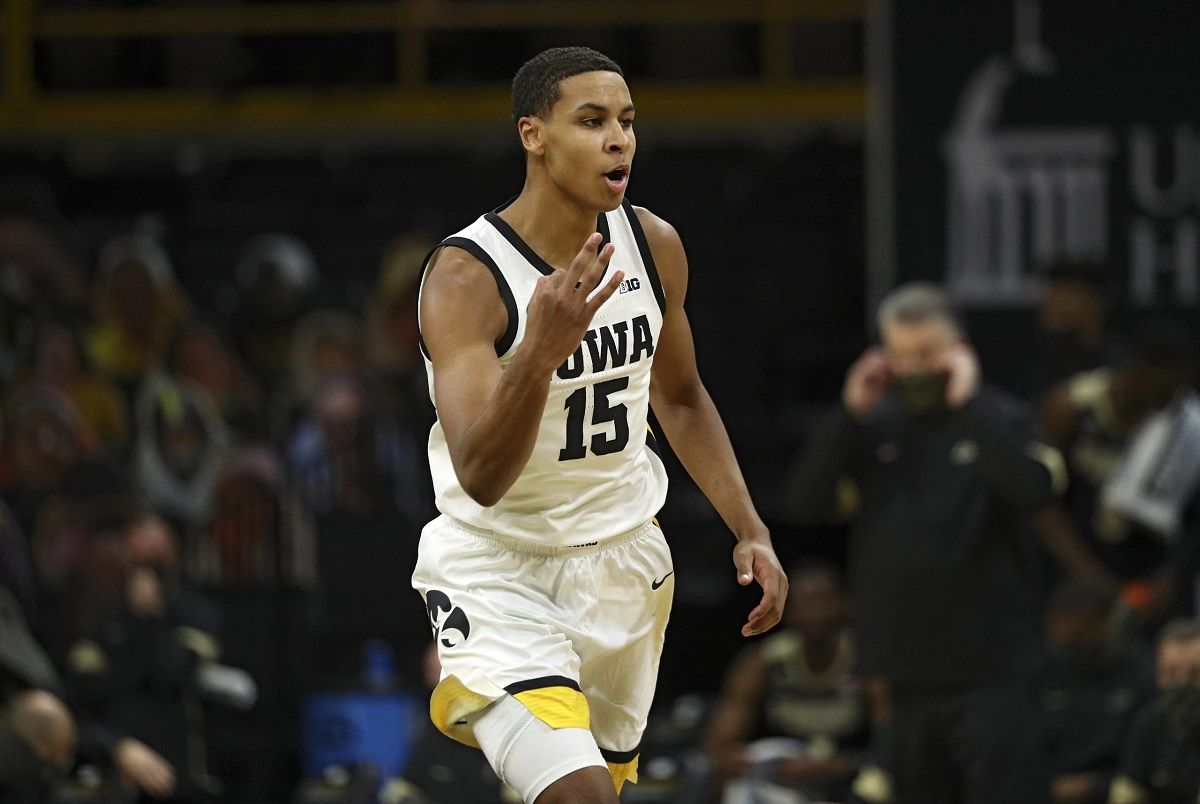 Murray led the Iowa Hawkeyes and the Big Ten in scoring with 23.5 points per game. He was also the nation's fourth-best scorer and named to the All-American first team. He also had the highest-rated PER rating in the NCAA.
"I am forever grateful that Coach Fran McCaffery gave me the opportunity to live out my dream," said Murray. "Iowa will always be my home and I'm forever grateful to be part of Hawkeye Nation."
ESPN ranked Murray as the fifth-best prospect in the country, which makes him a potential lottery pick.
In 35 games with Iowa this season, Murray averaged 23.5 points, 8.7 rebounds, 1.9 blocks, and 1.3 steals per game. He shot nearly 40% from 3-point range and 55.4% from the floor.
"Looking forward to showing NBA teams my versatility on both ends of the court," Murray told ESPN. "I'm a lot more athletic than people realize. I'm as competitive a player as you're going to get. It doesn't show from my facial expressions, but I love the game of basketball, and competing every single night was a blessing for me."
Late bloomer
Recruiters weren't knocking down the Murray family's front door in Cedar Rapids, Iowa. Murray earned just one scholarship offer and it wasn't from a Big Ten school. He declined the chance to play for Western Illinois and decided to play an additional season at a prep school.
Keegan joined his twin brother Kris Murray for a season at Florida's DME Academy. His hard work in Florida paid off and he caught the eye of Iowa. The Hawkeyes extended him a scholarship offer.
"I went into my first year at Iowa trying to learn," said Murray. "I had the national player of the year on our team in Luka Garza, and veterans coming back. My goal was to learn from them and establish what I can do to get minutes and benefit our team, which meant being a hustle guy and really solid defensively. I tried to fill that role as best I could."
Murray appeared in 31 games as a freshman and started four times. He averaged just 7.2 points and 5.1 rebounds per game. He struggled from 3-point range and shot just 29.6%.
Murray: sophomore surge
After Garza graduated, Murray emerged as the team's top player. Many sophomores go through the dreaded "sophomore slump," but Murray was the opposite. He jumped from 7.2 ppg to 23.5 ppg or a difference of 16.3 ppg. It was the biggest single-season leap in scoring average in nearly 50 years.
"The big emphasis for me in the offseason was becoming a better all-around player physically," explained Murray. "I put on 15 pounds and was able to increase my vertical leap. I was 205 pounds coming into college. Grew to around 6-foot-9, and between 220 to 225 pounds, which helped a lot."
During his freshman season, he played on the wing as a small forward. This past season, Murray played in the 4-spot as a power forward, but even had stints at the 5-spot or center due to the team's lack of height after Garza went to the NBA.
"I'll do whatever is needed to win because of my skill set," said Murray. "This year I needed to play the 5. I feel like in the NBA, I can play 2 to 5. I can adapt to any position I'm put in."
Murray is projected as a first-round draft pick in the upcoming NBA Draft, but his stock has been going up after a strong showing at the Big Ten tournament where he earned MVP honors and averaged 25 ppg.
I'm not worried about what spot I get drafted," added Murray. "I want to be in the best situation possible and play for a team that values my game and understands what I can excel at."