The 2019-20 NBA season is about to tip off, so which rookies are worthy of a flier in your fantasy basketball draft? Guards Ja Morant (Murray State), Coby White (North Carolina), and Tyler Herro (Kentucky) are among the incoming crop of rookies that could make an immediate impact on your fantasy basketball squad. NY Knicks forward, RJ Barrett (Duke) earned street cred among New Yorkers by holding his own during the preseason, where he led the team in minutes.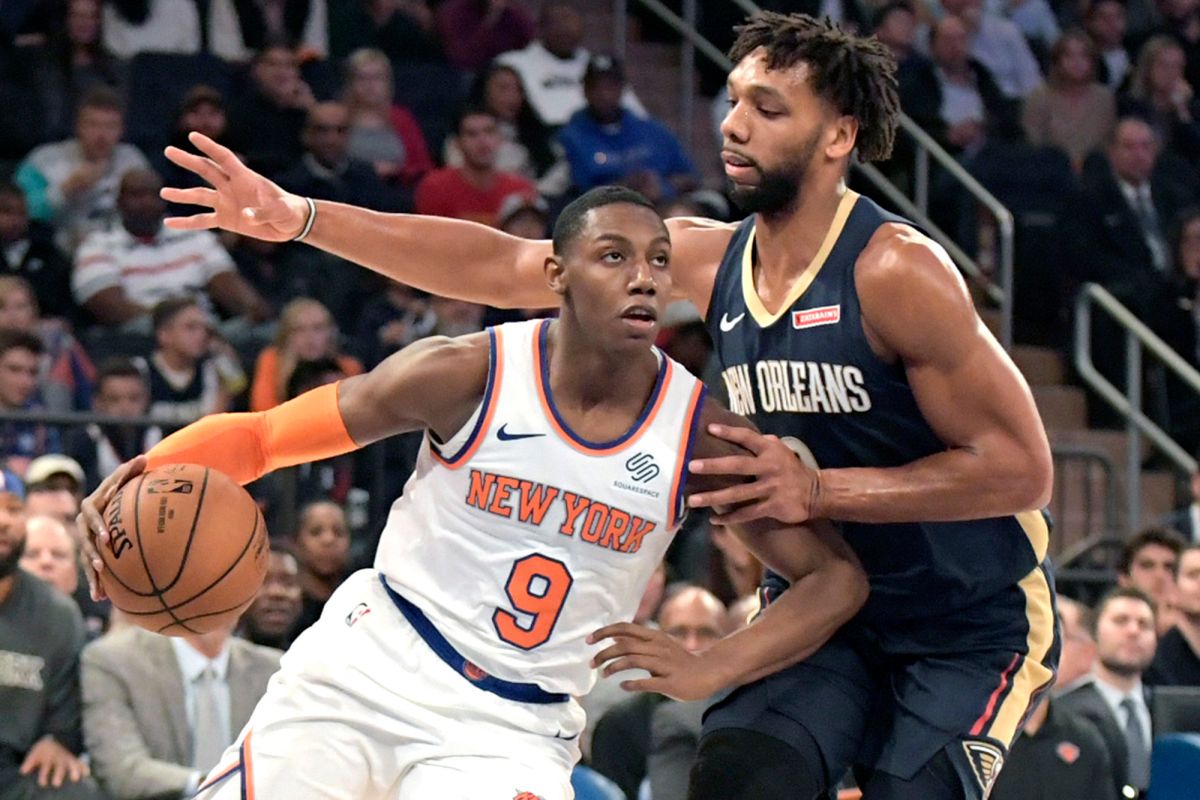 Zion Williamson (Duke) begins the season on the injured list for 6-8 weeks after recovering from knee surgery, so his NBA debut will be postponed by a couple of months.
The New Orleans Pelicans selected Williamson with the first overall pick. Even though they traded away disgruntled Anthony Davis, the entire city is excited at a future with Zion.
There hasn't been an incoming rookie hyped as much as Zion this century. He replaces AD, who is arguably the greatest one-and-done player since the NBA installed that silly rule in 2006.
TOP NBA FANTASY ROOKIES:
Zion Williamson (PF, New Orleans)
Ja Morant (PG, Memphis Grizzlies)
Coby White (PG, Chicago Bulls)
RJ Barrett (SF, NY Knicks)
PJ Washington (PF, Charlotte Hornets)
Tyler Herro (SG, Miami Heat)
Coby White, the #7 overall pick from North Carolina, got off to a hot start in Chicago. He's the most exciting rookie to put on a Bulls uniform since Derrick Rose.
Knicks rookie, RJ Barrett, got the lion's share of playing time in preseason, which bodes well for his future and makes him worthy of a flier in NBA fantasy leagues. Tyler Herro, the #13 pick overall after a one-and-done season with Kentucky, quickly played himself into the Heat lineup after an auspicious start in Miami.
Almost Zion
After an impressive preseason averaging 23.3 points and 6.5 rebounds per game, Williamson went down with a knee injury. That ended his preseason and his first couple months of the season are in jeopardy.
"Zion's fine," said New Orleans head coach Alvin Gentry. "He's not dead guys. He's a typical 19-year-old kid. Upbeat, he has fun, and he's living his dream as he said."
Williamson originally injured his knee in a Duke/North Carolina game last season. President Obama was on hand to witness the infamous sneaker explosion that resulted in a sprained knee. Williamson missed the rest of the regular season for Duke, but suited up in the ACC tournament and March Madness.
The Pelicans are in no rush to show off their future franchise player, who could miss up to eight weeks recovering from knee surgery. Luckily, head coach Alvin Gentry is doing what he can to alleviate the intense pressure of being the number one overall pick.
"We aren't expecting him to come in and be the savior," said coach Gentry.
According to the Westgate SuperBook in Las Vegas, Williamson is a -250 favorite to win the NBA Rookie of the Year.
Ja Morant and Coby White
If it weren't for Zion, Ja Morant would have been the #1 pick. Morant tore it up for Murray State the last two seasons.
Memphis has so much faith in their new point guard that they traded away Mr. Grizzly (aka Mike Conley) to the Jazz. In preseason, Morant averaged 11.3 points and 7.3 assists per game in roughly 22 minutes of action.
Coby White has fans excited in Chicago, and it's not his Sideshow Bob afro that's turning heads. The point guard from UNC came off the bench and dropped 29 points the other night, including six three-pointers. That marked the most points by a Bulls rookie since D-Rose in 2008. In five preseason games, White averaged 19.2 points and 4.2 rebounds per game.
RJ, PJ and Herro
Knicks fans desperately wanted Williamson, but they had to settle on his Duke teammate, RJ Barrett. Barrett improved throughout summer league and the preseason where he logged almost 38 minutes per game, and averaged 15.8 points and 6.8 rebounds.
"He doesn't look like a rookie," said Knicks head coach David Fizdale said. "He's a tough kid. He really knows how to play and he's fearless. He's tough to take out of the game."
It's up to Barrett to get on the good side of head coach Fizdale. The Knicks want to play their young guns as much as possible. If Barrett can continue to improve and stay out of Fizdale's doghouse (e.g. Frank "Frankie Cigs" Ntilikina), then he'll have ample opportunity to dazzle fans at Madison Square Garden.
Kentucky standout PJ Washington, the #12 pick in the 2019 NBA Draft, steps into the post-Kemba era in Charlotte. Washington played good enough to warrant a starting spot, averaging 15.2 points and 7.5 rebounds in the preseason. If Washington remains healthy, he could become a John Collins-like player for the Hornets.
Tyler Herro, selected with the #13 pick out of Kentucky, made a splash with his debut in Miami. The guard is averaging 14.2 points per game in the preseason. Jimmy Butler took a shinning to him and the rookie also impressed head coach Erik Spoelstra. The rapid ascension of Herro did not bode well with Dion Waiters, who had a complete meltdown on the bench during a preseason game due to his diminished playing time.