Germany's Hossein Ensan overcame Italy's Dario Sammartino after a long heads-up session to win the 2019 World Series of Poker main event, winning $10 million and the traditional gold bracelet.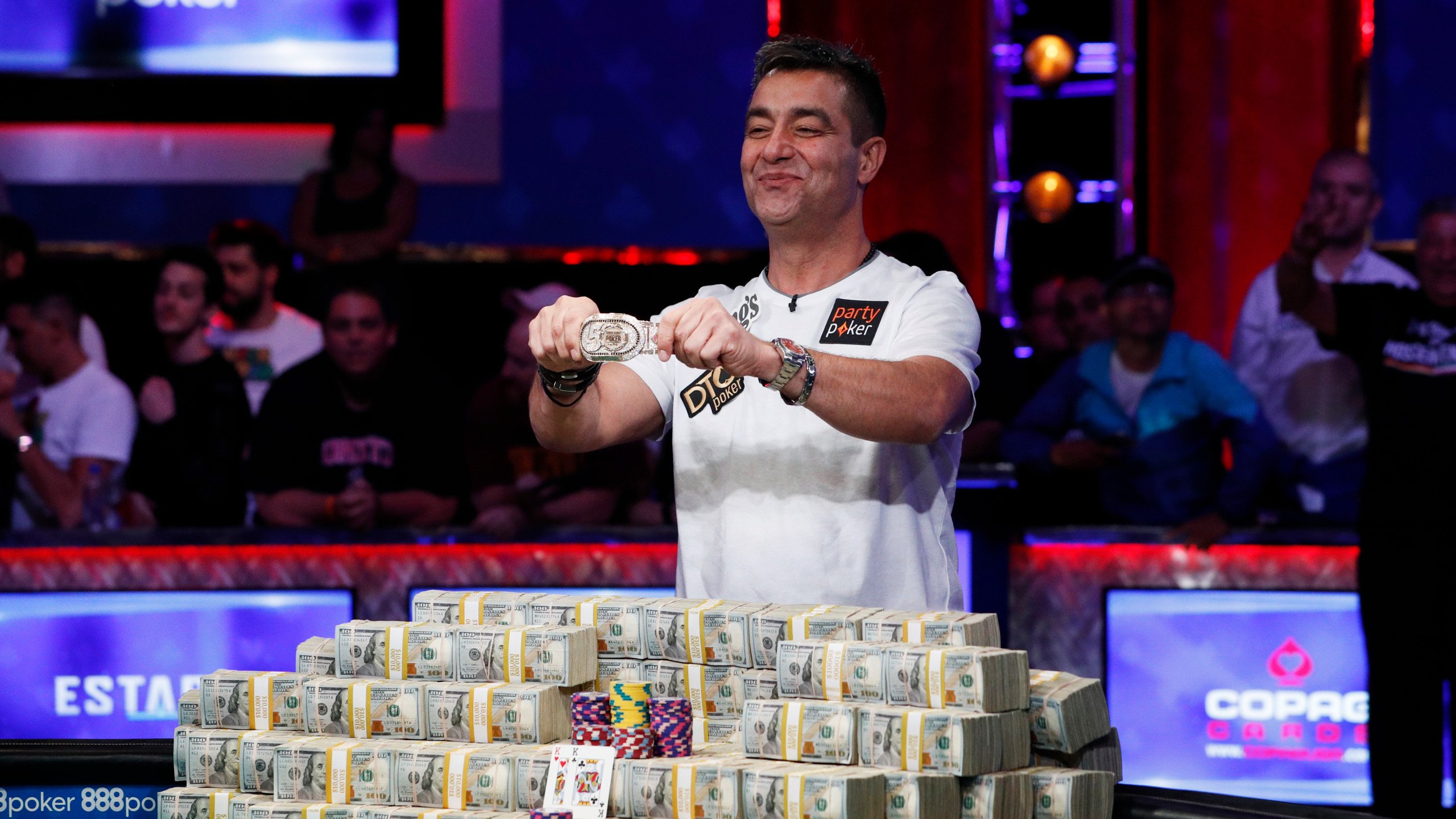 The 55-year-old Ensan clinched the tournament on the 100th hand of heads-up play.
Pocket Kings Hold Up for Ensan
On the final hand, Ensan raised with pocket kings, and was called by Sammartino, who held an eight and a four, both spades. Ensan bet out again on the Ts-6s-2d flop, and was again called by Sammartino, who now had a flush draw.
A nine of clubs on the turn added a straight draw to Sammartino's holdings. The Italian checked, and when Ensan bet again, Sammartino moved all-in. Ensan wasted no time in calling and was clearly ahead in the hand, though he had to fade both the flush and straight draws on the river.
When the queen of clubs was revealed as the river card, Ensan was finally able to celebrate having won the most prestigious tournament in the poker world.
"This is the best feeling I have in all my life. I can't believe it," Ensan told reporters after his victory. "I must go to sleep and wake up. Then I know I have bracelet. Maybe it's a dream. I don't know."
With 8,569 players and a prize pool of over $80.5 million, the 2019 main event is the second-largest in World Series of Poker history. The sheer numbers make it unlikely that even the best, most well-known professional players will reach the final table, and that was the case again this year.
But it's also true that in recent years, the top finishers have tended to be highly experienced professional players, even if they aren't household names.
Top WSOP Finishers Had Previous Tournament Success
Of the final three, Sammartino had the most previous success in live tournament play, having already collected over $8 million in prize money over his career before picking up another $6 million for his runner-up finish. His previous biggest score had come in the 2017 High Roller for One Drop, in which he won just over $1.6 million.
"The problem with words is you can't explain how you feel," Sammartino said afterwards, reflecting on his finish. "Even in Italian, I can't explain how I feel. But it's something crazy. You really feel something amazing."
Third-place finisher Alexander Livingston earned $4 million for his efforts. While he had the lowest total live earnings of the final three players who came back to compete for the title on Tuesday – he had previously won over $700,000 in live events – he did have previous experience with deep runs in the main event, having finished 13th at the 2013 WSOP.
As for Ensan, who was born in Iran, he came into the tournament with over $2.6 million in career cashes, including a win in 2015 European Poker Tour event in Prague that earned him $825,000. Still, none of that previous success could possibly measure up to winning the World Series of Poker main event.
"I'm so happy," Ensan said. "I thank my fans at home in Germany, also in Iran. And my buddies here."