One weekend you're in Europe playing a music festival with your band, the next you're in Las Vegas winning a World Series of Poker bracelet. Nirvana record producer and musician Steve Albini secured his second career bracelet at the WSOP when he won a HORSE event over the weekend in Las Vegas for a first-place prize worth $196,089.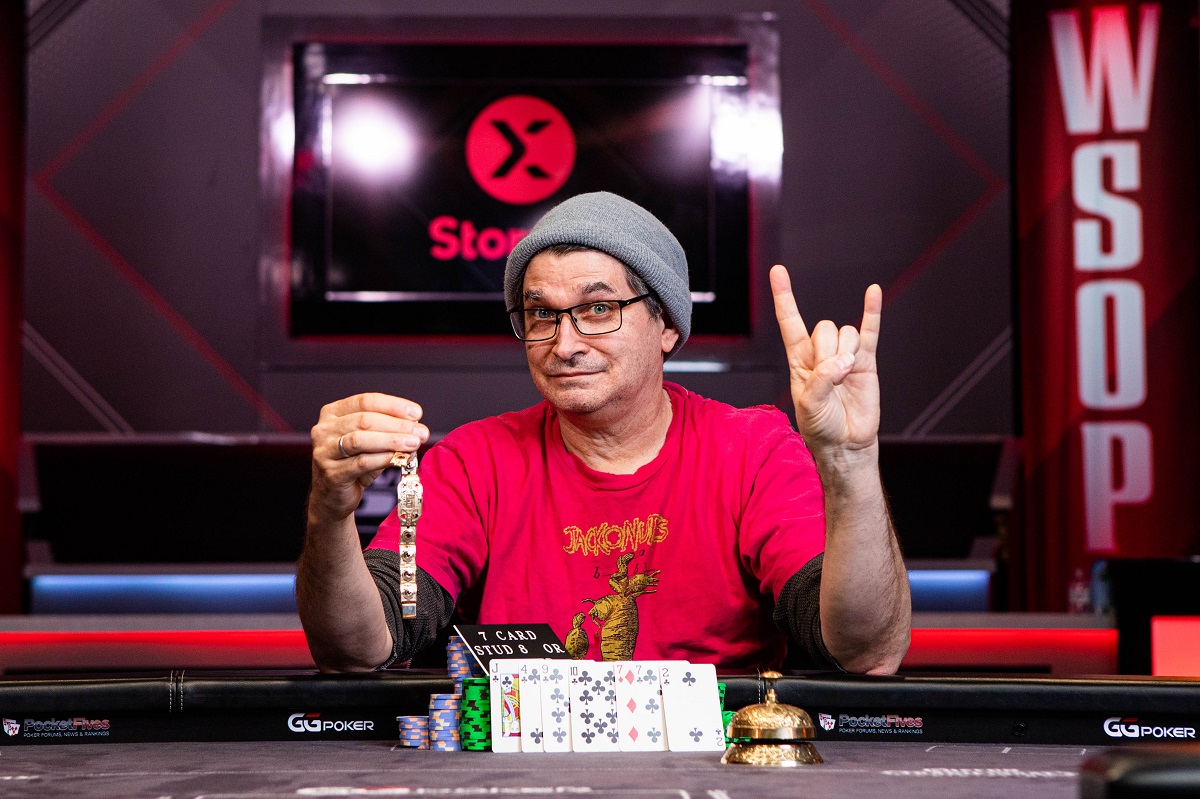 Albini is best known as the producer of "In Utero," the third and final album from Nirvana that was released in 1993 before Kurt Cobain passed away in 1994. He's also a record producer and owner of his own recording studio in Chicago called Electrical Audio.
Albini also plays guitar and sings in his math-rock band Shellac, which most recently made a trip to Europe to play festivals in Germany and Spain.
Two weeks after a Shellac gig at the Primavera Sound Festival in Barcelona, Albini flew out to Las Vegas to play at the 2022 World Series of Poker. This year's WSOP marks the first year that the most-famous tournament series in the world is playing on the Las Vegas Strip after relocating from the Rio Casino to the Paris and Bally's Casinos.
— steve albini (@electricalWSOP) June 18, 2022
Albini: 2-time bracelet winner
As a kid growing up in Montana, Albini first played poker when his grandmother taught him the basics. He cashed in his first WSOP event back in 2010 when he finished in 14th place in a $1,500 Seven-Card Stud event. That marked the first of his nine cashes at the WSOP, including two bracelet victories.
At the 2022 WSOP, Albini outlasted 773 runners in Event #32, a $1,500 HORSE tournament, to win $196,089 and his second bracelet. Albini edged out Canada's James Morgan heads-up to win the bling. The HORSE final table also included Japanese high-roller Tamon Nakamura, Jason Daly, Richard Bai, Kyle Loman, Eddy Vataru, and Peter Brownstein. Notable players who went deep and cashed in the tournament included David Williams, Shirley Rosario, Phil Ivey, Fabrice Soulier, Ray Henson, Amnon Filipi, Ari Engel, Victor Ramdin, and Tom "DonkeyBomber" Schneider.
"When I'm playing poker, I try to commit to it," Albini told the WSOP after his second bracelet win. "I try to take it seriously. Try to make sure I devote the attention to it that it deserves as an occupation. But, it's only part of my year."
At the 2018 WSOP, Albini won Event #31, a $1,500 Seven-Card Stud tournament, after defeating Australian pro Jeff Lisandro heads-up for the bracelet and $105,629 in cash. That Stud event attracted 310 runners and featured a final table including Katherine Fleck, 2000 WSOP Main Event Champion Chris "Jesus" Ferguson, Frankie O'Dell, Paul Sexton, and Esther Rossi.
"I've been playing Stud my whole life," Albini told the WSOP moments after his victory. "I love it, so I'm very comfortable playing Stud. And I ran pretty f–king good as well."
Stud is his best game, and Albini plays a lot of cash games around Chicago. The only time he delves into tournaments is at the WSOP.
Bracelet winner Steven Albini reigns as the Event #32: $1,500 H.O.R.S.E. champion. Albini's triumph earned him $196,089 and a second piece of WSOP hardware.

📸 @_RKMusic_ https://t.co/eiDrd88VfZ pic.twitter.com/1BIJCSUqJk

— WSOP (@WSOP) June 18, 2022
Nirvana legacy: No royalties
Albini worked with several top recording artists such as the Jimmy Page and Robert Plant in Page and Plant, The Pixies, PJ Harvey, The Stooges, Cheap Trick, The Breeders, Superchunk, Veruca Salt, Joanna Newsom, Bush, and Fred Schneider from the B-52s. However, his work with Nirvana is at the top of his resume.
"Nirvana is the biggest band that I've worked with, and I will ever work on," Albini said about his work on "In Utero" back in 1993. "The record captured the sensation of how the band played. It was [an] emotional, striking moment listening to playback."
Albini didn't get rich off producing Nirvana because he believed it unethical to continue to take royalties and money away from musicians and artists after he completed his initial work on it as a producer and sound engineer. A lot of show biz insiders think he's nuts about shunning royalties, but musicians respect him for his righteous ethics and deep respect for the creative process.
"I can only imagine what Steve Albini could've made had he taken points on that record," said Dave Ghorl, drummer of Nirvana.
According to recording industry figures, "In Utero" went platinum five times for DGC Records, selling more than 15 million records. "Heart-Shaped Box" has been played over 448 million times on Spotify.
Busting donks for Electrical Audio
In 1997, Albini built a recording studio in Chicago called Electrical Audio, but the purist will never use Pro Tools in order to preserve the original sound of the musical acts.
"My monthly nut is $30K," Albini said about his recording studio in 2014 on HBO's Sonic Highways documentary special. "I have to make $1,000 every day. Gone broke a couple of times. Had to sell my house and sell off some guitars."
Albini turned to cash games to supplement his income when his studio wasn't booked. A lot of high-stakes games these days focus on PLO or Short-Deck Hold'em, but Albini is fortunate that he found a thriving Stud scene in Chicago.
"Playing cards is a pass time of mine, but it is also a second income," said Albini. "There are times when I've been able to pay the salaries of people who work here because I had a good week playing cards. Owning a studio is much more gambling then when I'm playing cards."
Albini never wants to be lumped in as a poker pro or even a semi-pro.
"It's a part of my livelihood, but it's not my profession," added Albini.
The humble Albini also didn't want to gloat about his HORSE victory. "First one felt like a fluke," said Albini. "This one felt like a fluke."