The Los Angeles Dodgers were one out away from taking a commanding 3-1 lead in the World Series. Instead, the Tampa Bay Rays captured a Game 4 win after what will go down as one of the most memorable plays in baseball history.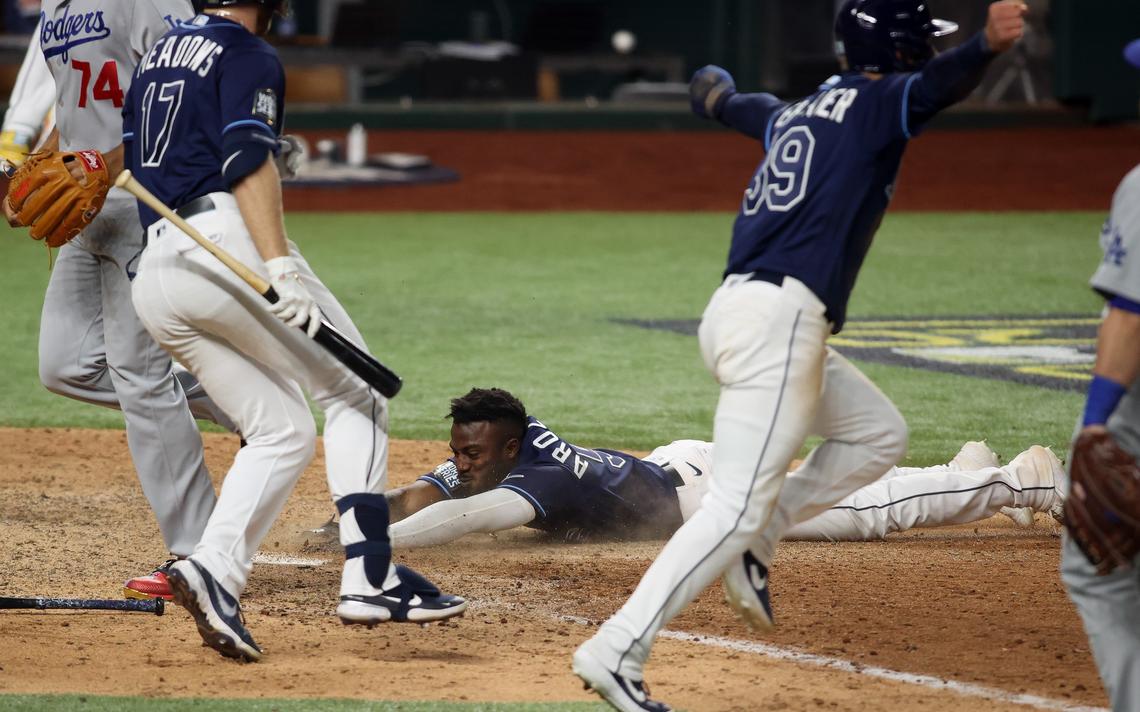 Tampa Bay earned an 8-7 win over Los Angeles after Brett Phillips hit a game-winning single in the bottom of the ninth on Saturday night.
Phillips Creates World Series Magic
That description doesn't do the play justice, however. Phillips' single to left-center off of Dodgers closer Kenley Jansen should have been enough to score Kevin Kiermaier from second. There was no doubt Kiermaier would get home safely after center fielder Chris Taylor kicked the ball away instead of fielding it cleanly.
That error also allowed Rays designated hitter Randy Arozarena to try and come all the way around with the winning run from first base. But Arozarena fell between third and home, meaning Max Muncy's throw home came in plenty of time to get the out. Then, catcher Will Smith dropped the ball, which squirted far away from the play. Arozarena scrambled home to secure the win for Tampa Bay.
"The moment the ball left Phillips' bat, we knew we had a tie ballgame, and then everything that happened afterward, Randy's not used to having to run like that," Rays manager Kevin Cash said after the game. "But Phillips, man, give that guy a lot of credit. I don't know when the last time he got an at-bat was. Pretty impressive what he just did against one of the game's best closers."
Phillips became one of the most unlikely heroes in World Series history. He had only two plate appearances in the postseason, going 0-2 against the Yankees in the ALDS. His last hit came back in the regular season when he went 2-2 in a Sept. 25 win over the Philadelphia Phillies.
"For myself, it was having this unrelenting belief that I was going to come in and help the team or do a job like I'm asked," Phillips told reporters. "It's why I'm here. We're major league baseball players. We wouldn't be here if we couldn't do that."
Kershaw, Glasnow in Game 1 Rematch
The dramatic finish set the stage for a critical Game 5. With the World Series tied at two games each, both teams have turned to their Game 1 starters. That means the Dodgers will go with future hall-of-famer Clayton Kershaw while the Rays are handing the ball to Tyler Glasnow.
---
World Series Game 5 Odds (via BetMGM)
Moneyline
Dodgers (Kershaw): -162
Rays (Glasnow): +145
Run Line
Dodgers (-1.5): +100
Rays (-1.5): -121
Total
Over 8: -106
Under 8: -115
Series Winner
Dodgers: -179
Rays: +150
---
The Dodgers enter the game as a -162 favorite over the Rays (+145), according to BetMGM. Kershaw got the best of the Game 1 battle, giving up just one run over six innings to pick up the win, while Glasnow gave up six runs in 4.1 innings. Kershaw knows that he'll need to repeat that performance to help Los Angeles secure its first World Series title since 1988.
"It's not easy when you've been working so long and so hard for one goal," Kershaw told reporters. "When it's getting closer and closer with each win, it's hard not to think about the endgame and what that might look like. But you just have to."