In most seasons, a handful of superstars dominate the World Series MVP discussion. But with the star-studded Los Angeles Dodgers taking on the Tampa Bay Rays – a team that has made a point of not having big names on its roster – the race is wide open heading into Tuesday's Game 1.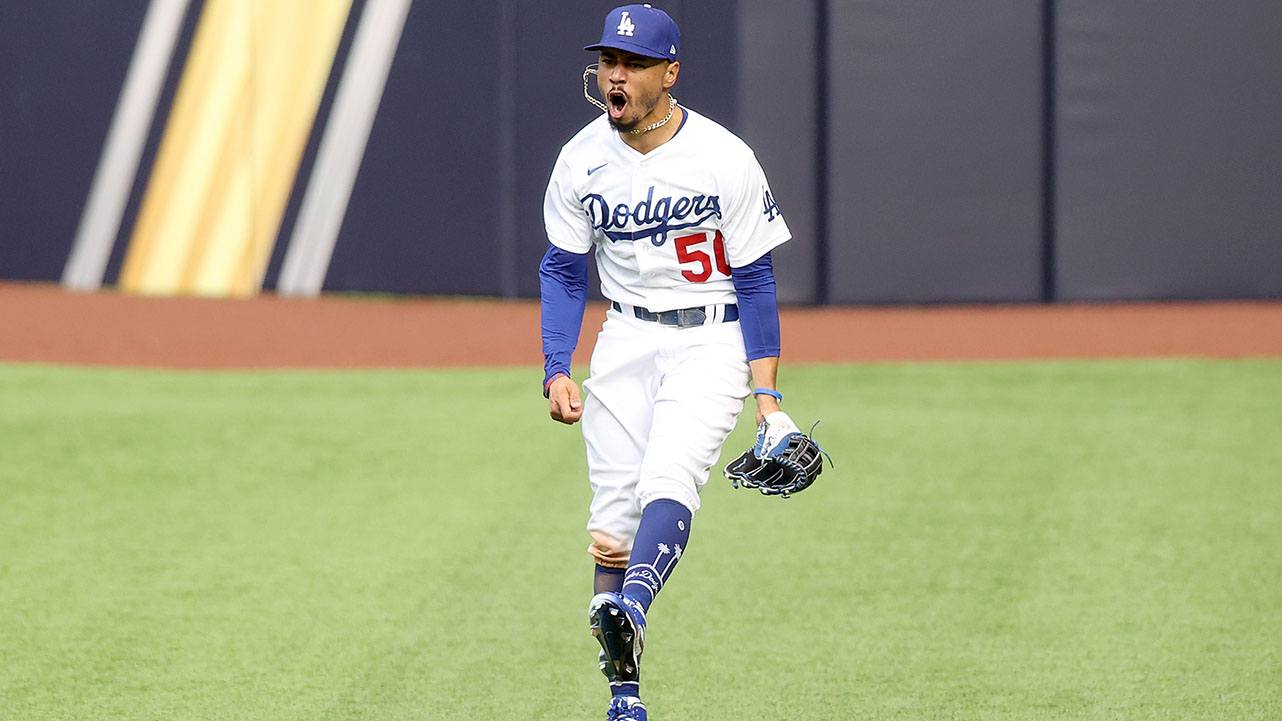 Depending on where you place your bets, the favorite for World Series MVP could change, though it will probably be someone from Los Angeles in the top spot.
Betts, Bellinger, Seager Among LA's MVP Talent
At DraftKings Sportsbook, Mookie Betts (+800) has taken the top position on the board. The Dodgers acquired the former American League MVP from the Red Sox in the offseason, and the deal has already paid dividends. Betts hit .292 with 16 homers and 39 RBI in the shortened regular season. He's remained productive in the playoffs, collecting 14 hits and scoring 10 runs through 12 games.
FanDuel Sportsbook has shown Betts plenty of respect as well, posting him at +900. It's placed two other Dodgers as the co-favorites in its World Series MVP odds, Cody Bellinger and Corey Seager, both at +800.
Seager won the NLCS MVP award after hitting .310 and setting National League records with five homers and 11 RBI in the series.
"He's been like this all year," Betts said of Seager after the Dodgers won Game 7 of the NLCS. "So obviously it's amazing what he's doing, but it's kind of nothing new. We get spoiled by it every day."
Bellinger hit just .200 in the NLCS, but smacked two home runs, including the game-winner in Game 7.
Rookie Arozarena Among Rays World Series MVP Contenders
On the Tampa Bay side, a couple of players stand out as likely World Series MVP candidates. First, there's ALCS MVP Randy Arozarena, who has the best odds among Rays players on FanDuel at +1000. Arozarena has broken out as a star in his first postseason, hitting seven home runs during the playoffs and becoming the first rookie position player to win league championship series MVP honors.
"I wouldn't say I was chasing MVP," Aronzarena said after the ALCS, via an interpreter. "I was just trying to do everything for the team."
DraftKings favors Tyler Glasnow, offering +900 odds on the Tampa Bay starter. Glasnow has a 2-1 record with a 4.65 ERA in four starts this postseason. He went 5-1 in the regular season, and could get two starts to prove his value in the World Series.
---
World Series MVP Odds
Player
DraftKings
FanDuel
PointsBet
Mookie Betts
+800
+900
+800
Tyler Glasnow
+900
+1200
+1000
Randy Arozarena
+1000
+1000
+1200
Clayton Kershaw
+1000
+900
+900
Cody Bellinger
+1200
+800
+1000
Walker Buehler
+1200
+1000
+1000
Corey Seager
+1200
+800
+1200
Blake Snell
+1500
+1600
+1500
Charlie Morton
+1500
+2000
+1800
---
Other big names like starters Clayton Kershaw, Walker Buehler, Charlie Morton, and Blake Snell also rank highly on the list of World Series MVP candidates. Those looking for a big payday could also search further down the board to find some intriguing options.
Dodgers fans might find value in infielder Justin Turner (+2500) or Dustin May (+10000), who has been effective in limited action throughout the playoffs. On the Rays side, Ji-Man Choi (+3500) has flashed power in each of the last two playoff rounds, while Ryan Yarbrough (+10000) picked up a win against the Astros.