Clayton Kershaw gave up just one run on two hits over six innings of work to lead the Los Angeles Dodgers to an 8-3 victory over the Tampa Bay Rays in Game 1 of the World Series.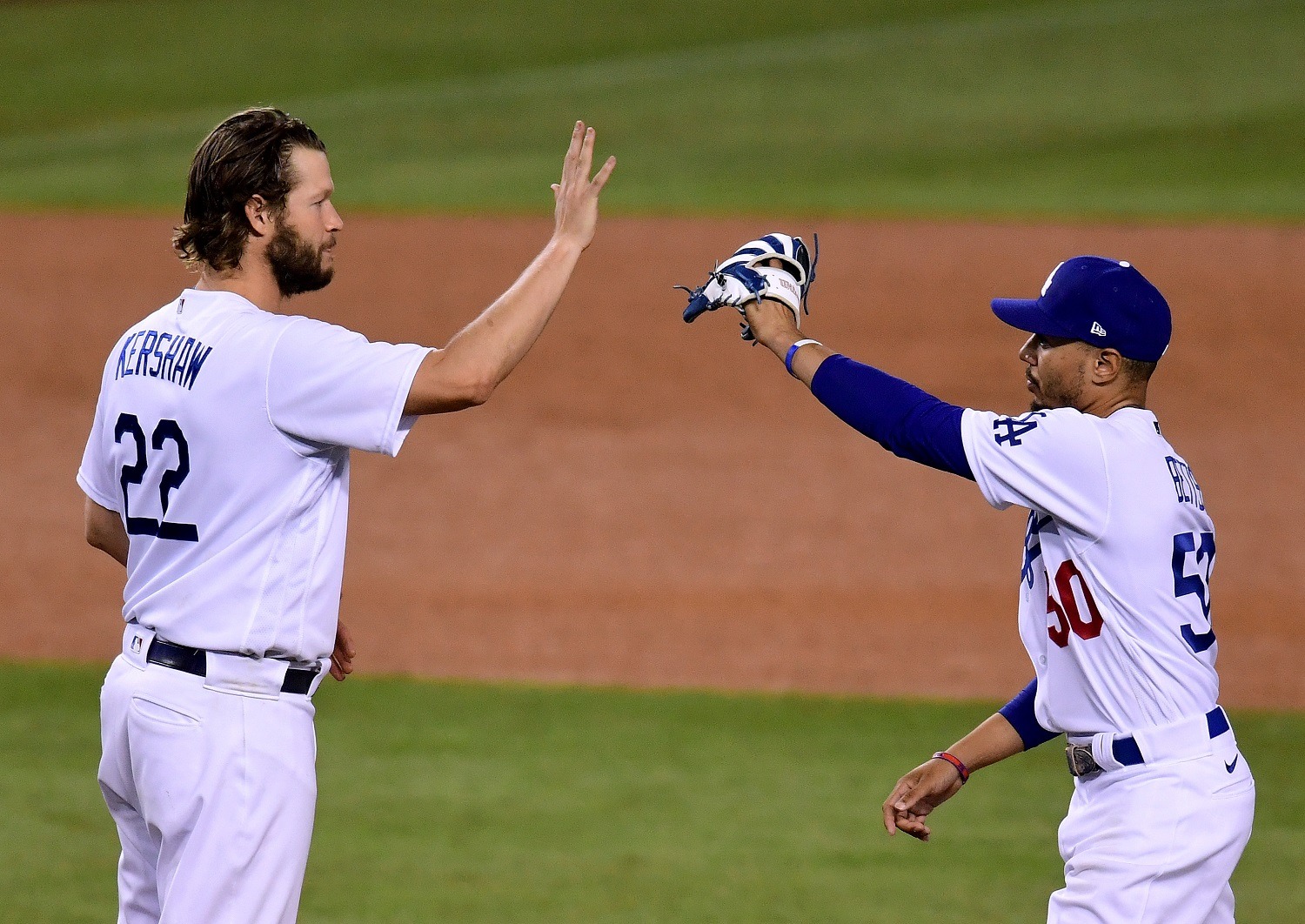 Kershaw struck out eight batters before Dodgers manager Dave Roberts pulled him from the game despite having thrown only 78 pitches.
Kershaw: Dodgers Nearly Unbeatable
Dodgers reliever Dylan Floro surrendered two runs in the seventh. It hardly mattered at that point, as Los Angeles had staked itself to an 8-1 lead, giving the team the flexibility to rest Kershaw after a night of good work.
"If we play at our best, no," Kershaw told reporters when asked if the Dodgers are beatable. "I think we are the best team, and I think our clubhouse believes that. So there's gonna be certain times where we get beat, and that happens. But as a collective group, if everybody's doing what they're supposed to be doing and playing the way they're supposed to, I don't see how that can happen."
---
World Series Odds – Game 2 (via FanDuel Sportsbook)
Moneyline
Rays (Snell): +120
Dodgers (Gonsolin): -138
Run Line
Rays (+1.5): -168
Dodgers (-1.5): +142
Total
Over 8: -114
Under 8: -106
Series Winner
Rays: +330
Dodgers: -420
---
Kershaw passed John Smoltz to move to second on the list of all-time postseason strikeouts with 201. He could pass Justin Verlander's record of 205 if he gets another World Series start.
The Dodger bats also came to play in Game 1. Cody Bellinger started the scoring with a two-run homer in the fourth inning, while Mookie Betts added a solo shot in the sixth. Max Muncy added two RBI, and scored two runs on two hits and a walk.
Snell Looks to Even Series
The Rays will attempt to recover in Game 2 by sending Blake Snell to the mound. Snell is 2-2 with a 3.20 ERA so far in the 2020 postseason. He's also familiar with Betts, whom he faced regularly when the Dodgers outfielder was a member of the Boston Red Sox.
"It's at a very big stage that we cross paths again, so definitely looking forward to it," Snell told the Tampa Bay Times. "He's one of the best in the game, for sure. I enjoy the competition, but I also enjoy that he's out of the AL East. It's going to be cool to face him now."
The Dodgers will start rookie Tony Gonsolin in Game 2, though he may not stay in the game for long. Gonsolin threw 41 pitches in Game 7 of the NLCS on Sunday. Julio Urias and Dustin May, both of whom also threw in that NLCS decider, will be available to pitch as well, according to Roberts.
While the pitching matchup favors the Rays, oddsmakers still like the Dodgers in Game 2. FanDuel Sportsbook lists Los Angeles as a -138 favorite over Tampa Bay (+120) in the contest. The Dodgers stand as a -420 pick to win the World Series overall.