The Atlanta Braves failed to close out the Houston Astros in Sunday's Game 5, but their star players still top the World Series MVP odds heading into Game 6 on Tuesday night.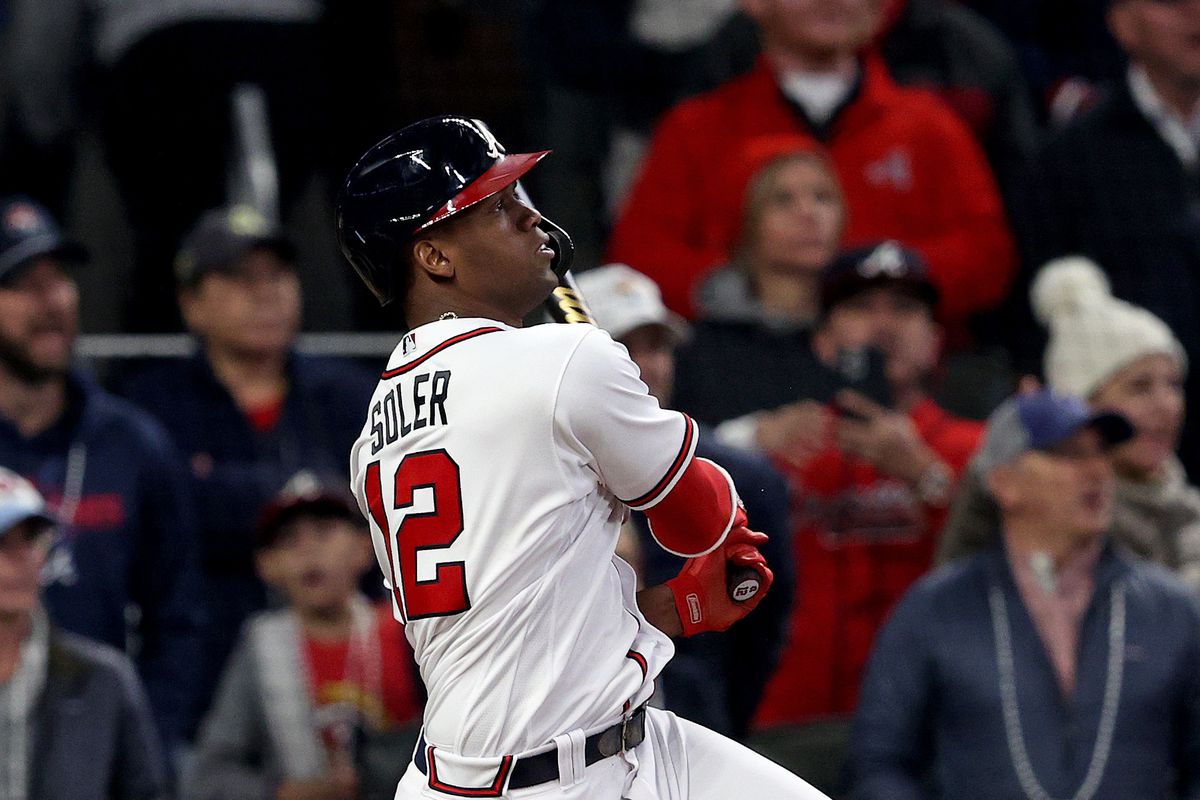 No one player has broken out to stake a clear claim for the World Series MVP. But with Atlanta up three games to two, oddsmakers see a few Braves as the most likely contenders for the award.
Soler leads long list of Atlanta candidates
Jorge Soler leads the list. The Braves outfielder is hitting .294 with two homers and three RBIs in the series so far. That's been enough for FanDuel Sportsbook to rate Soler as the +600 top pick to win the World Series MVP trophy.
But those odds show just how uncertain the race is at this moment. Three other Atlanta players sit right behind Soler, any of whom could rise up to claim the honor should they create a defining moment in one of the final two games.
Austin Riley (+650) has been solid throughout the series, hitting .381 and knocking in three runs for Atlanta so far. Freddie Freeman (+700) remains a popular pick for World Series MVP, especially after his Game 5 home run. He's hitting .278 with that one homer and three RBIs of his own.
Adam Duvall (+750) entered the series as a less likely contender. But the 33-year-old has already slugged two homers and collected 6 RBIs, putting him right in contention for World Series MVP should Atlanta win the title.
The top contenders are all Braves, as Atlanta still holds the edge in the series. However, Houston is far from out of it, and there are a handful of Astros sitting in the wings should they ultimately win the World Series.
No pitchers among top World Series MVP contenders
Of that group, Jose Altuve (+900) rates as the top Houston contender for World Series MVP. While Altuve is hitting just .217 in the series, he already has two home runs and has scored six times in just five games. If he comes up big in Houston over the final two games, he could easily take home the trophy.
Other top candidates on both sides of the aisle include Travis d'Arnaud (+1000), Kyle Tucker (+1300), Michael Brantley (+1400), and Eddie Rosario (+1900). With no one player dominating the World Series this year, anyone could claim the MVP award with a memorable performance in a clinching game.
---
World Series MVP Odds (via FanDuel Sportsbook)
Jorge Soler: +600
Austin Riley: +650
Freddie Freeman: +700
Adam Duvall: +750
Jose Altuve: +900
Travis d'Arnaud: +1000
Kyle Tucker: +1300
Michael Brantley: +1400
Eddie Rosario: +1900
Ian Anderson: +2000
Carlos Correa: +2000
Yuli Gurriel: +4000
---
You might have noticed a major absence from the World Series MVP leaderboard: pitchers. Not only have starting pitchers failed to go deep throughout the series, no one starter or reliever has put up the kind of performance that could garner MVP consideration.
The leading contender from the mound is Ian Anderson (+2000), who threw five no-hit innings for Atlanta in Game 3. Anderson will get another start in Game 6, and if he puts away the Astros with another shutout performance, he could certainly gain consideration for the award.