On Jan. 23, Italian skier Sofia Goggia crashed during a World Cup super-G race at Cortina d'Ampezzo, threatening her chances of competing in the Winter Olympics. But Goggia overcame her injuries and will race in the women's downhill on Tuesday, where she comes in as the favorite to win gold.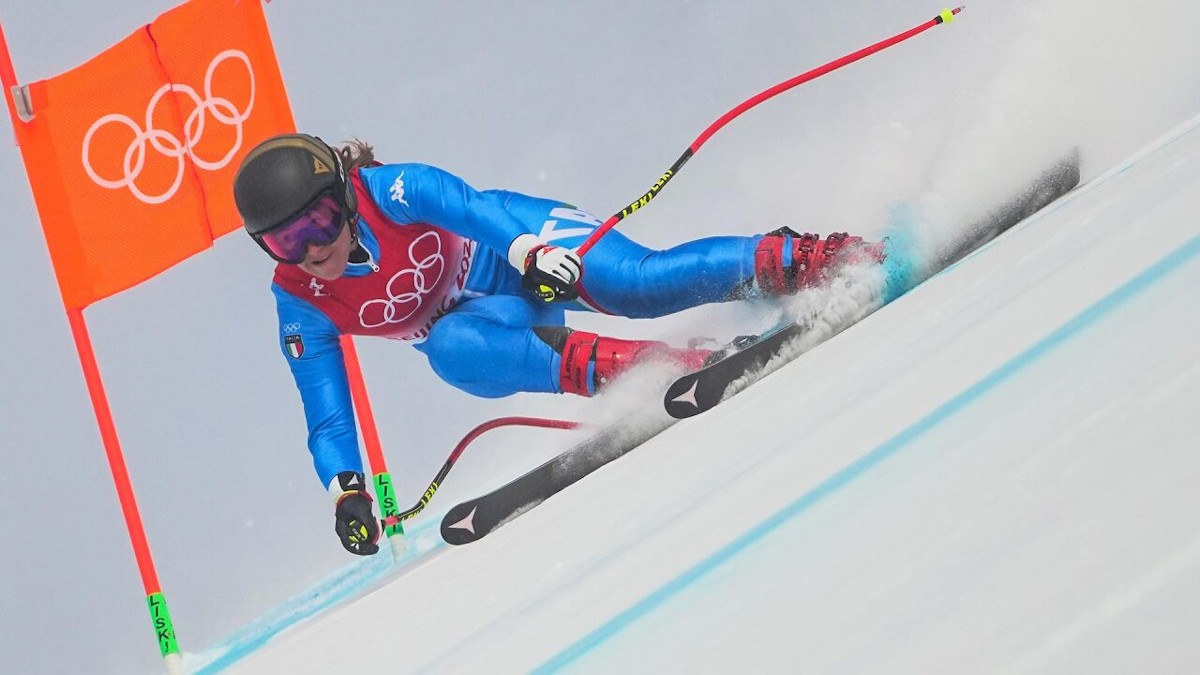 Goggia won gold in the women's downhill at the 2018 Winter Olympics in Pyeongchang.
Goggia completes successful training run
DraftKings Sportsbook lists Goggia as the +225 favorite to repeat as champion in Beijing. Just the fact that she's competing is an accomplishment after her crash.
"I'm upset," Goggia said after her crash. "It's not a break that I needed in such an important time of the season but I'm already going to start physical therapy in the coming hours, with the aim of trying to defend the Olympic title in the event that I love most."
Goggia skipped the super-G competition on Friday. But she was able to successfully complete a training run on the downhill course on Saturday, bolstering her hopes of a strong run in the event.
"I was just glad I could finish my run and that I could approach it the way I did," Goggia told reporters after her training run. "There was no guarantee that I could be here and it is already a success that I am here. So I don't see any reason why I shouldn't be as happy as I am today, after my first downhill."
Priska Nufer ran the fastest time in the first training run, with Goggia coming in 1.55 seconds behind her. Still, Goggia remains confident heading into the actual downhill competition.
"We will see," Goggia said of her chances. "But slow I am not."
Shiffrin running Olympic downhill for first time
American Mikaela Shiffrin (+1600) will make her first career start in an Olympic downhill event after a disappointing first week at the Olympics. Shiffrin, who won the slalom gold medal in 2014 and another gold in giant slalom at Pyeongchang four years ago, failed to complete either of those events. She then finished ninth in the super-G.
---
Women's Downhill Odds (via DraftKings Sportsbook)
Sofia Goggia: +225
Lara Gut-Behrami: +300
Corinne Suter: +450
Kira Weidle: +700
Ragnhild Mowinckel: +1600
Mirjam Puchner: +1600
Mikaela Shiffrin: +1600
Ester Ledecka: +1600
Cornelia Hutter: +2000
Joana Hahlen: +2200
---
While Shiffrin has won some World Cup downhill competitions, it is her weakest event. She has never won a downhill medal in a World Championship. But after a solid practice run, she's prepared to aim for the podium on Tuesday.
"My times are pretty good," Shiffrin told NBC's Todd Lewis after her practice run on Monday. "I felt confident on my skis. I feel like I know where I am on the course, and those pieces are all pretty good. It's just important that I take any practice that I can get."
During Sunday's final practice, Switzerland's Joana Hahlen (+2200) posted the fastest training run. But for the top contenders, practice is more about learning the course and getting comfortable than putting up an impressive time.
After Goggia, Swiss skier Lara Gut-Behrami (+300) is the leading contender in the women's downhill, just ahead of teammate Corinne Suter (+450). Germany's Kira Weidle should also be in the mix, with DraftKings giving her +700 odds of winning gold.