The Chicago Sky earned a split in Phoenix against the Mercury, and will now get to play in front of a sellout crowd for Game 3 of the WNBA Finals on Friday night.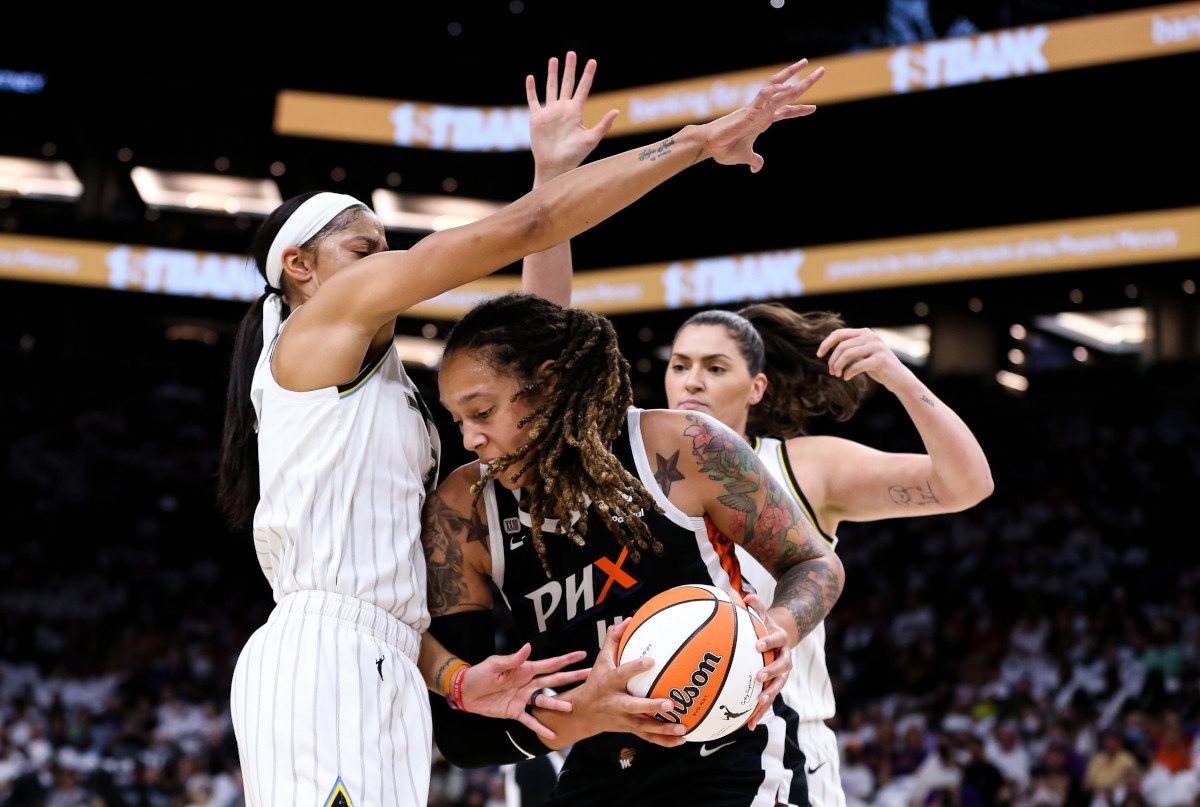 Chicago nearly swept the first two games in Phoenix, but the Mercury escaped with a 91-86 overtime win in Game 2 on Wednesday.
Taurasi, Griner lead Mercury to OT win
That game featured at least one controversial moment. Diana Taurasi scored 20 points, with 14 of those coming in the fourth quarter and overtime. But the WNBA also fined Taurasi $2,500 for pushing a referee during a second quarter incident involving Courtney Vandersloot and Chicago's Kahleah Cooper.
Referees did not assess any penalty to Taurasi at the time, though many felt she deserved a technical foul for making intentional contact with an official, as the WNBA rulebook dictates.
A dunk in the WNBA Finals for BG! She's got 10 points on the board so far tonight. pic.twitter.com/tQmenc2Q79

— Phoenix Mercury – X (@PhoenixMercury) October 14, 2021
In the aftermath, Phoenix choose to focus on its important win, which tied up the best-of-five series. Taurasi's performance was paired with a dominant day by Brittney Griner, who scored 29 points and recorded the first dunk in WNBA Finals history.
"We know who our bread and butter is," Taurasi said after the game. "BG is just playing at a different level right now, and there's really nothing anyone can do. We knew coming into this game it was going to be a big focus: Got to get BG down low early and often."
Meanwhile, Chicago found fault with the officiating throughout the game. The Sky attempted just four free throws in Game 2, while the Mercury took 11 attempts from the stripe.
"I think when you attack the rim and you get fouled, it should be called," Sky coach and general manager James Wade said, via The Chicago Tribune. "I don't understand what 'let them play' means. I've never heard that in a game. If they're going to the free-throw line, then we should too."
Sky slight favorites in WNBA Finals
Chicago enters Game 3 as a slight 2.5-point favorite over Phoenix, according to FanDuel Sportsbook. Chicago also rates as a -135 favorite in the series overall, thanks in large part to having two of the final three home games at Wintrust Arena.
If the Sky want to win the series, they will need to find answers for Griner. But Chicago's post players believe they can do enough to slow down the all-world center, even if they can't stop her completely.
"We have gone up against a plethora of different post players that we have had to adjust to, but it has prepared us for this matchup," Sky center Azura Stevens told The Chicago Tribune. "We are able to throw multiple defenders with different size, length and styles at different players. Going against BG, she is going to have to face a lengthy defender in me, a more physical player with Stef [Dolson] and sometimes Candace [Parker]. It just speaks to the depth of this team."