With Life Is Good off the Kentucky Derby Trail with what's been diagnosed as an ankle chip, Bob Baffert shuffled his deep bench of Derby contenders. The shuffle means both Medina Spirit and trail newcomer Defunded will run the Grade 1 Santa Anita Derby on April 3.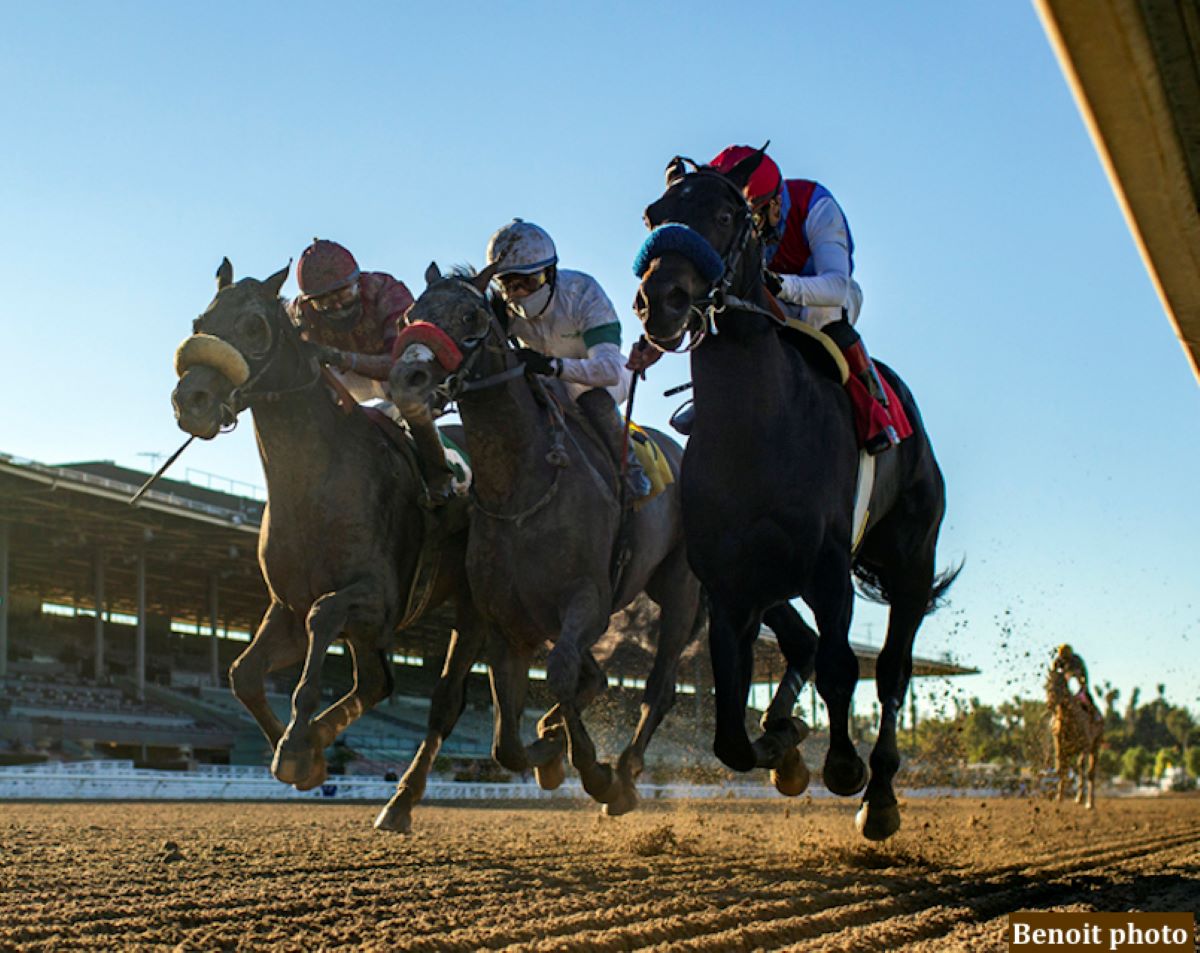 Baffert made the announcement on Sunday morning's "Thoroughbred Los Angeles" radio show, hosted by Santa Anita Director of Publicity Mike Willman and the Daily Racing Form's Jay Privman. He told the show that Life Is Good will be back for the Breeders' Cup at Del Mar later this fall.
"He'll be ready for that, definitely," Baffert said on the radio.
Meanwhile, XBTV reporter Millie Ball quoted Baffert in a Monday tweet saying "He has a very small chip in his left hind ankle. Dr. (Larry) Bramlage will do the surgery on Friday in KY at Rood & Riddle."
pdate on Life is Good …..
Baffert, "He has a very small chip in his left hind ankle. Dr. Bramlage will do the surgery on Friday in KY at Rood & Riddle." @WatchXBTV @santaanitapark @1stbet

— camilla yakteen (@camillayakteen) March 21, 2021
On "Thoroughbred Los Angeles," Baffert told Willman and Privman that Life Is Good's workout went well. He came back to his barn showing no untoward signs, only to display discomfort in his left hind leg later that morning.
Everything opens up: futures odds, Baffert's barn
"He took a couple [of] funny steps, so that's when we realized he had done something to his hind leg," Baffert said on the show. "He'll be fine, he'll be back. It wasn't anything serious, but it's enough that he'll need some time off. We're going to send him back to Kentucky and run more tests on him … Everybody that I talked to, we're talking 60 days, so that takes him out of everything."
It also turns the Santa Anita Derby into a much more open race, and the Derby futures odds into a much more open affair. Life Is Good was 3/1 at Circa Sports and MyBookie. Essential Quality and Concert Tour inherit co-favorite status at +450 on Circa. Concert Tour now becomes Baffert's top Derby prospect after his Rebel Stakes romp,
As for the Santa Anita Derby, Life Is Good's exit means Medina Spirit likely becomes the race's favorite to give Baffert his 10th win. He was the distant runner-up to Life Is Good in the San Felipe Stakes, finishing eight lengths behind his stablemate. Before then, Medina Spirit captured the Grade 3 Robert B. Lewis in a photo finish over Roman Centurian and Hot Rod Charlie.
Medina Spirit's victory much more impressive now
That victory leaped in import when Hot Rod Charlie captured the Louisiana Derby in track-record time last Saturday. Medina Spirit, meanwhile, is 45/1 at Circa.
And it's another testament to Baffert's endless barn depth that Defunded may go from breaking his maiden in a six-furlong race on March 6 to running a Grade 1 Derby prep within a month. He's 100/1 at Circa.
Along with Concert Tour, who likely runs the Grade 1 Arkansas Derby on April 10, Baffert has Rebel Stakes runner-up Hozier and the ubiquitous Spielberg. He's entered in this Saturday's Grade 1 Florida Derby after finishing a solid second to Essential Quality in the Southwest Stakes on Feb. 27.