She's run with the boys. Now, with her Preakness victory last Saturday, Swiss Skydiver beat the boys. So what's the next challenge for one of the great North American fillies of her generation?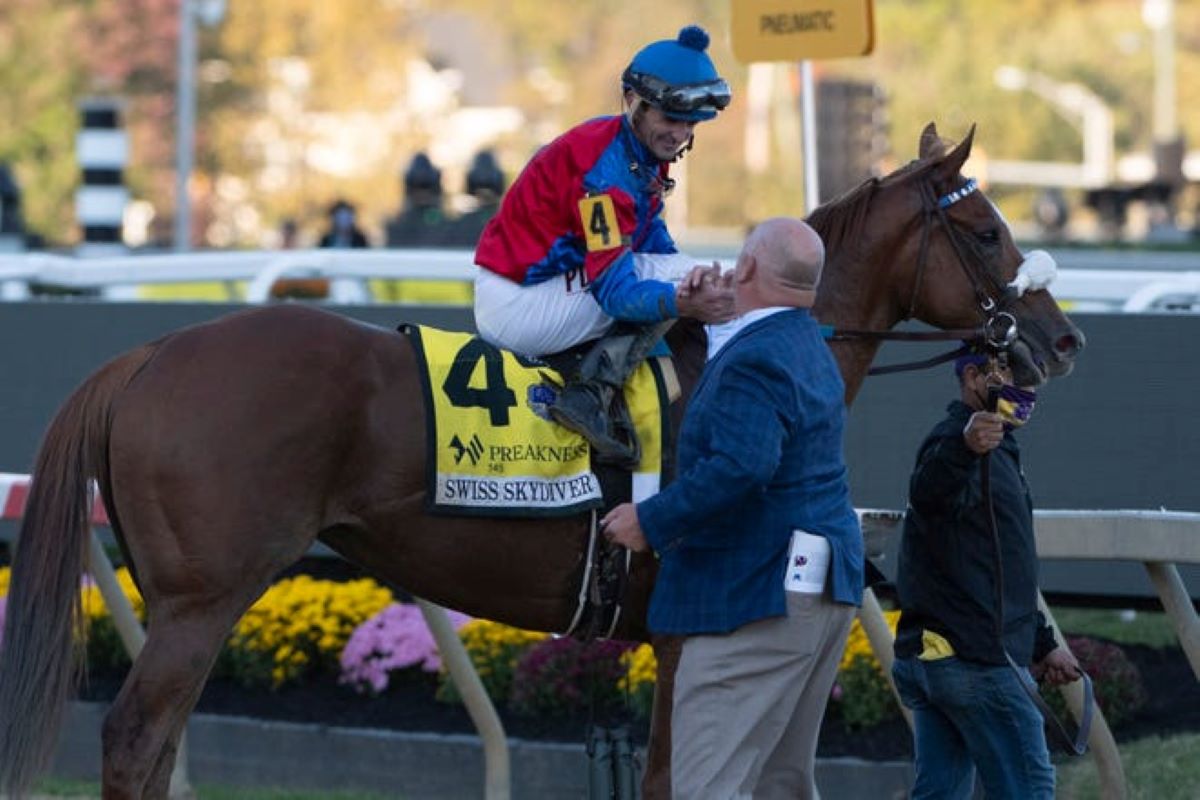 That would be the Nov. 7 Breeders' Cup at Keeneland. That much, we know. But what are Swiss Skydiver's Breeders' Cup plans? Which Breeders' Cup race does the newly Black-Eye Susan-garnered filly enter? Does she settle into the 1 1/8-mile Distaff, where old rivals Gamine, Speech, and new rival – and favorite – Monomoy Girl await?
Or does she punch her earned ticket into the Breeders' Cup's marquee event, the Classic? Does she go 1 ¼-miles against fellow 3-year-olds Authentic and Tiz the Law, along with standout older horses Maximum Security and Improbable?
Decisions await Swiss Skydiver's trainer, Kenny McPeek, along with owner Peter Callahan. Either way, mapping out these Breeders' Cup plans is a fun — and enviable — gig.
Swiss Skydiver Dismisses Distance Concerns
Swiss Skydiver earned a Classic berth with her Preakness victory. She's quite comfortable going 10 furlongs, having destroyed her foes in the Grade 1 Alabama Stakes at Saratoga at that distance. That earned her the Distaff berth. McPeek actually relishes that distance for his do-everything filly.
"I like the mile-and-a-quarter distance of the Classic, but the Distaff, today, is probably the wiser move," McPeek said after the Preakness. "But the farther she goes, the better. We can sit on it. We won't make a rash decision."
The betting markets currently decided Swiss Skydiver is a 3/1 second choice in the Distaff, trailing only Monomoy Girl's 7/4 odds. She's 8/1 in the Classic, carrying the same odds as Maximum Security and Kentucky Derby winner Authentic, who she nipped by a neck to win the Preakness.
Breeders' Cup Plans Leaning Toward Distaff
Callahan told Horse Racing Nation he's more than partial to the $2 million Distaff instead of the $6 million Classic. He'd much rather see Swiss Skydiver take her chances with Monomoy Girl et-al than take on the boys for the third time this year. In July, Swiss Skydiver finished second to Art Collector in the Blue Grass Stakes at Keeneland, the site of this year's Breeders' Cup.
Either way, expect to see Swiss Skydiver run her 10th race of 2020, an impressive number in this day of Thoroughbred load management. Her career record is 11-6-3-1 with $1,792,980 in earnings. Not bad for a $35,000 yearling purchase.
And a $35,000 yearling purchase originally headed to the breeding shed after this year for a date with the current Brad Pitt/George Clooney of stallions, Into Mischief. Callahan told Horse Racing Nation he's currently rethinking those plans with an eye toward running Swiss Skydiver as a 4-year-old.
Just Fill This Filly's Oats Bucket and Turn Her Loose
How she responds after the Breeders' Cup will decide that. But in every interview he's given, McPeek marvels at how Swiss Skydiver likes to run, that she voraciously cleans her oats bucket, and that this racing thing – whether it's against the boys or the girls – agrees with her.
Which creates seemingly tough decisions envied by everyone in the racing world.