Halfway through the season and it's looking like a three-way race for the NFL's Most Valuable Player. Russell Wilson, Patrick Mahomes, and Aaron Rodgers are the top three favorites to win the NFL MVP, with Wilson leading the way at +125 odds.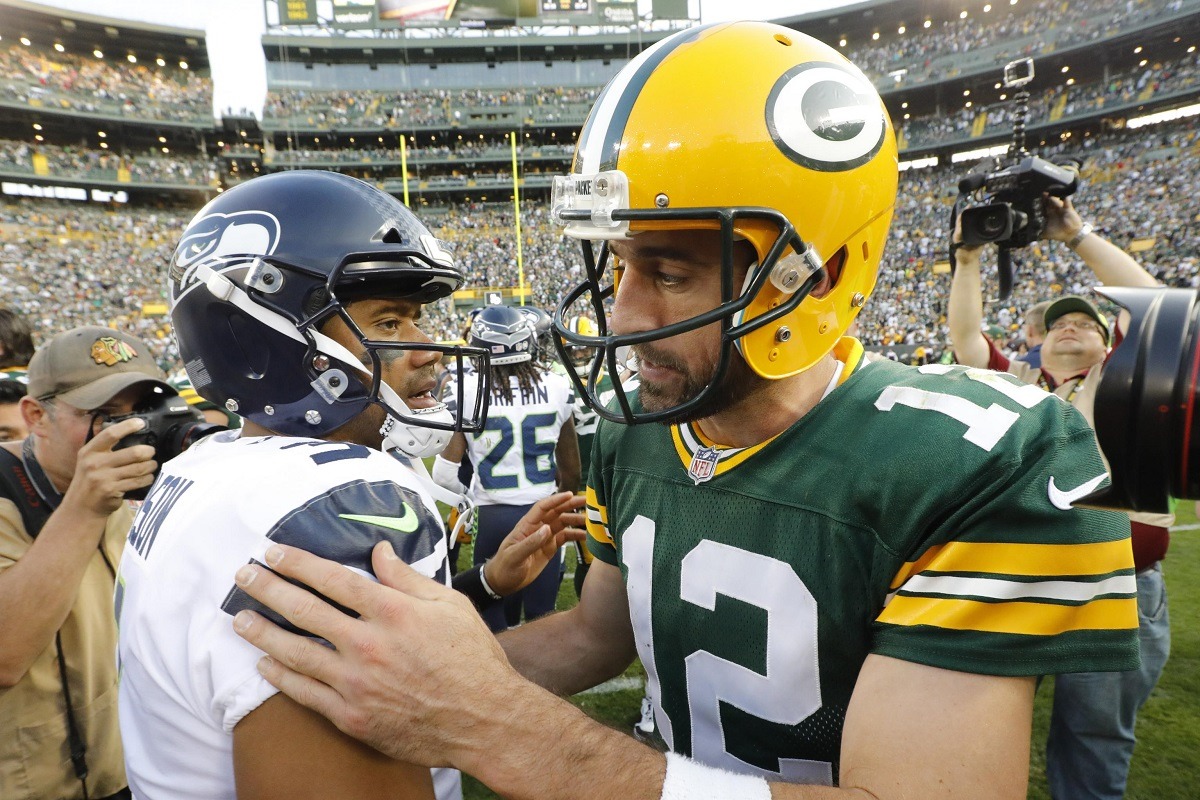 Two weeks into the season, it looked like Wilson had run away with the MVP. Wilson tossed nine touchdowns and quickly became the new MVP favorite at +300 odds. His hot run continues midway through the season — Wilson leads the NFL with 28 touchdown passes. He's ranked #4 overall with 2,541 yards.
---
Russell Wilson +125
Patrick Mahomes +200
Aaron Rodgers +350
Josh Allen +2200
Kyler Murray +2500
Tom Brady +3300
Dalvin Cook +3300
Ben Roethlisberger +3300
Drew Brees +5000
Lamar Jackson +5000
---
Wilson has never won the MVP before, whereas Mahomes is looking to lock up his second MVP in the last three seasons. In nine games, Mahomes tossed 25 touchdowns and just one interception. A recent surge from Mahomes saw his MVP odds bump to +200.
Aaron Rodgers is also seeking a third MVP award, and his first since 2014. Rodgers tossed 24 touchdowns and only two interceptions for the high-octane Green Bay Packers so far this year. Rodgers looks like the value pick out of the top three at +350 odds to win MVP.
Lamar Jackson, the reigning MVP, saw his odds slip to +5000 after a sluggish start. After the end of Week 2, Jackson was +500 to win another MVP. Peyton Manning won back-to-back MVPs in 2008 and 2009, and he's the last player to achieve that feat.
Trending Up: Allen, Murray, Brady
Josh Allen and Kyler Murray are both having breakout seasons. Allen has led the 7-2 Buffalo Bills to what is currently the third-best record in the league. Allen ranks #3 in the NFL with 2,587 passing yards. He tossed 19 touchdowns and rushed for five more.
The dual-threat Murray looked unstoppable in the Arizona Cardinals' overtime victory against the Seattle Seahawks in Week 8. Murray is on pace to become the first quarterback in league history to rush for 1,000 yards and throw for 4,000 yards in a season. Murray is worth of a flier at +2500.
Aside from two tough losses against the New Orleans Saints, Tom Brady looks good this season, and definitely the best he has in years. Old man Brady, 43, might have discovered the fountain of youth in Florida. He's tied for fourth in the league with 20 touchdowns, and he's ranked #6 with 2,398 yards. He's +3300 odds to win his fourth MVP. Tommy Boy previously won the MVP in 2007, 2010, and 2017.
Since 2007, Adrian Peterson is the only non-quarterback to win the MVP and NFL rushing title — a feat he accomplished in 2012. The odds are stacked against Dalvin Cook. He's the only running back in the Top 10 for MVP odds.
Cook leads the NFL with 13 TDs and leads the league with three 2-point conversions. You can currently find Cook at +3300.
Ben Roethlisberger and Drew Brees are MVP candidates in the twilight of their careers, but neither has won one. Big Ben recently headed to the Reserve/COVID list, but he's still +3300 odds to win the MVP.