William Byron entered Saturday's Coke Zero Sugar 400 as the last driver with a legitimate chance to reach the NASCAR Playoffs. He took away any doubt of making the postseason by winning the final race of the regular season at Daytona International Speedway.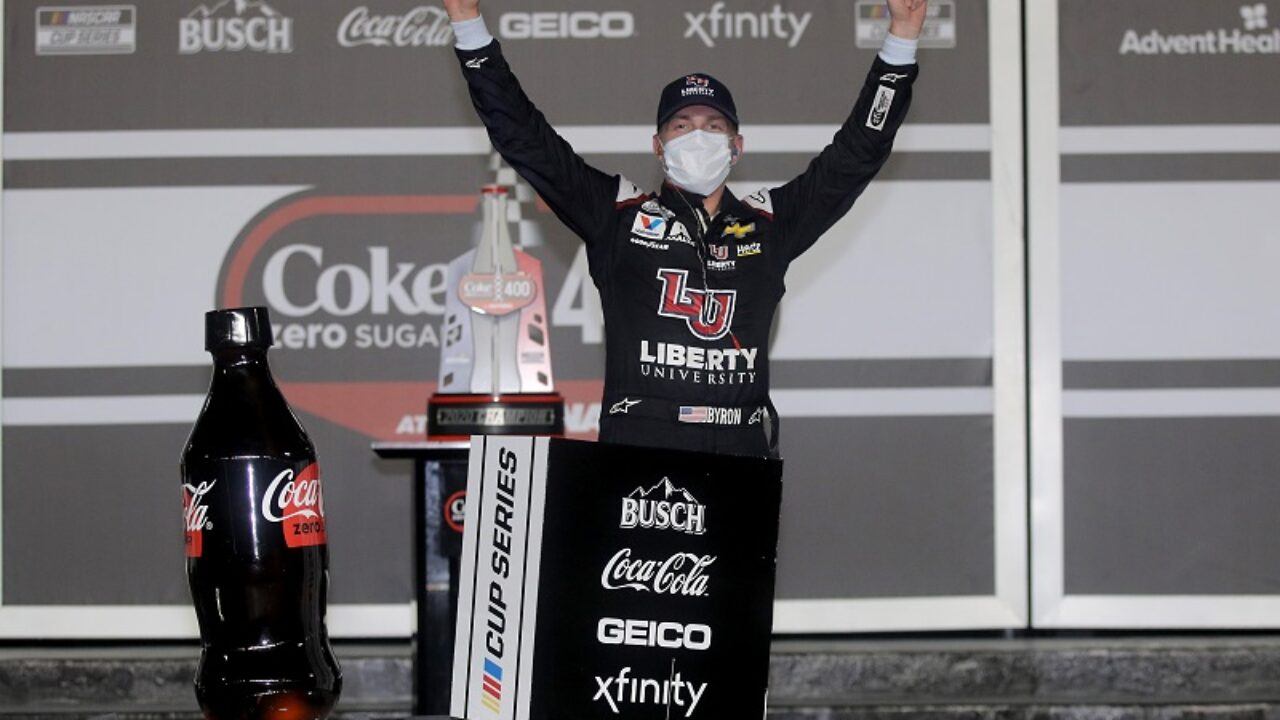 The victory, the first Cup Series win of his career, put the 22-year-old securely in the Cup Championship chase. He qualified with the victory and is now ninth out of 16 drivers for the playoffs.
Byron told reporters that he's excited about the victory.
"It's been a hard couple of years in the Cup Series and trying to get my first win and gel with this team," Byron said. "These guys did an awesome job and got us in the playoffs and it's amazing."
Byron's crew chief, Chad Knaus, guided his driver into the pits for a tire change, and might have won him the race.
"I had confidence in (crew chief) Chad (Knaus) and the guys that we could get four tires (on the last pit stop) and make the most of it," Byron said. "So, I'm just extremely blessed, and this is incredible."
Byron Avoids Crashing Out
Byron was able to steer around two large crashes near the end of the race, winning after two extra laps. There were two crashes in Saturday's Coke Zero Sugar 400 that affected the outcome.
The first happened with nine laps remaining in the 160-lap contest. Tyler Reddick tried to make a move, but tangled with Kyle Busch, setting up a 10-car pile-up. Reddick apologized after the race.
"It didn't work out like I planned," Reddick said. "It unfortunately hurt our car and chance to win. I was clear for about a second when I went to make it, but it's Daytona and things change quickly. There weren't a lot laps left at that time, and you have to do what you can to try to win to make the playoffs."
The second incident occurred with just two laps remaining. Jimmie Johnson, who was fighting for a playoff spot, got tangled up in a crash when Joey Logano made contact with Denny Hamlin, who then bumped into Bubba Wallace. The crash cost Johnson a playoff spot by six points.
"It's unfortunate, but that's plate racing," Johnson said. "We had a really good car. In the last couple of months, we have been getting our act together and running well. I'm definitely disappointed not be in the playoffs. That was our goal at the start of the year."
Matt DiBenedetto Grabs Final Playoff Spot
The main beneficiary of the second crash was Matt DiBenedetto. He and Johnson had been battling all day, and when the incident happened, DiBenedetto managed to avoid it. He finished 12th and got the last playoff spot.
"It was too eventful, I'm mentally worn out," DiBenedetto said. "I'm gonna sleep great tonight, but there was so much going on there at the end."
The playoffs begin Sunday at Darlington Raceway with the Cook Out Southern 500.