The Memphis Grizzlies trail the Golden State Warriors 2-1 in the Western Conference Semifinals, and everyone is wondering if Ja Morant will play tonight for the Griz, or miss a crucial Game 4 with a knee injury after an incident in Game 3 involving Jordan Poole.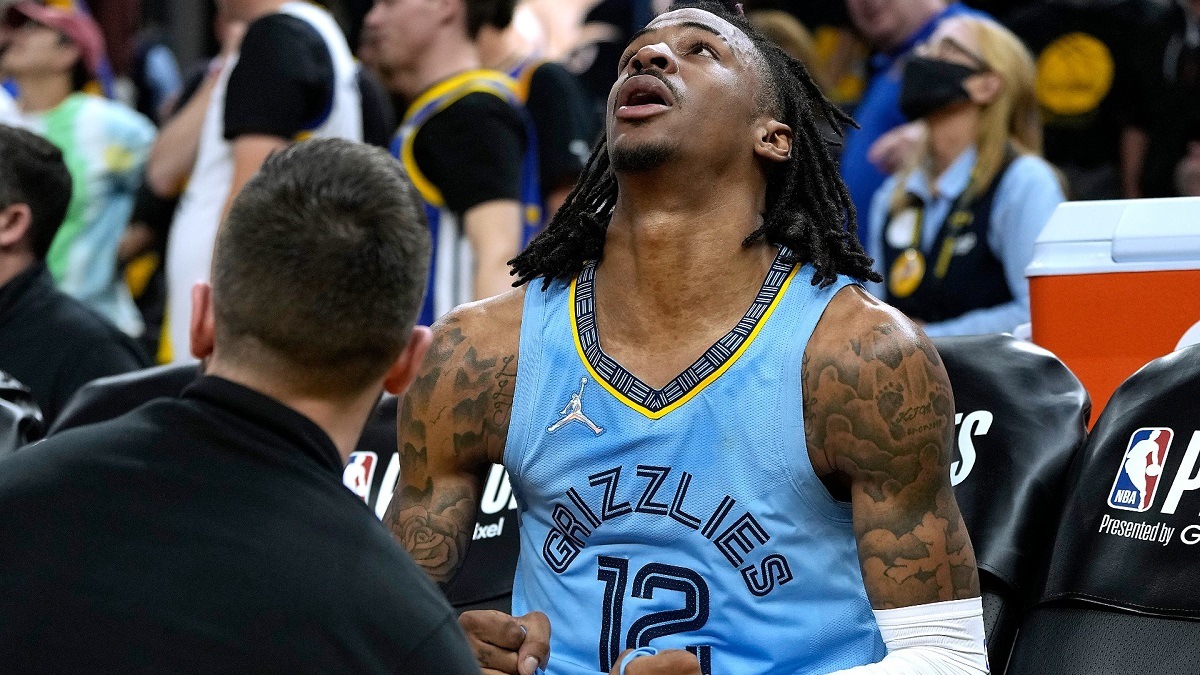 Morant exited Game 3 midway through the fourth quarter with an apparent knee injury. The Grizzlies trailed the Warriors by 17 points when Morant went to the locker room for an examination, but he did not return to the game and the Warriors won 142-112.
The Grizzlies listed Morant as doubtful for Game 4 with knee soreness, but he was ruled out shortly before tip off.
"He's got further evaluation going on," said Memphis head coach Taylor Jenkins on Sunday. "But from what I have been told, there is probably a really good chance he doesn't play."
Morant did not appear in the morning shootaround with the Grizzlies on Monday, which led to speculation that he would not suit up on Monday evening.
Oddsmakers opened the line with the Warriors as a -9 favorite under the assumption that Morant would not play in Game 4. The line is currently -9.5.
The Grizzlies went 20-5 in the 25 games that Morant missed this season with different injuries, including a sore knee.
The Warriors are -1000 odds to win the series and knock out the Grizzlies to advance to the Western Conference Finals. The Grizzlies are +650 underdogs to pull off a comeback.
Rumble: Grizzlies vs Warriors
The first three games of the Warriors and Grizzles series looked like a throwback to the 1990s during the peak of the NBA's brutish era when teams like the New York Knicks and Miami Heat beat the crap out of each other in playoff games where teams had to claw and scratch to just score 80 points.
Morant suffered a knee injury sometime in Game 3. The Grizzlies claimed that Warriors guard Jordan Poole was the culprit because he grabbed Morant's knee during a loose ball. Poole insisted that he's not a dirty player and it was just incidental contact while pursuing a loose ball. Replays suggested that Morant suffered a knee injury earlier in the game when he tried to defend Klay Thompson and landed awkwardly when attempting to block a shot.
Draymond Green from the Warriors earned an ejection in Game 1 when he tried to pull down Brandon Clarke. In Game 2, Dillon Brooks from the Grizzlies got booted by officials for a flagrant foul against Gary Payton II. Payton got hit so hard that he crashed to the hardwood and fractured his left elbow. Payton could miss up to a month with ligament damage and the fracture, but Brooks was issued only a one-game suspension and sat out Game 3. Head coach Steve Kerr said the Brooks "broke the code" for his cheap foul.
The chippiness continued during a combative Game 3. Desmond Bane dove at Poole's knees in the first half while the two scrapped over a loose ball, which bothered the Warriors.
Poole vs Morant
Midway through the fourth quarter, Morant was double teamed by Poole and Andrew Wiggins. The ball came loose and all three players tried to gain control. On slow motion replays, Poole went after the loose ball, but grabbed Morant's knee.
"It was a basketball play when we doubled him," said Poole. "And I hit the ball, and I was going for the ball. Obviously, you don't want to see anybody get hurt. I'm not even that type of player. I respect everybody."
The Grizzlies, defending Morant, vehemently disagreed about Poole's intent with the knee injury.
"Just trying to be matter-of-fact here," said Jenkins after Game 3. "This is what Ja says, this is what our medical team has said after reviewing the play. Ja was playing great, feeling great all game, and the grab of the knee is what triggered the potential injury and why we took Ja out of the game."
"I don't think Poole or anybody in this series for that matter is necessarily a dirty player," said Tyus Jones. "But it was just an interesting play. That is all I can really say on that. It was not a normal play that normally happens but I don't think he was trying to injure Ja by any means."
Morant averaged 38.3 points, 8.3 assists, and 6.7 rebounds in three games against the Warriors. He tied a career-high with 47 points in a Game 2 victory for the Grizzlies, and scored 34 points in both of their losses.
Check out more coverage of the 2022 NBA Playoffs.