The Carolina Panthers have quarterback Sam Darnold under contract for one more season, but after they failed to acquire a high-profile quarterback through a trade, the Panthers could ask Cam Newton to return to the roster as a backup and insurance policy if Darnold misses time due to injury.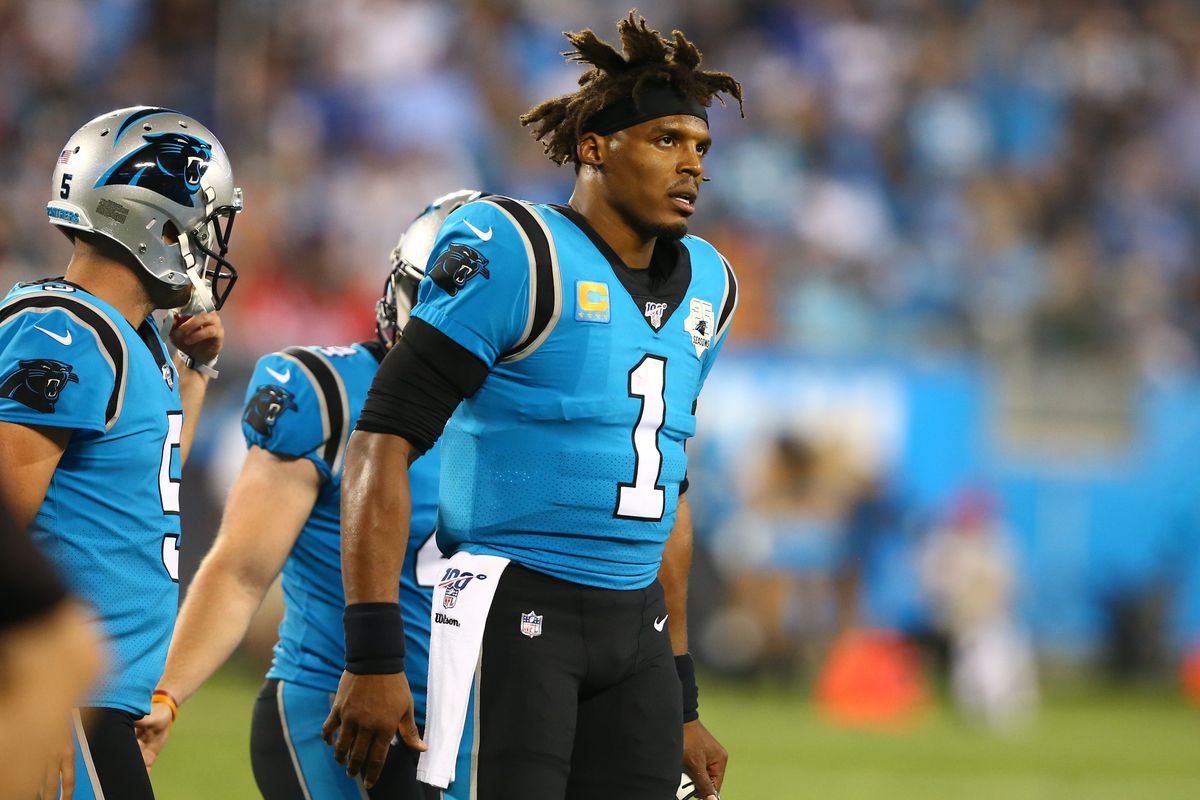 The Panthers were 5-12 last season and finished in last place in the NFC South.
Newton returned to the Panthers last season after Darnold fractured his shoulder blade. He went 0-5 as a starter.
In eight games with the Panthers, Newton completed 69 passes for 684 yards, four touchdowns, and five interceptions. He connected on just 54.8% of his passes. He rushed 47 times for 230 yards and five touchdowns, averaging 3.9 yards per rush.
In 12 games last season, Darnold completed 243 passes for 2,527 yards, nine touchdowns, and 13 interceptions. Darnold went 4-7 as a starter last season.
The Panthers are a long shot at +10000 odds to win Super Bowl 57, according to the NFL futures board at DraftKings.
Carolina QBs: Darnold and Walker
The Panthers have Darnold under contract for one more season, and they'd like to see what he can do if he's healthy for an entire season. They also signed backup PJ Walker to a one-year deal. However, the team left the door open for Newton to return.
"I would have Cam Newton on my team forever at any place I coached because of what he brings," said head coach Matt Rhule. "The business part of it, the money, the negotiations, I can't speak to that. I can't speculate about the future, I don't know if you can ever have enough winners, enough alphas, enough leaders in the building. We'll have to wait and see what happens."
Despite his disappointing return to the Panthers last season, Rhule had nothing but good things to say about Newton.
"Cam has a level of buy-in, investment, and work ethic that from my time in the NFL, I haven't seen many guys like him," gushed Rhule. "That's the beauty of having Cam Newton in your organization is that he raises the level of everyone around him. He is going to push everyone because he's not afraid of what people think."
The Seattle Seahawks and Atlanta Falcons are both considered possible landing spots for Newton. The Panthers could bring Newton back if he fails to find a job elsewhere. But, if Newton thinks he can be a starter somewhere, does he really want to be a backup on a losing squad just because he had his glory days with the Panthers last decade?
Panthers eyeing Jimmy G or Baker Mayfield?
The Panthers were interested in Deshaun Watson, but they missed out on a chance to snag him in a trade. They submitted a package, but either the team or Watson rejected it.
Prior to his trade to the Cleveland Browns, several outlets reported that Watson was deciding between the Atlanta Falcons or the New Orleans Falcons. Two NFC South teams were in contention, but the Panthers weren't on the shortlist. In the end, the Browns won out and a trio of NFC South teams whiffed on the Watson sweepstakes.
We'll see if the Panthers seek to upgrade their quarterback with a trade offer to the San Francisco 49ers for Jimmy Garoppolo.
Jimmy G is the most talented quarterback currently available. The 49ers could stick with the veteran for one more season, but Trey Lance is the future of the organization. If the Panthers were willing to trade future draft picks for Watson, why wouldn't they work out a trade package for Jimmy G?
Mayfield, the former #1 pick in the draft, is also on the trade block after the Browns acquired Watson. We'll find out if the Panthers are truly desperate enough to give the Browns a call for Mayfield.