Paul George stole the show with 45 points in a 117-112 victory for the Oklahoma City Thunder (36-19) over the Houston Rockets (32-23), but Russell Westbrook posted his ninth-consecutive triple-double and James Harden dropped 42 points to extend his 30-point scoring streak to 29 games.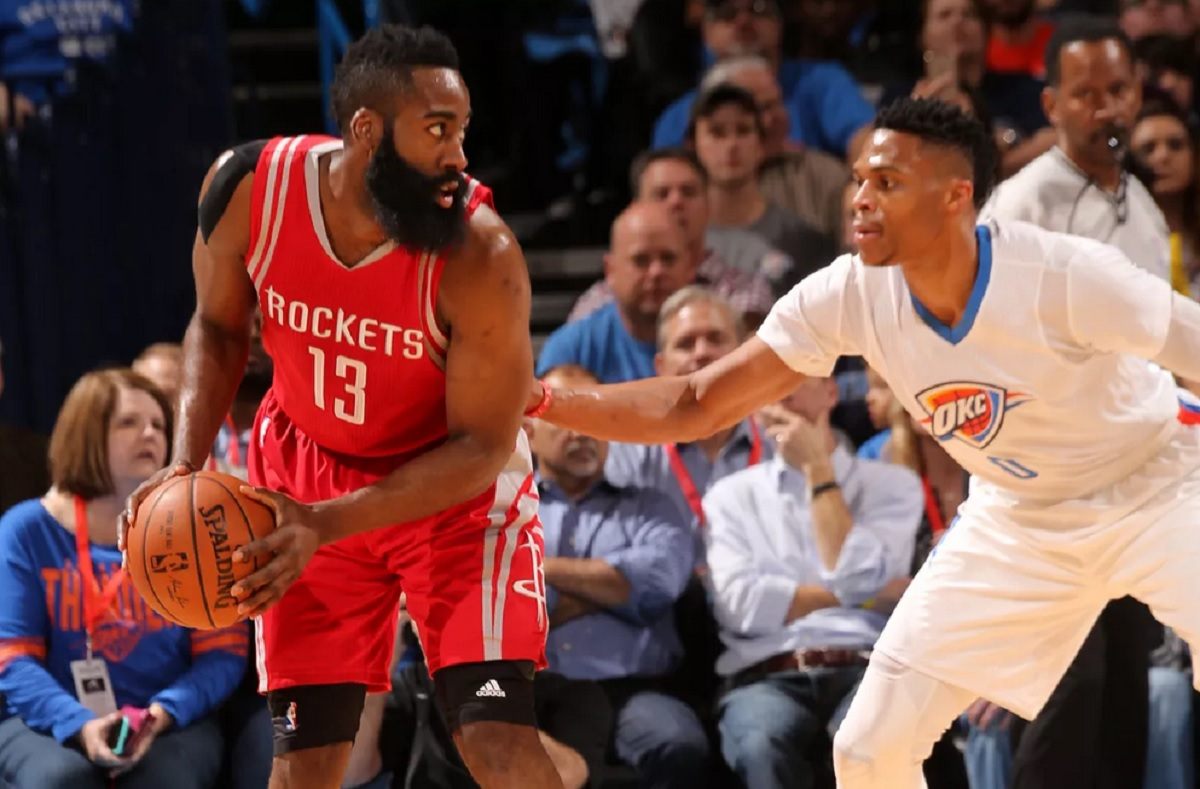 The Rockets blew a 26-point lead at home and lost by five points. The Rockets could not stop Paul George, who went 6-for-14 from three-point land to finish the game with 45 points and 11 rebounds in 41 minutes of action. George is in his own mini-streak. He's scored 36 or more points in seven out of the last nine games.
Personal streaks continued for both Westbrook and Harden. Westbrook secured a triple-double with 21 points, 11 assists, and 12 rebounds. Harden led the Rockets in scoring with 42 points and extended his 30-point scoring streak to 29 games.
Sick Comeback, Bruh
The Rockets got off to a hot start and looked like they had the game locked up. They headed into halftime with a 70-48 lead. Their biggest lead was 26 points before the Thunder stormed back in the second half.
"We just knew we had to have a better second half," George said. "Being down that much at the half, that's not the team we are. We know this team very well and we knew that wasn't us. So we had to come in here and talk and just light a fire under this team and we did that."
The Thunder pulled off their largest comeback in franchise history. The Rockets went cold in the second frame. They scored 42 points in the second quarter, but only scored 42 points in the entire second half.
Harden dropped 42 against them, but he also missed 17 shots. George put forth a relentless effort on both ends of the court. He defended Harden as well as he could. In the end, he scored 3 more points and walked away with a victory.
George leads the Thunder in scoring this season with 28.3 points per game. He only averages 19.5 points per game in his career, but he's become the main focal point of the offense.
RWB Tying Wilt
The Thunder are 8-1 during Westbrook's nine-game triple-double streak. He's averaging a triple-double for a second season in a row. Westbrook is scoring 21.2 points, 11.2 assists, and 11.1 rebounds per game.
Last week, Westbrook tied Michael Jordan and Oscar Robertson with seven-consecutive games with a triple-double. He's now tied with Wilt Chamberlin.
WESTBROOK TRIPLE-DOUBLES
Current Streak: 9
Season: 22
Career: 126
He also contributed 10 turnovers. It's been ten games since Westbrook failed to tally a triple-double in the stat sheet. The New York Knicks lost to the Thunder by 18 points, but held Westbrook to only nine assists.
Westbrook will go for the NBA record on Monday night against the Portland Trailblazers.
Harden Keeps Rolling
Can anyone stop James Harden? He's now averaging 36.6 points per game this season. He's only hitting 37.5 percent of his three-pointers, but he's hitting twice as many per game (5.0) as his career average (2.6). A torrid Harden scored 50-plus in back-to-back games in mid-January.
THE BEARD STREAK
Season Average: 36.6
Career Average: 24.0
Season High: 61 at Knicks 1/23/19
30-Plus Streak: 29 games
30-Point Games (Season): 39
40-Point Games (Season): 21
50-Point Games (Season): 5
60-Point Games (Season): 1
With 42 points against the Thunder, Harden secured his 21st 40-point game of the season. Harden won the MVP last season and he has the inside trade for the MVP this season.
Harden's last sub-30 game occurred on December 11, 2018 when the Portland Trailblazer held him to 29 points. His season high occurred when he torched the New York Knicks at MSG for 61 points.
Western Seeding: #3 Thunder and #5 Rockets
The Thunder won ten out of their last 11 games. The Rockets are only 3-3 in their last six games. If the playoffs were to begin today, the Thunder would have the #3 seed, while the Rockets would have the #5 seed. The Thunder are only 3.5 games out of first place behind the Warriors.
The Rockets are in the middle of the pack with the Portland Trailblazers. Meanwhile, only 2.5 games separate the #6 seed and the playoff bubble. The upstart Sacramento Kings are young and inexperienced, but they're making a run at the LA Clippers for the #8 seed. The Clippers recently traded Tobias Harris to the Philly Sixers in order to clear cap space to pursue free agents in the offseason, such as Kawhi Leonard.
According to the South Point Casino and Sports Book in Las Vegas, the Oklahoma City Thunder are 16/1 odds to win the NBA championship. Houston Rockets are 12/1 odds to win the NBA title, even though they have a worse record than the Thunder.