Tampa Bay Rays shortstop Wander Franco could miss nearly two months after suffering a wrist injury in Saturday's 5-4 loss to the Cincinnati Reds.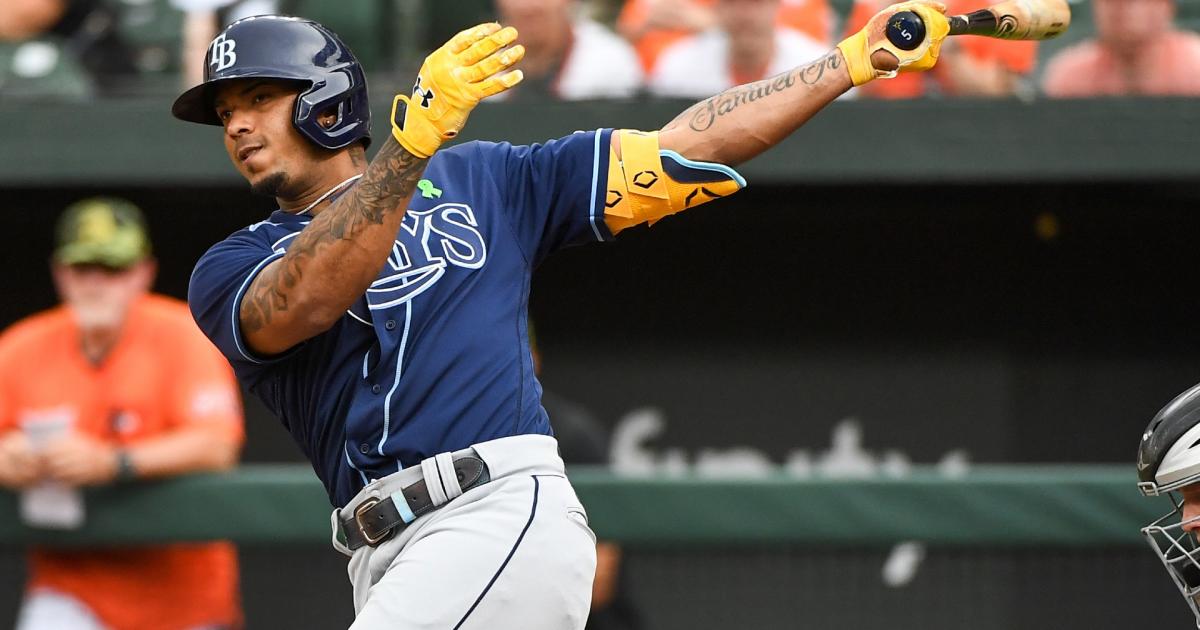 Franco will undergo surgery on his right wrist on Tuesday, with Tampa Bay manager Kevin Cash saying the 21-year-old star will miss five-to-eight weeks.
Franco adds to long list of Rays injuries
The injury occurred when Franco fouled off a Hunter Greene pitch in his first at-bat on Saturday. He then struck out before exiting the game. Franco visited a doctor on Monday who confirmed the fractured hamate.
The injury is the latest blow to the Rays, who are missing five of their nine Opening Day hitters. Tampa Bay is currently 46-40, 15 games behind the Yankees in the AL East but holding on to a wild-card position. The Rays are a +3500 pick to win the World Series at FanDuel Sportsbook.
"You've got to make the most of the roster that you have," Cash told reporters. "It presents really quality opportunities for some young players that, with good health and good fortune, might not be getting that this year. We've gotten a lot of it, and hopefully we're going to continue to find ways to be better from it."
Franco is hitting .260 with five homers and a .704 OPS this year. He's been battling injuries throughout his second season in the majors, including a strained right quad in late May.
Merrifield consecutive games streak comes to end
Kansas City Royals infielder Whit Merrifield sat out the first game of a doubleheader against the Detroit Tigers on Monday, ending his streak of 553 consecutive games played. Merrifield left Sunday's Royals game in the fifth inning with pain in his right foot after attempting to field a ball in the fourth inning. X-rays came back negative, but Merrifield has struggled to put weight on his foot.
That led the Royals to sit Merrifield for both halves of Monday's doubleheader. The two-time All-Star is hitting .240 with five home runs and a .635 OPS, and has stolen 14 bases on the year.
"If it was my left foot, it'd be a little different," Merrifield told reporters. "I think I'd be able to manage it if it was my plant foot. But it's my load foot. In hitting, you want weight on your backside. Try pushing off your backside while you've got a big toe that's bothering you. I just don't see it being beneficial for anything that has to do with my swing."
The Royals haven't put Merrifield on the injured list as of yet, and he says he expects to return as soon as he can swing normally.
X-rays negative on Bohm's finger
Philadelphia Phillies third baseman Alec Bohm left Monday's game against the St. Louis Cardinals with a dislocated left ring finger. He suffered the injury while sliding headfirst into second base in the second inning while trying to stretch a single into a double.
Interim manager Rob Thomson told reporters that x-rays on the finger were negative.
"They popped it back out and he'll play to tolerance, but we don't know what the move is yet," Thomson said.
Bohm will miss at least the next two games in any case. He is among four Phillies players who didn't get vaccinated against COVID-19, meaning they can't play in Toronto due to Canadian rules on unvaccinated travelers.