If you need to bolster your fantasy football roster with a quarterback, keep an eye on Week 2 waiver wire pickups, including Teddy Bridgewater, Mac Jones, Sam Darnold, Tyrod Taylor, and Taylor Heinicke.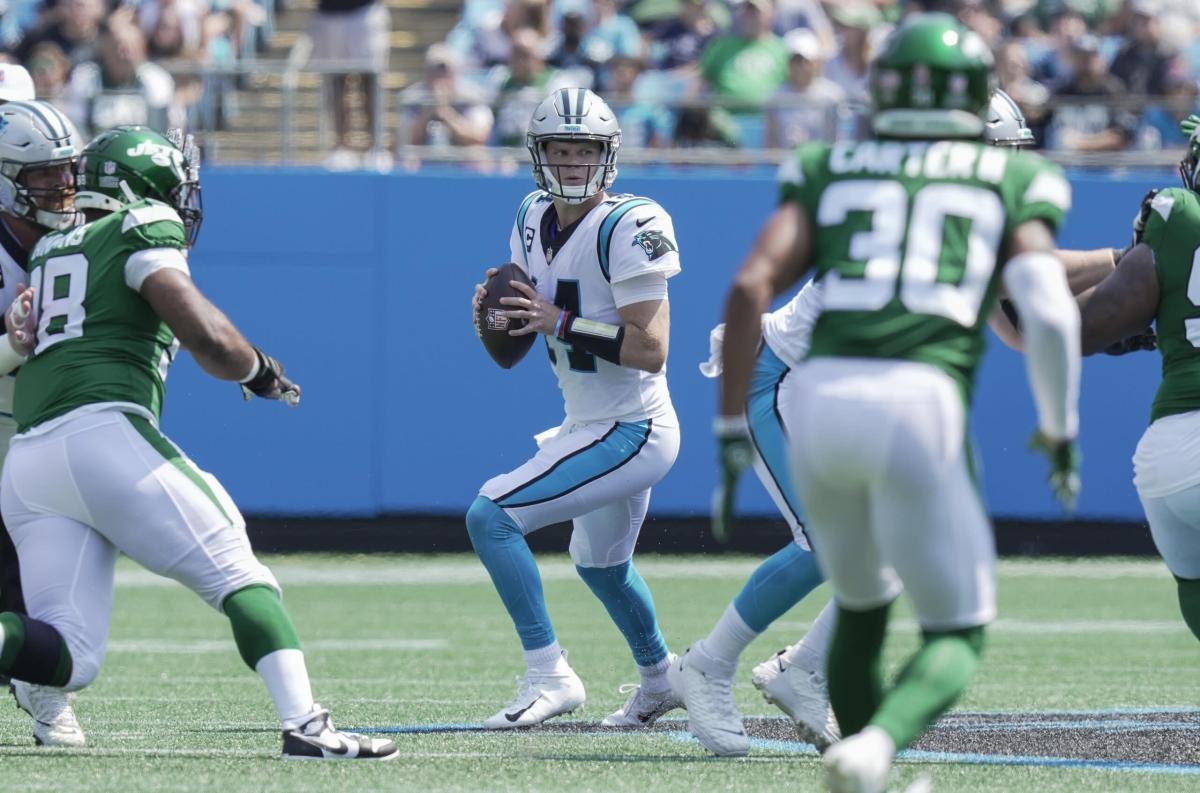 I'm in a couple of 10-team fantasy football leagues, including a high-stakes keeper league. Most of these suggestions are for players currently available on my actual waiver wires, so there's a good chance you'll find them as well.
---
Week 2 Waiver Wire Pickups – QB
Teddy Bridgewater (Denver Broncos)
Mac Jones (New England Patriots)
Sam Darnold (Carolina Panthers)
Tyrod Taylor (Houston Texans)
Taylor Heinicke (Washington Football Team)
---
I'm especially surprised that Bridgewater is available on the waiver wire in a fantasy league that I'm in that consists mostly of Broncos fans from Denver and Boulder. I strongly suspect that Bridgewater will be one of the first pickups this week.
Bridgewater, Jones, and Darnold
If you say those three names real fast — Bridgewater, Jones, and Darnold — they sound like a fictitious law firm from a John Grisham novel.
The Carolina Panthers punted on Bridgewater in the offseason and went all-in on Darnold instead. Both quarterbacks look comfortable with their new teams. The Broncos acquired Bridgewater in a trade, but kept eyes on Aaron Rodgers in a possible mega-deal with the Green Bay Packers.
With Rodgers returning to the Packers for one more year, the Broncos settled in with Bridgewater as their short-term quarterback. Whether he's trying to win over John Elway or auditioning for a new team next season, it doesn't matter, because Bridgewater looked sharp in Week 1.
He won't have top wide receiver Jerry Jeudy for several months after Jeudy suffered a high-ankle sprain, but he still has a solid batch of wideouts.
Darnold torched his old team in a big win for the Carolina Panthers over the New York Jets. It's only one game, but Darnold is thriving in his post-Adam Gase environment. Darnold has the opportunity to throw to strong wide receivers and, when all else fails, there's Christian McCaffrey to dump the ball to, which makes him an optimal waiver wire pickup.
Mac Jones posted a solid performance (281 yards, 1 TD) in his rookie debut for the New England Patriots despite a one-point loss against the Miami Dolphins. In Week 2, Jones and the Pats will face a depleted Jets defense. We all know how much Belichick loves to run up the score on the LOL Jets.
DARNOLD TO ANDERSON!

Just like old times. #KeepPounding@Panthers | @chosen1ra

📺: #NYJvsCAR on CBS
📱: NFL app pic.twitter.com/rrUVjnrXfT

— NFL (@NFL) September 12, 2021
Taylor and Taylor
Every prognosticator predicted that the Houston Texans would be the worst team in the NFL. They even had the lowest win total at four games. The Texans might not win a lot of games, but they have a competent offense led by Tyrod Taylor. He can fling it, so keep an eye on him if you're in a deep fantasy league with 12-14 teams and don't have many options on the waiver wire.
Taylor Heinicke gets the start on Thursday Night Football for the Washington Football Team against the New York Giants. The G-Men looked awful in Week 1. Washington's offense looked better with Heinicke under center after Fitzpatrick injured his hip in the first half. Heinicke completed 11-for-15 passes for 122 yards and a touchdown. More importantly, he didn't throw any interceptions and evaded any sacks.
Tyrod Taylor in the first half:

▫️ 14/23
▫️ 2 TD
▫️ 229 yards
▫️123 QB rating

Texans lead the Jaguars 27-7 👀

🎥 @NFL pic.twitter.com/rso1LENkLh

— The Athletic (@TheAthletic) September 12, 2021