Heading into Week 5 of your fantasy football league, you should consider Carolina kicker Joey Slye in your waiver wire pickups, along with RB Ronald Jones (Tampa Bucs), RB Jaylen Samuels (Pittsburgh Steelers), WR AJ Brown (Tennessee Titans), and WR DJ Chark (Jacksonville Jaguars).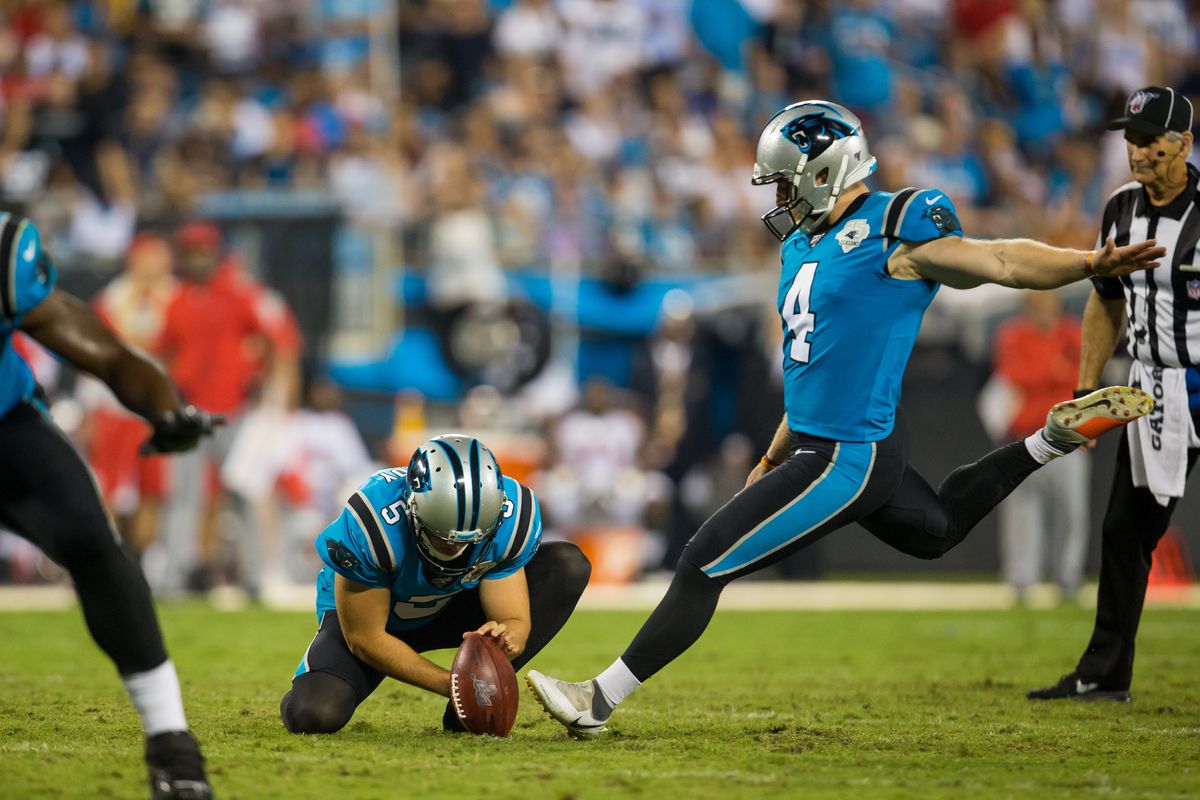 Joey Slye, the top kicker in fantasy football, has flown so far under the radar,he didn't even have a picture and head shot on fantasy football sites until last week.
It looks like Bruce Arians finally put his thumbprint on the Tampa Bay Bucs offense. The Bucs lit up the LA Rams for 55 points, and Ronald Jones took advantage of the Arians-style, jacked-up offense.
WEEK 5 WAIVER WIRE PICKUPS:
Ronald Jones (RB, Tampa)
Jaylen Samuels (RB, Pittsburgh)
AJ Brown (WR, Tennessee)
DJ Chark (WR, Jacksonville)
Joey Slye (K, Carolina)
If you like to fade recency bias, or you play in a competitive 12-14 team fantasy football league, then you'll love Jaylen Samuels fresh off his Monday Night Football performance. Samuels looked good running the Wildcat for the Steelers in Week 4's Degen Game of the Week against the winless Cincinnati Bengals.
A pair of young wide receivers are garnering lots of love on social media, with DJ Chark and rookie AJ Brown becoming reliable targets for their quarterbacks.
RB Bumps: Ronald Jones and Jaylen Samuels
It took a full month before the Tampa Bay Bucs offense got rolling under Bruce Arians. The Bucs exploded for 86 points in their last two games, including 55 points in a huge road win against the LA Rams. RB Ronald Jones posted 70-plus rushing yards in three out of four games this season. Jones rushed for 150 yards in his last two games (with a 4.5 yards per carry average), and he finally scored his first TD of the season.
Pittsburgh's backup RB, Jaylen Samuels, looked like an exceptional dual-threat back and Wildcat option in a Monday Night Football blowout against the Cincy Bengals. The second-year back out of NC State finally demonstrated his skills in front of a prime time audience. He only rushed 10 times for 26 yards, but took seven direct snaps in the Wildcat formation and still grinded out a rushing TD. Samuels also caught eight passes for 57 yards as a favorite target from Steelers backup QB, Mason Rudolph. If you're in a deep fantasy football league or looking for a worthy handcuff for James Conner, then Samuels is worth a flier.
AJ and DJ Show: DJ Chark and AJ Brown
DJ Chark has become a favorite target for backup QB Gardner Minshew. The Jags drafted Chark out of LSU in the second round of the 2018 NFL draft. The second-year player only caught 14 passes during his rookie year. This season, Chark recorded 19 receptions through four games. He scored a touchdown in his first three games of the season, before Denver kept him out of the end zone in Week 4.
We tipped you off to AJ Brown after his Week 1 performance when he caught three passes for 100 yards in a Titans victory. Brown had only four receptions in Weeks 2 and 3, but he exploded in Week 4. Brown lit up the Atlanta Falcons for three catches for 94 yards and two touchdowns, including a 55-yard touchdown scamper.
Rookie WR A.J. Brown had 94 yards + 2 TDs…

With just THREE CATCHES. 😱 @Brown1arthur@Titans | #Titans pic.twitter.com/7f9xPQqnuR

— NFL (@NFL) September 30, 2019
Kicker Joey Slye and the Family Stone
Carolina Panthers kicker Joey Slye looks more like a lineman or a roadie in a metal band. The former walk-on at Virginia Tech won the starting kicking job and became the VaTech's all-time leading scorer. He went undrafted and failed to make it on a NFL roster last season. Slye almost gave up his dream of becoming an NFL kicker, but kept at it out of respect for his brother, AJ.
"I promised my brother, who passed away in 2014, that I would make it," said Slye.
Slye's brother passed away from leukemia, and he's been on a mission to fulfill a dying wish to his brother.
Slye is 10-for-11 with FGs, and his only miss was from 50-plus yards in Week 1. He's also a perfect 9-of-9 in XPs. Slye also nailed three field goals during a difficult divisional victory over the Houston Texans, 16-10. On ESPN and most fantasy leagues, Joey Skye is ranked as the #1 kicker.