Brian Ortega suffered the only loss of his MMA career three years ago when Max Holloway stopped him after four rounds in a title fight at UFC 231. Now, Ortega will get a second shot at the belt when he faces Alexander Volkanovski for the featherweight championship at UFC 266 on Saturday in Las Vegas.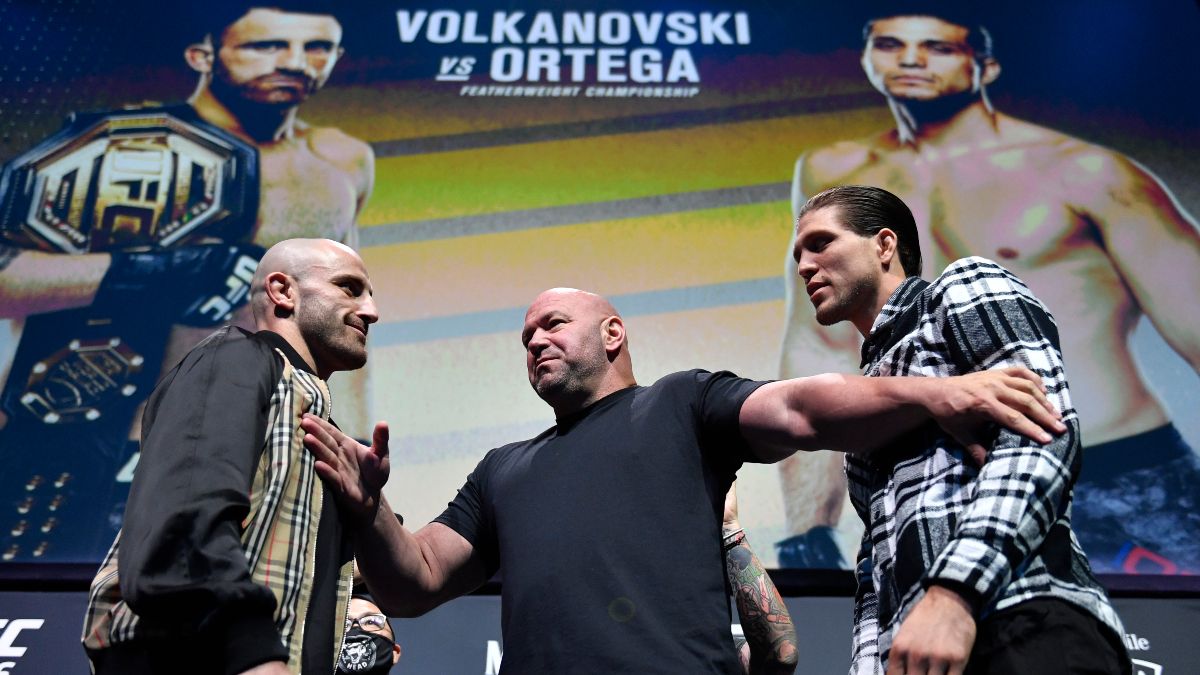 Volkanovski has never lost in his UFC career, going 9-0 in the promotion since joining back in 2016.
Volkanovski rips Ortega for positive PED test
Overall, Volkanovski (22-1) only sports one loss on his MMA record, with the defeat coming way back in 2013 when he was competing in the Australian Fighting Championship. He won the UFC featherweight title in December 2019 by beating Holloway by unanimous decision, then defended it in July 2020 via split decision in a rematch.
Now, Volkanovski gets his first chance to defend his title against a new challenger. At a prefight press conference, the Australian said that he has some respect for his opponent's abilities, but isn't worried about the fight.
"Hey, he deserves to be here, I'll give him that," Volkanovski told reporters. "But he ain't taking the belt. You don't deserve that."
Volkanovski showed much less respect for every other aspect of Ortega's approach to MMA, including his positive test for drostanolone after a 2014 victory over Mike De La Torre that later became a no-contest.
"To be honest, [he is] obviously unprofessional," Volkanovski said. "I just see weakness, unprofessional. Obviously, showing weakness a few years back popping [for performance-enhancing drugs], producing, that shit annoys me. It's unprofessional and I ain't about that shit."
COVID-19 delays fight for six months
Ortega (15-1) has said he's moved beyond that mistake and hasn't tested positive for any PEDs since that time. The 30-year-old American had to wait an additional six months for his title shot after Volkanovski tested positive for COVID-19 ahead of UFC 260.
Now that the opportunity has arrived, however, Ortega plans to take full advantage of it. He told DAZN that he's grown significantly as a fighter since his loss to Holloway in 2018.
---
Volkanovski vs. Ortega Odds (via FanDuel Sportsbook)
Alexander Volkanovski: -178
Brian Ortega: +150
Method of Victory
Volkanovski by KO/TKO: +340
Ortega by KO/TKO: +650
Volkanovski by Submission: +1200
Ortega by Submission: +550
Volkanovski by Decision: +135
Ortega by Decision: +500
Draw: +5000
---
"I know how to fight. Honestly, before, I just had heart," Ortega said. "I would just go in there, and I would fight, and I would test your chin against mine and whose breaks first, and then I would make [something] happen within the chaos. I had jiu-jitsu skills, so I relied heavily on that, but when it came down to game planning and nutrition and shaping my conditioning and all these other things, I had no idea what I was doing because what I was doing was winning fights, so I just figured if it wasn't broken, don't fix it."
The champion Volkanovski comes into the fight as a -178 pick over Ortega (+150), according to FanDuel Sportsbook. While both men are more than capable of finishing a fight by knockout or submission, FanDuel is also offering -122 on the fight to go the distance – a sign of respect for how tough it will be to finish either of these featherweights.