The Minnesota Vikings will miss their primary offensive weapon for an undetermined amount of time after Dalvin Cook suffered a painful shoulder injury against the San Francisco 49ers on Sunday. Vikings backup running back Alexander Mattison will replace Cook in the starting lineup.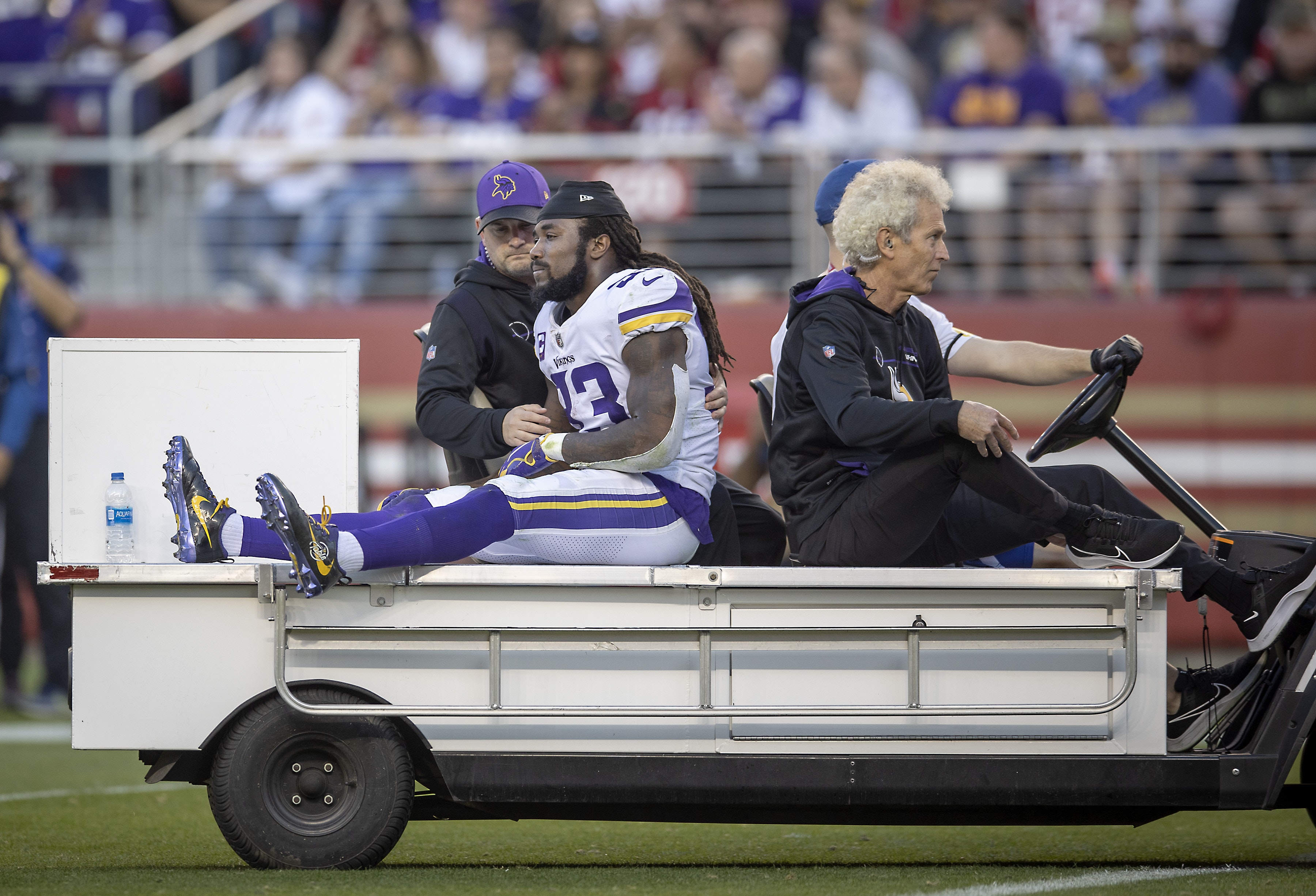 Cook went down in the third quarter against the 49ers and was carted off the field after the training staff attended to him for several minutes. He was diagnosed with a dislocated shoulder and didn't return to the game. The Vikings lost 34-26 to the 49ers and sunk to 5-6 on the season with their postseason hopes quickly diminishing.
Before his shoulder injury, Cook racked up 103 combined yards from scrimmage with 39 rushing yards and 64 receiving yards.
Cook was already nursing a partially torn labrum on his right shoulder before his other shoulder was dislocated against the 49ers. An MRI on Monday revealed a partially torn labrum on his left shoulder. With injuries to both shoulders, Cook will miss the next two games for the Vikings, including a divisional battle against the Detroit Lions in Week 14 and a Thursday Night Football matchup against the Pittsburgh Steelers in Week 15.
Even with Cook out, the Vikings are still -7 road favorites against the winless Lions on Sunday.
Mattison next Viking up
Alexander Mattison will start at running back for the Vikings until Cook is able to return to action. As Cook's understudy for the past three seasons, Mattison averaged 4.3 yards per carry and 8.1 yards per reception. In two starts this season for a banged-up Cook, Mattison rushed for 100-plus yards in both games.
During a blowout win over the Seattle Seahawks in Week 3, Mattison rushed for 112 yards. In Week 5 against the Detroit Lions, Mattison rushed for 113 yards and added 40 receiving yards and a touchdown in a two-point victory.
"Mattison did a nice job when he's been in there," said Vikings head coach Mike Zimmer. "We anticipate him going in there and playing well."
Rookie Kene Nwangwu will back up Mattison. Nwangwu had a stellar performance against the 49ers as a special teams player with a 99-yard kick return for a touchdown. The exciting rookie also returned a kick for a 98-yard touchdown in Week 9.
Heading into this season, Christian McCaffrey and Cook were the top two running backs on everyone's fantasy football cheat sheets. Now, at the end of November, both premier RBs are sidelined. McCaffrey is out for the rest of the season with an ankle injury.