Liz Carmouche has twice had chances to win a championship in the UFC, coming up short in both attempts. She also lost in her one shot at becoming a Strikeforce titleholder earlier in her career. She now comes in as a live underdog in her fourth attempt, this time facing off with Juliana Velasquez for the Bellator Women's Flyweight Championship at Bellator 278 on Friday night.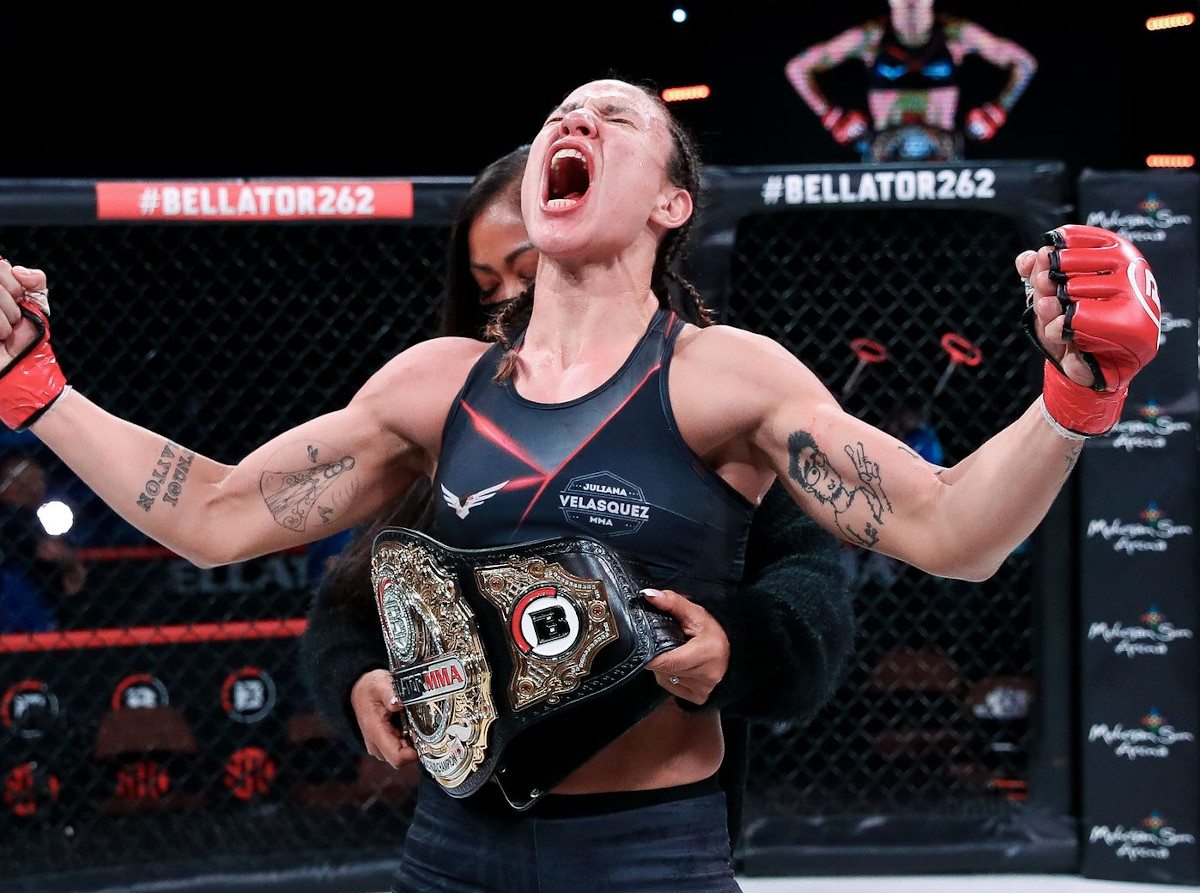 The undefeated Velasquez (12-0) comes into the fight as just a -150 favorite over Carmouche (+130), according to DraftKings Sportsbook.
Velasquez seeking pound-for-pound recognition
Velasquez has put together seven wins in her Bellator career, and won the flyweight title by beating Ilima-Lei Macfarlane by unanimous decision at Bellator 254 in December 2020. She didn't exactly dominate her first title defense, beating Denise Kielholtz by split decision, though the majority of media members agreed that Velasquez had won a close bout.
Now, Velasquez is aiming to put in a more convincing performance against Carmouche. In the process, she says she should earn a place among the top pound-for-pound fighters in the world.
"I think I should [already be mentioned], but I've got one fight coming up," Velasquez told reporters via an interpreter. "For sure, my name is going to be on the list after this matchup."
One last title run for UFC veteran
Carmouche (16-7) may not have a title, but she does have experience on her side. She's fought many of the best women's MMA practitioners in the world, including Ronda Rousey, Miesha Tate, and Valentina Shevchenko. Carmouche lost all of those fights (with the exception of an early career win over Schevchenko), but the experience she gained in those bouts has prepared her for another shot at a title belt.
"It feels great, not only because this is just putting into fruition everything I've been talking about and dreaming about, but also I get to do it under the Bellator banner," Carmouche told reporters. "As much as I focused toward the belt, and that was the same when I came to Bellator, I was really identifying each fight as being the most important fight I had and tried to put everything into it. This is the same. This has to be the most important fight, get the belt, and the next one will be the most important fight."
At 38, this might be Carmouche's last realistic opportunity to earn a championship in Bellator or in any other major promotion. But, she says she has goals that go well beyond a single title win.
"Having the belt and closing out with say four more wins or six more wins would be the best way to end the career for me," Carmouche said. "Knowing not only did I get the title, but held it securely until I decided to end my career with it."