On the first Saturday in March, UCF stepped up with a huge upset while three high-profile teams lost conference battles including #6 Michigan State, #8 Houston, and #12 Nevada.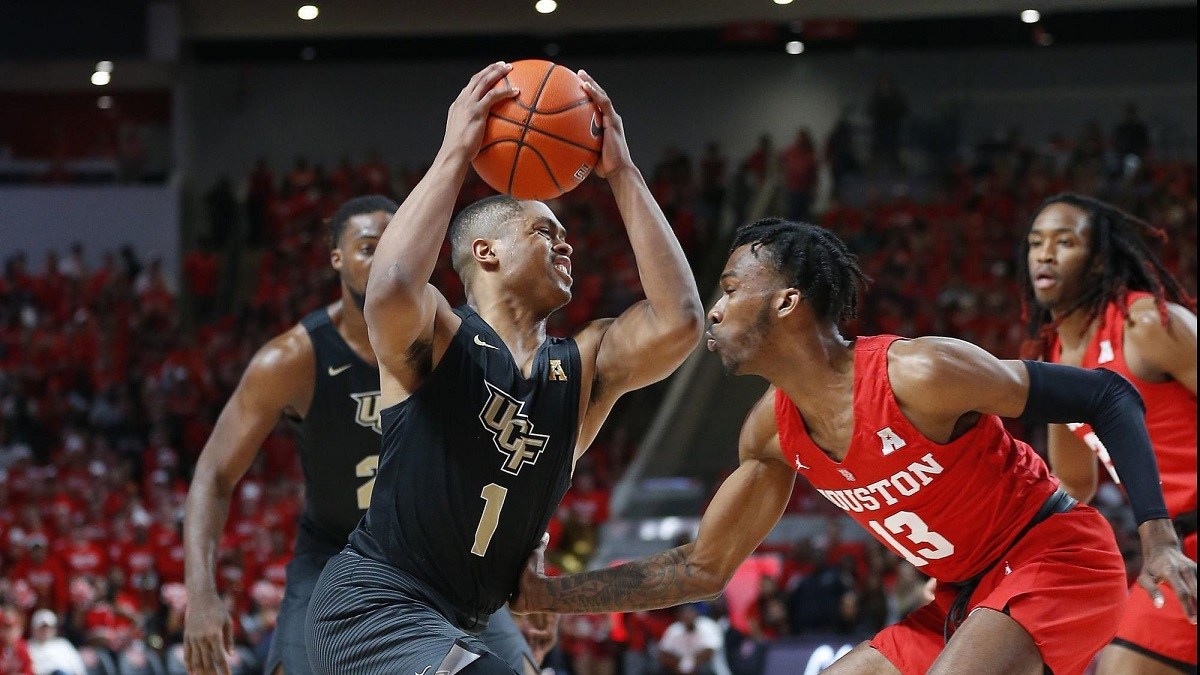 Houston (27-2) had won 33 games in a row at home before American Conference rival UCF (22-6) came to town and snapped their streak with a 69-64 victory. In a feisty Mountain West match up against Utah State, the Nevada Wolfpack (26-3) were picked off 81-76 in front of a hostile crowd in Logan, Utah. Indiana (15-14), previously 5-12 in the Big Ten, pulled off the biggest home-dog upset of the day when the Hoosiers defeated #6 Michigan State 63-62.
AAC Dangerfields, Tacko Fall, UCF Respect
The American Conference doesn't get the same respect as the power conferences, but that's one of the biggest problems for mid-major schools. They will always be like Rodney Dangerfield and unable to find any respect.
In the recent AP Poll, Kelvin Sampson's squad in Houston finally pierced the impenetrable Top 10 with a #8 ranking. The Cougars will most likely fall out of the Top 10 this week after suffering only their second-loss of the year.
"We did a lot of things that were uncharacteristic for us tonight," Sampson said. "But let's give Central Florida some credit. Central Florida came in here with a good plan and they beat us."
On the flip side, this was a vital game for putting UCF basketball on the map with the biggest win in school history. Maybe the Knights will finally sneak into the Top 25 this week?
UCF, otherwise known as Central Florida, is coached by former Duke star Johnny Dawkins.
"It's a huge win for our program," said Dawkins. "What Sampson has done here at Houston over the course of the past few years has been amazing. We want to represent our conference well, too, and we're in the process of trying to build towards that. A game like this helps because you can see that it's possible."
UCF were led by their two big men: Collin Smith and Tacko Fall. Smith, a 6-foot-11 sophomore forward, led UCF with 21 points. Tacko Fall, a 7-foot-6 center from Senegal, leads the nation in field goal percentage. He scored 13 missing on an efficient 6-for-9 from the field. Fall added 10 rebounds. Although he did not have any blocks, he was a defensive menace for the Cougars.
Bloomington Blues
Road games are never easy in the Big Ten. That's why the NCAA selection committee harps on strength of schedule and favors the premier conferences. Even a .500 team with only five conference wins all season could upend one of the best teams in the country.
Indiana took "any given Saturday" to heart to defeat #6 Michigan State (23-6) by a point. They rallied back for a double-digit deficit to pull off the upset.
"I thought for most of that game we did a hell of a job," said Michigan State coach Tom Izzo. "We just flat out ran out of gas."
Indiana's Justin Smith led all scorers with a career-high 24 points. Juwan Morgan had an off game, but hit a clutch bucket in the closing ninety seconds to tie the game. He was fouled on the put-back and hit the ensuing free-throw to complete the and-one. Morgan put Indiana ahead 63-62 and held on for the win.
Mountain West Blood
It's never easy to play games at Utah State's home arena known as the Spectrum. Utah State has one of the largest student sections in the country, which makes game very rowdy because the boisterous crowd gets under the skin of opponents. The Aggies are 14-1 at the Spectrum this season, with a sole loss against Arizona State.
Utah State (24-6) and #12 Nevada were vying for the top seed in the Mountain West tournament. The five-point win put Utah State ahead of Nevada in the standings.
Utah State's Sam Merrill played every minute of the game and led all scorers with 29 points.
"I'm in good enough shape to be able to do it," Merrill said. "It's tough at times, but I'm grateful that coach has the trust in me to be able to stay out there for the full 40."
The Martin Twins from Nevada combined for 39 points and 16 rebounds for Nevada. Jordan Caroline had a bad shooting night going 3-for-15 from the field and 0-for-5 from three-point range.
When the student section stormed the court, police escorted Nevada's team down the Utah State tunnel. Caroline and a Utah State assistant coach exchanged words, which incited a flare up in the hallway in between the two locker rooms. Caroline broke a fire extinguisher cover as he had to be held back by coaches and teammates. Nevada head coach Eric Mussleman had to be restrained by local police.
Wow! Emotions running high after the Utah State vs Nevada game. This is incredible. @KUTV2News (WARNING: STRONG LANGUAGE) pic.twitter.com/mFl7wIP6W9

— Jake Edmonds (@JakeKUTV) March 3, 2019