In November 2004 during an Indiana Pacers and Detroit Pistons game in Michigan, a fight flared up between Detroit's Ben Wallace and Indiana's Ron Artest that escalated into a brawl. Their dust-up spilled over into the stands after a fan threw a bottle at Artest, and an all-out melee between NBA players and fans ensued. Netflix produced a documentary with never-before-seen footage of the Pistons/Pacers brawl in Untold: Malice at the Palace.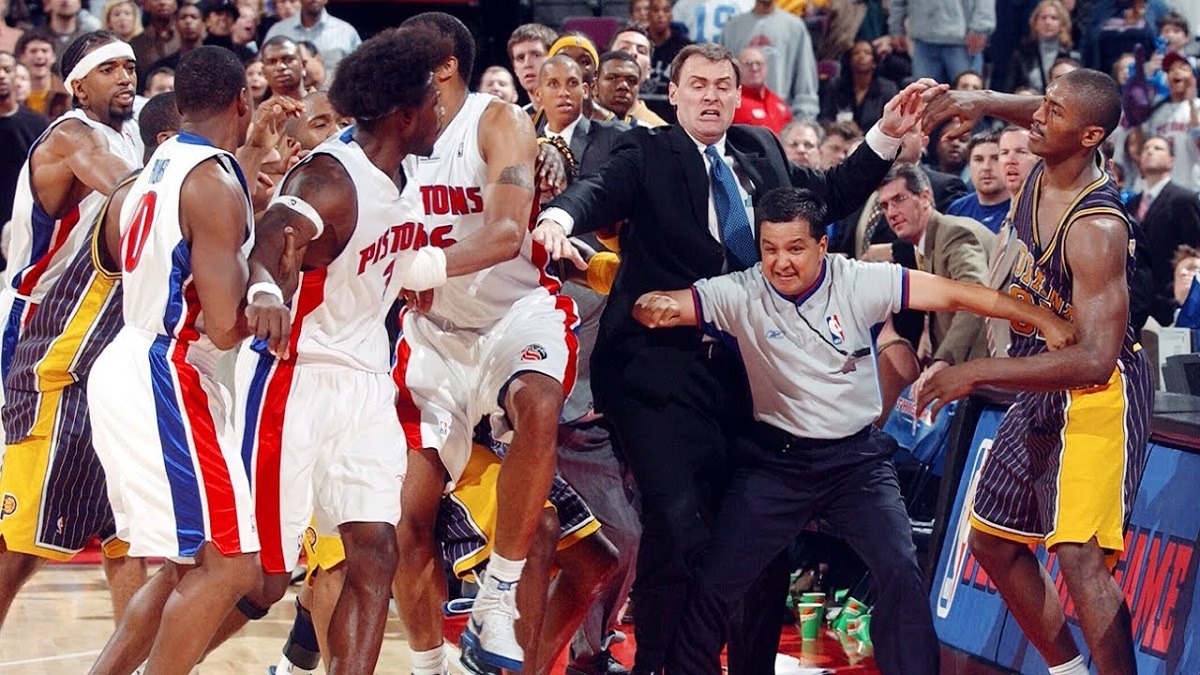 The incident marked a low point for the NBA, with the media sensationalizing the incident with coded language that changed the narrative. It took the league the remainder of the decade to repair its tarnished image following the fallout from the Pistons/Pacers brawl and the relentless media circus it spurred.
Almost 17 years later, there's still plenty of venom between the parties involved. The Netflix documentary series Untold delved into the Malice in the Palace brawl and the aftermath on that ugly Friday night in late November.
The Malice at the Palace game began as a rematch of the 2004 Eastern Conference finals. The Pistons defeated the Pacers in the conference finals in six games to advance to the NBA Finals before knocking off the LA Lakers to win the championship.
The Pistons/Pacers brawl
Early into the new 2004-05 NBA season, the defending champion Detroit Pistons hosted the Indiana Pacers at the Palace of Auburn Hills, a suburb of Detroit. The Pacers led by 15 points late in the fourth quarter in a game that got away from the Pistons. With the score 97-82 and with less than a minute to go, Ben Wallace was hacked by Ron Artest. Wallace took umbrage with the hard foul and shoved Artest; the pushing match continued in front of the scorer's table.
While coaches from both teams attempted to separate players from the scrum, Artest laid down on the scorer's table. A fan hurled an empty beer bottle at Artest from point-blank range. Artest jumped into the stands and went after the assailant. Indiana's Stephen Jackson followed suit and unleashed a few haymakers on other fans who joined in the fisticuffs. Nearby fans doused the combatants with beer, and a full-blown melee ensued.
The scant security crew was unable to prevent fans from running onto the court. Other unruly fans pelted the players on both teams with empty bottles. Another fan stepped onto the court to confront Artest, and more punches were exchanged, including one from Jermaine O'Neal.
"This is one of the worst scenes I've ever seen from an audience in NBA history," said announcer Mike Breen.
While the Pacers tried to exit the court and head to the locker room, more fans attacked the players and began hurling chairs. Detroit head coach Larry Brown got on the microphone and tried to restore order, but to no avail. Officials called the game with 45 seconds remaining.