After losing four straight games, UCLA athletic director Dan Guerrero terminated men's basketball coach, Steve Alford.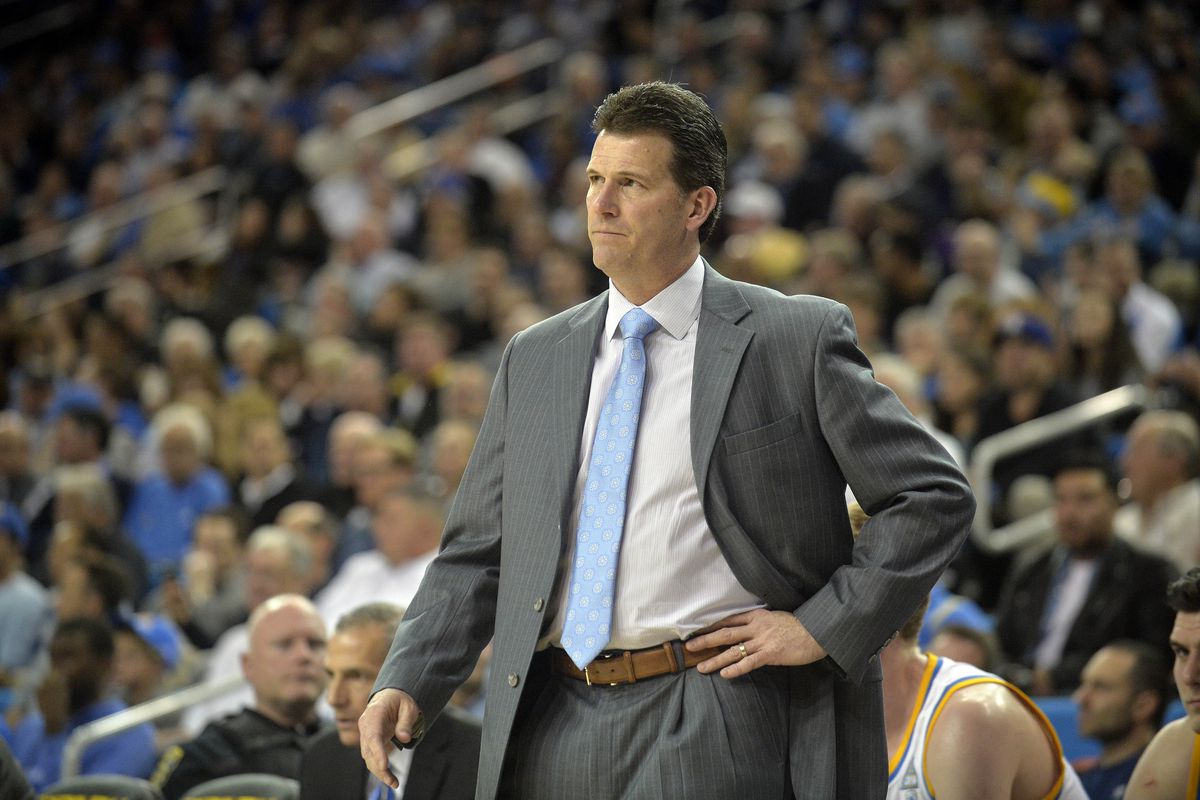 Since 2013, Alford guided the Bruins to a 124-63 record with three Sweet 16 appearances and four March Madness appearances. As an #11 seed in the 2018 tournament, UCLA was bounced in the First Four after a heart-breaking loss to St. Bonaventure.
Murry Bartow, the son of former UCLA coach Gene Bartow, is the new interim coach at UCLA. Bartow served as an assistant under Alford.
UCLA bought out the remainder of Alford's contract, which is worth $3.6 million.
Westwood Woes
You don't see too many coaches fired after they begin the season 7-6, but UCLA always held high standards when it came to its storied basketball program. UCLA is 0-3 this season against ranked opponents. The Bruins lost by a combined 50 points to Ohio State, North Carolina, and Michigan State.
According to Guerrero, "Throughout my career as an athletic director, I have maintained a belief that making a head coaching change during a season is rarely in the best interests of our student-athletes or program. In this case, however, it is now clear to me that what is best for our current students and for the overall good of the program, is to make this change now."
UCLA AD Dan Guerrero saw enough after the Bruins gave up during an embarrassing 15-point loss at home to Liberty. That marked four straight losses for the Bruins.
#FireAlford
Despite the deep runs in March Madness that resulted in three Sweet 16 appearances, students and alumni were not happy with Alford as head coach. They felt UCLA should have been contending for a national title and could have several Final Four appearances under his watch.
UCLA students bombarded social media with a hashtag that simply said #FireAlford.
"While I wish we could have had more success, my family and I are so grateful for our time in Westwood," Alford said in a statement. "We wish this program nothing but the best. I sincerely hope that the UCLA community will rally around this team, its players and the coaching staff as Pac-12 play begins."
Hoosier Legend
As a basketball player, Steve Alford's name goes a long way in the state of Indiana. He's up there with other legends such as Larry Bird, Jimmy Chitwood, and Bobby Knight. Alford played for the mercurial Knight at Indiana University from 1983-1987. As a sharpshooter, Alford started for the Hoosiers during their championship run in 1987. He won the Big Ten MVP in 1987.
Alford's NBA career fizzled out after four seasons with the Dallas Mavericks before he turned to coaching. He paid his dues and quickly rose the ranks while coaching at Southwest Missouri State, Iowa, and New Mexico.
Alford replaced Ben Howland, who was fired by UCLA in 2013.
Future at UCLA
UCLA has yet to come close to the glory days under the Wizard of Westwood John Wooden. During his tenure, Wooden won ten championships. Only Jim Harrick won another title for the Bruins, which occurred during a magical 1995 season led by superstar forward Ed O'Bannon.
UCLA Basketball Coaches (Since 1948)
John Wooden (1948-1975) 620-147
Gene Bartow (1975-1977) 52-9
Gary Cunningham (1977-1979) 50-8
Larry Brown (1979-1981) 42-17
Larry Farmer (1981-1984) 61-23
Walt Hazzard (1984-1988) 77-47
Jim Harrick  (1988-1996) 192-62
Steve Lavin (1997-2003) 145-78
Ben Howland (2004-2013) 233-107
Steve Alford (2013-2018) 124-63
Murry Bartow (2018-)
Fred Hoiberg, a.k.a. The Mayor, has been mentioned as a potential full-time replacement. The Chicago Bulls recently fired Hoiberg, who coached at his alma mater Iowa State for several seasons.
Lonzo Ball, point guard from the Los Angeles Lakers, played one season at UCLA under Alford before he moved onto the NBA. Ball has been lobbying to get UCLA alum Earl Watson the UCLA gig.
Billy Donovan, who won national titles with Florida, has also been mentioned as a potential candidate. However, Donovan currently has a job in the NBA as the head coach of the Oklahoma City Thunder.