Tyson Fury confirmed his position as the top heavyweight boxer in the world on Saturday, stopping Dillian Whyte in the sixth round at Wembley Stadium to remain undefeated and defend his WBC title. Now the world will wait to see what Fury chooses to do with his future and whether he'll ever step inside of a boxing ring again.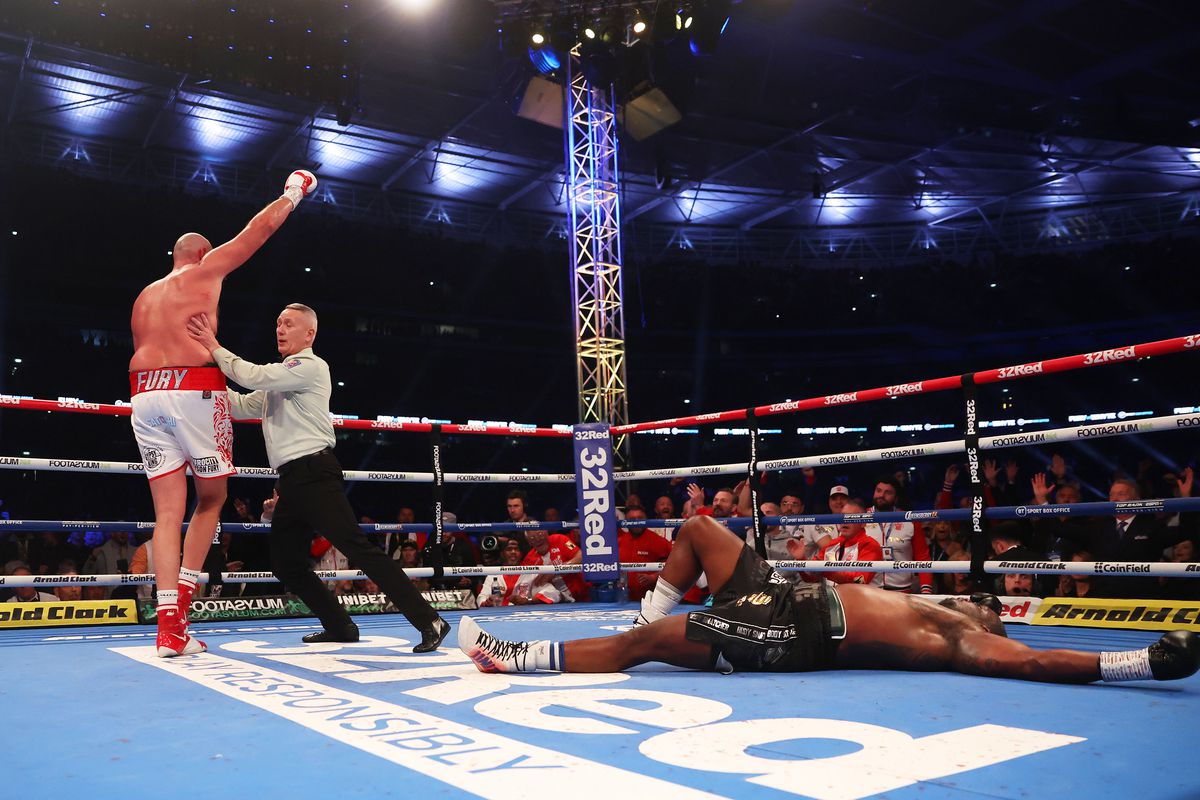 Fury (32-0-1, 23 KOs) reiterated his intention to retire after the fight, showing no signs of backing down from the promises he's made in recent months.
Fury uninterested in money, legacy
While many fighters have claimed to retire only to come back sometime later, Fury insists that he's done with boxing.
"I've done everything asked of me," Fury told reporters after his win. "I've given 20 years to boxing, amateur and professional. I've had me brains knocked out. I've been put down, I've been rocked, I've been cut. I've had tough fights, I've had draws, I've had wins, I've boxed all over the world. How much blood can you get out of a stone?"
Fury made more than $33.6 million for Saturday night's fight, according to ESPN. The undefeated lineal heavyweight champion entered the fight as a -550 favorite at FanDuel Sportsbook.
He could easily land at least one more huge payday by taking on the winner of a fight between Oleksandr Usyk and Anthony Joshua. Usyk took the WBA, WBO, and IBF titles from Joshua last year; they'll fight again in a rematch on July 23. But Fury says he's not seeking more millions.
"It's never been about money to me," Fury said. "I know money can't make happiness. Not even been about belts for me. Never been about legacies. It's not been about anything but punching a motherf***er's face right in on the night. That's all it's ever been about."
Future could include WWE, Ngannou fight
Instead, Fury says that he will pursue showmanship and exhibitions. After the win, he talked about potentially working with the WWE again, perhaps fighting Drew McIntyre at SummerSlam. He could also join a card in Cardiff, Wales in September – the WWE's first premium live event in the UK in 30 years.
"Don't rule me out of fighting there," Fury said. "I'd love to be in Cardiff. I enjoyed it last time in Saudi Arabia; it was fantastic. We're going to be in contact and see if we can make SummerSlam a reality."
Fury has also talked about fighting UFC heavyweight champion Francis Ngannou in some sort of hybrid-rules fight. The two spoke about their plans immediately after Fury's victory.
"It's going to be a hybrid fight with a different type of rules," Ngannou said. "MMA gloves in the ring, make something a little different."
In other words, while Fury may step away from championship-level heavyweight boxing, fans will probably see him fight somebody, somewhere, sometime soon. Given the track record of boxing retirements, nobody is ruling out the possibility of Fury reentering the squared circle for a showdown with Joshua or Usyk, either.