At the beginning of November, Jackie's Warrior was the favorite to win the 2021 Kentucky Derby. Now, at the beginning of March, the one-time Derby favorite is off the Derby trail.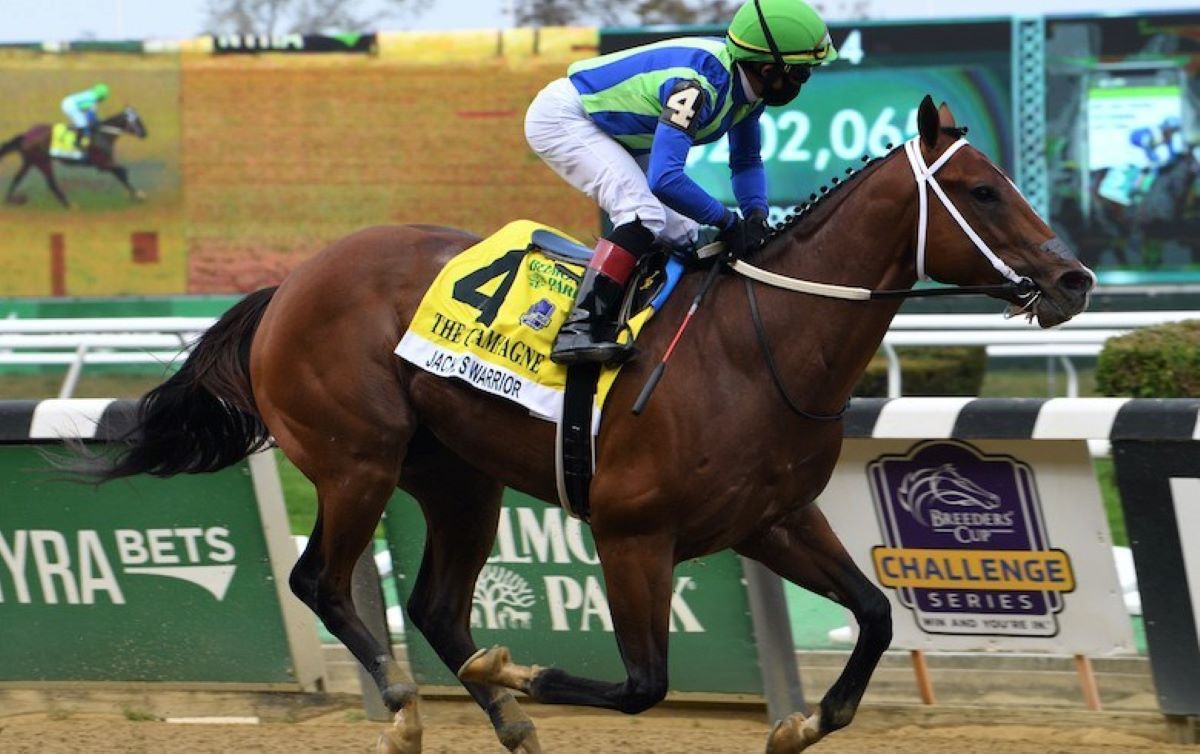 The Maclean's Music colt will be at Churchill Downs on May 1 – Derby Day — but he'll run the Grade 2 Pat Day Mile. That one-turn mile is on the Derby undercard and is often a stop for one-time Derby prospects who couldn't handle the 10-furlong Derby demands.
That it would be a stop for this one-time Derby prospect was unthinkable last fall. Jackie's Warrior opened his career winning his first four races by a combined 13 ¼ lengths. Two of those were Grade 1s, including the Hopeful Stakes at Saratoga and the Champagne Stakes at Belmont Park.
This stamped Jackie's Warrior as the early favorite for the 2021 Derby. Bovada opened him at 33/1 in September, lowering him to 14/1 by late October. That's when William Hill Nevada opened its 2021 Derby futures, installing Jackie's Warrior as the 15/1 favorite.
This is why Derby futures crystal balls often fail
By comparison, Essential Quality was next at 20/1. That illustrates the precarious nature of Derby futures wagering. Of William Hill Nevada's top eight choices on its first Derby futures board, only Essential Quality remains as a serious contender. The rest of that list features names like Dr. Schivel, Jaxon Traveler, Classier, Sittin On Go, Reinvestment Risk, and Mutasaabeq.
All of the above were Derby prospects in late October 2020. None of them are considered serious Derby threats in early March 2021.
And all four of Jackie's Warrior's first four races were one-turn events. The first time Jackie's Warrior tackled two turns came at the Breeders' Cup Juvenile. He came in as the 4/1 futures favorite overseas and as a 9/10 favorite entering the Keeneland gate on Nov. 6. His superior speed figures —  he owned the only triple-digit Beyer Speed Figure by a 2-year-old — didn't prevent him from struggling around two turns and 1 1/16 miles in the Juvenile.
Jackie's Warrior failed both two-turn tests
Jackie's Warrior finished fourth in the Juvenile, beaten not only by Essential Quality, but by 94/1 shot Hot Rod Charlie and 30/1 shot Keepmeinmind. That prompted a winter of questions that could only be answered the next time Jackie's Warrior ran. That next time was last Saturday in the Grade 3 Southwest Stakes at Oaklawn Park.
Next race, same as the last race. Essential Quality beat him again, this time by 8 ½ lengths. Jackie's Warrior held the lead at the quarter-pole, half-pole, and three-quarters-pole. Again, once he hit the stretch, Jackie's Warrior had no response for Essential Quality. Nor for Spielberg, who passed him in the stretch and beat him by 4 ¼ lengths for second.
Afterward, Circa Sports raised Jackie's Warrior's Derby futures odds to an unfathomable 200/1. That's the same futures odds neighborhood now occupied by such never-weres as Fenway, Never Surprised, Overtook, Restored Order, Stage Raider, Super Stock, and Team Merchants.
Remember these one-time Derby darlings?
Jackie's Warrior does have familiar company in that neighborhood. He shares the same 200/1 odds as one-time front-row prospects Jaxon Traveler and Sittin On Go.
Nobody ever said navigating the Derby trail was easy, for the horses or the horseplayers.