The speed figures from the Breeders' Cup Juvenile leave little to the imagination, nor handicapping creativity. They don't require second-guessing, even if they may require a second glance to further glean their clear dominance.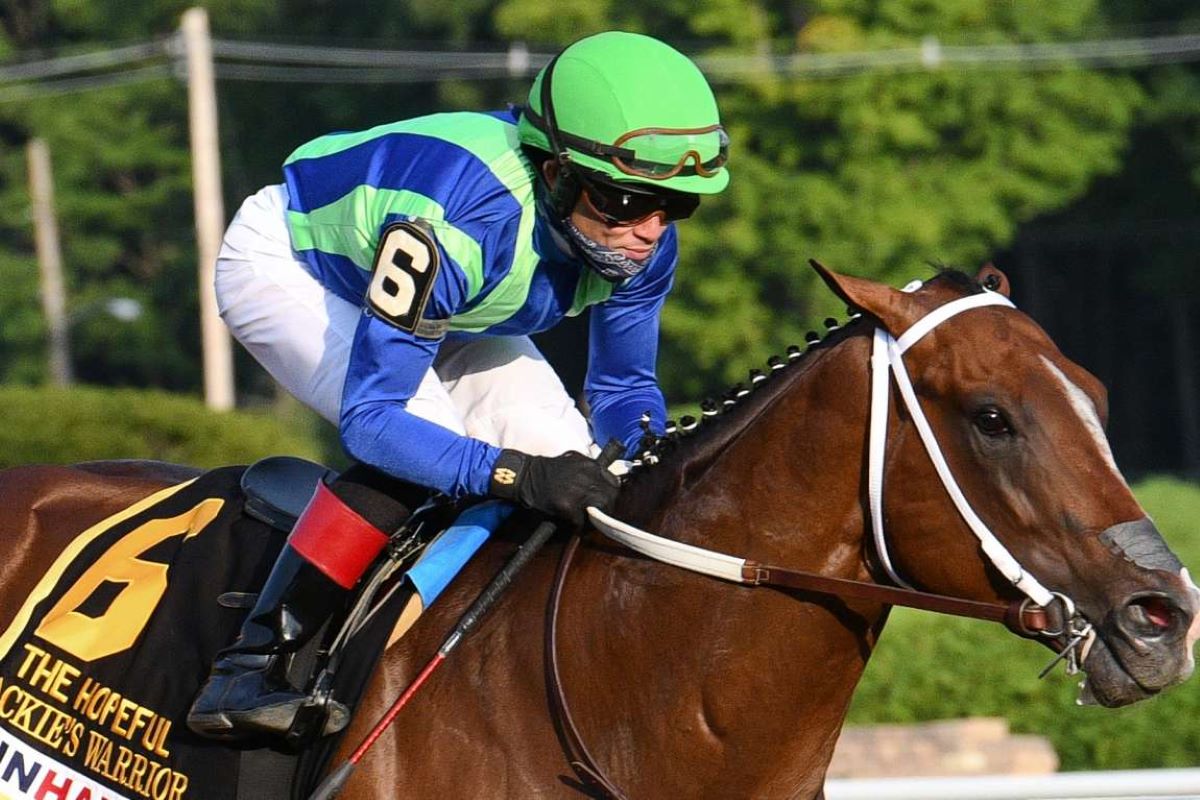 To help horseplayers handicap next weekend's Breeders' Cup World Championships, OG News examines speed figures for several Breeders' Cup races. This time, we take a closer look at the Breeders' Cup Juvenile – again, seeking overlays in terms of good value.
The Juvenile caps Friday's opening day "Future Stars Friday." It's the 10th and final race, wrapping up both the $1 million All-Breeders' Cup Pick 4 and the $1 million Breeders' Cup Late Pick 5 at 2:10 p.m. ET.
From a speed figure standpoint, it may give those bettors the easiest race they'll have. For that, they can thank Jackie's Warrior, who enjoys one of the most dominant edges against his rivals in the 14-race Breeders' Cup slate.
Jackie's Warrior a Triple — Digit — Speed Threat
Jackie's Warrior's speed figures are so far ahead of his contemporaries that the discrepancy is staggering. He owns the only triple-digit Beyer Speed Figure in the field (100). He owns the only triple-digit Brisnet (101), and the only triple-digit Equibase (102) of any horse in the field.
He also owns favorite odds ranging from 5/4 to 13/8, according to Oddschecker. Jackie's Warrior opened as the current 2021 Kentucky Derby favorite in futures betting.
Jackie's Warrior's Beyer is nine points clear of his closest pursuer. His Brisnet is five points ahead – both coming in the same familiar figure of Reinvestment Risk. Despite Reinvestment Risk's 91 Beyer and 94 Brisnet last time out, he wasn't close to Jackie's Warrior in the Champagne Stakes or the Hopeful Stakes.
That sets up a moat between Jackie's Warrior and his pursuers, both in speed figures and in odds. Reinvestment Risk is the third favorite – at 8/1. But another candidate emerged from Jackie Warrior's considerable shadow.
Essential Quality Makes a Statement
That would be Essential Quality, who carded a quality 88 Beyer in his Breeders' Futurity victory at Keeneland. The 88 came in only his second career race, and the 96 Equibase puts him six behind Jackie's Warrior's 102 – and ahead of everyone else in the field. Essential Quality is your second favorite at 7/2.
Numbers fall off from there, although Iroquois Stakes winner Sittin On Go does provide a bit more depth. His 84 Beyer leaves a gap, but his 95 Equibase from his Iroquois puts him in the mix with Essential Quality and Reinvestment Risk.
Breeders' Cup Juvenile Speed Figures
Below is a list of the best, and most recent, speed figures posted by the top contenders running in the Breeders' Cup Juvenile.
| | | | |
| --- | --- | --- | --- |
| | Best/Last Beyer | Best/Last Brisnet | Best/Last Equibase |
| Jackie's Warrior | 100/100 | 101/101 | 102/102 |
| Reinvestment Risk | 91/91 | 96/94 | 93/93 |
| Essential Quality | 88/88 | 92/92 | 96/96 |
| Sittin On Go | 84/84 | 90/90 | 95/95 |
| Keepmeinmind | 83/83 | 88/88 | 91/91 |
| Likeable | 81/81 | 88/88 | 93/93 |
| Upstriker | 81/74 | 89/81 | 89/81 |
| Superman Shaq | 72/72 | N/A | 80/45 |
The only other horses on the speed fringes are Likeable and Keepmeinmind. Likeable put up an 81 Beyer and a 93 Equibase in a maiden special weight race at Belmont Park. Likeable won that race, but none of the horses he blitzed bear any resemblance to what awaits him at Keeneland. He does offer exotic value at 16/1, according to Oddschecker.
Keepmeinmind chalked up an 83 Beyer and 91 Equibase in his runner-up finish to Essential Quality in the Breeders' Futurity. These speed figure numbers are decent for a 2-year-old, but they're barely board-worthy in a race like this. Even with that, Keepmeinmind is enough of a wild card to holds odds anywhere from 16/1 to 40/1.