What's better than skiing? Night skiing. What's better than night skiing? Night slalom.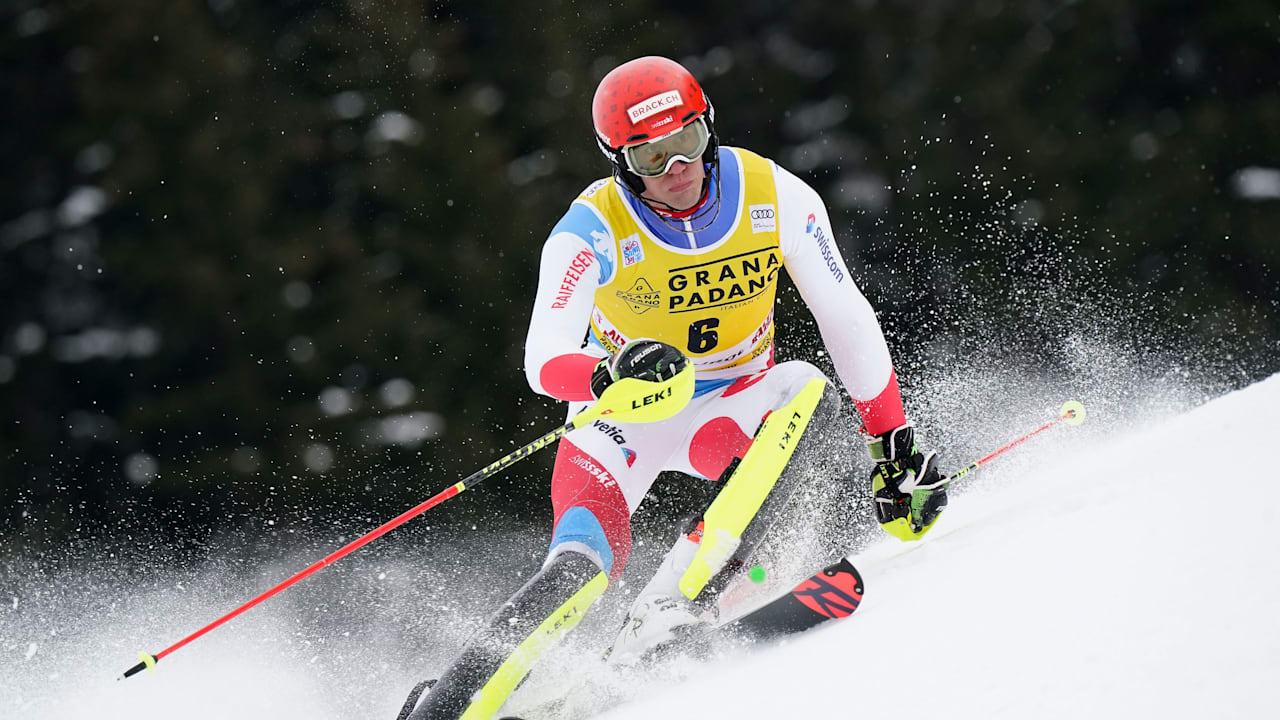 The frenetic week of World Cup action leading into the holiday continues under the lights as the second slalom race in as many days will kick off at Northern Italy's Madonna di Campiglio early Tuesday evening.
The first men's slalom of the World Cup season didn't disappoint on Monday, as Swiss slalom specialist Ramon Zenhaeusern took the top of the podium at Alta Badia after creating just a fraction of distance in his second run.
The 2018 Olympic slalom silver medalist was sitting in eighth place after the first run, but let his skis run fast in a gutty performance to capture victory during his first race of the young season.
"I was a bit nervous, being this [is] my first race of the season, he said from the podium. "It's great to see that I have a good level, and I am looking forward to racing again tomorrow in Campiglio."
Zenhaeusern (+800 on BetMGM) may have a tough time repeating the trick, as there are a couple of Austrians who showed Monday they have something to say this year.
Surprise 2nd and 3rd Finishes for Austrians
Manuel Feller (+1600), who started with bib 26 on Monday, finished the first run in 13th place, and closed that distance mightily with a second-place finish Monday. He was just .08 seconds behind Zenhaeusern.
It was the first podium since March 2019 for Feller.
"It's the most emotional moment of my career," he said. "I had a very hard season last year, and it feels so amazing to see again the green light after crossing the finish line," he said after the race.
Feller's teammate, Marco Schwarz (+800), came in only .04 seconds behind Feller for third. Schwarz was out of contention in 10th place after the first run, but climbed back in run two, securing his sixth World Cup Podium.
Italy's Vinatzer Seeks Podium on Home Snow, American Rookie Makes World Cup Debut
Italy's Alex Vinatzer (+350) is looking to strike gold on home snow on Tuesday night. He held the lead Monday after one run, but was outshined at the end of the day's competition.
Three Americans also started their seasons, including 2019 NCAA Slalom Champion Jett Seymour, who made his World Cup debut.
Though no Americans finished in the top 30 after the season's first event, coach Ryan Wilson says the team has potential. "Ben [Ritchie] approached the day with confidence and skied well. He was loose and fast before he went out. That's my highlight of the day. He showed he's got the speed to hang," Wilson said.
Seymour, along with teammate Luke Winters finished, but didn't qualify for a second run on Monday.