Alexis Pinturault held off a challenge from 20-year-old Norwegian skier Atle Lie McGrath to win the men's World Cup giant slalom on the legendary black piste Gran Risa course in the heart of the Dolomites, Sunday.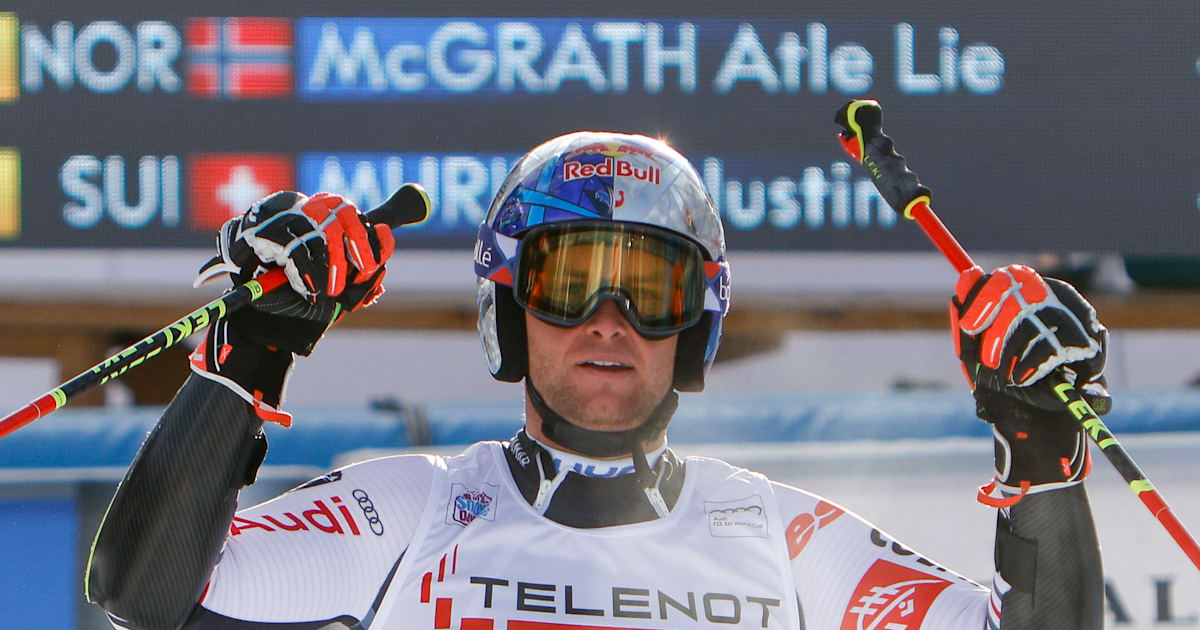 Leading after the first run, Pinturault came in hot and technically sound during his second go to top McGrath by seven-hundredths of a second.
"It was really close. It was a huge fight," Pinturault said after his winning run. "The light was slowly going down because it started to be a little bit late. It made such a difference in the pitch. But I tried my best and pushed really hard, and it paid off."
Here's a closer look at the Frenchman's dissection of a shadowy course:
Swiss skier Justin Murisier, 28, finished 0.24 seconds behind the winner to take third and his first career podium.
McGrath, who hadn't finished in the top 10 in his 13 previous starts, was born in Burlington, Vermont. He is the son of Felix McGrath, a World Cup skier for the US ski team in the late-1980s and early '90s. When he was two-years-old, the family moved to Norway, his mother's home country. His mother is former college cross-country skier and University of Vermont Hall-of-Famer Selma Lie.
Wearing bib 29, McGrath posted the fourth-fastest time in the first run and took the lead after the second.
"This was really unbelievable," McGrath said. "My goal today was to have fun. My first time skiing the Gran Risa from the top, such a nice day; the slope was beautiful. I told myself to enjoy the moment and ski as well as I can."
Fifteen of Pinturault's 31 career World Cup wins are in GS, but Sunday was his first podium in the event this season. The win also put Pinturault atop the overall standings, one point ahead of Aleksander Aamodt Kilde.
World Cup action continues in Alta Badia with a slalom Monday.
Technically Sound Norwegian Looks to Top Overall with Victory
Twenty-six-year-old Norwegian Henrik Kristoffersen (+600 on BetMGM) won the slalom crystal globe last year for a second time. He's looking to repeat in the discipline this season.
Since 2000, only Marcel Hirscher has won the men's slalom crystal globe in successive seasons (three in a row 2012-15). Kristoffersen has won 17 slalom events in the World Cup, fourth-most among men behind Ingemar Stenmark (40), Alberto Tomba (35), and Marcel Hirscher (32).
Kristoffersen can also become the second man to win a giant slalom and a slalom in Alta Badia in the World Cup, after Hirscher.
Another Frenchman Heats it Up in Dolomites
Clément Noël (+200) finished only two points behind Kristoffersen in the slalom standings last World Cup season, and he can become the first Frenchman to secure the men's slalom crystal globe since Jean-Baptiste Grange in 2008-09.
Since the start of the 2018-19 World Cup season, Noël has claimed the most wins (six) and the most podiums (10) in men's World Cup slalom events. At only 23, Noël's ranks fourth among French male skiers in the slalom, behind Jean Noël Augert (13), Patrick Russel (nine), and Jean-Baptiste Grange (eight).
Noël's already won three slalom events this World Cup season and can become the third Frenchman to win at least four in a single calendar year with a victory at Alta Bad.
'Tis the Season for (Daniel) Yule
Last season, Daniel Yule (+400) tied with Noël, winning three World Cup slalom events. Noël (six) had more World Cup slalom podiums than Yule (five).
The 27-year-old Swiss technician finished third in the slalom standings in the 2019-20 World Cup, and with a strong showing on Monday, is looking to become the first Swiss skier to take the slalom crystal globe since Dumeng Giovanoli in 1967-68.
Yule already holds the Swiss record for most wins (four) and podium finishes (10) in men's World Cup slalom events.
Pinturault Looking For Back-to-Back Wins
Pinturault (+400) returns to the hill Monday with the hot hand. The three-time World Cup slalom individual event winner has been plagued of late. He "DNF'd" in three of his last four slalom starts, with the only exception being a second-place finish in Schladming last season at the end of January.
Those looking for a long shot should check on Sebastian Foss Solevaag (+2500). The 29-year-old Norwegian finished in the top-10 in eight of the nine slalom events season, the only exception being a 14th-place in Zagreb in early January. No other man had more top 10 finishes in slalom. He skied well during practice and is looking to bring the year to a close with another podium in the discipline.