After a back and forth Election Night battle, Americans are still watching closely as votes are counted across the country in the presidential election. Both President Donald Trump and former Vice President Joe Biden see paths to victory as several states remain too close or too early to call.
Betting markets are reacting to every piece of election news as well. We're following races across the country as well as the moves from oddsmakers and prediction markets. Keep checking this page for the latest updates on the Trump vs. Biden election odds:
Updates (Eastern Standard Time)
Saturday, November 7
2:10 PM: With the election decided and no imminent calls on remaining states, this marks the probable end of this live blog. If anything breaks on Arizona — the one state with a decent betting market remaining, as it is the one with the most uncertainty in its results — sometime later today, I'll update you with the news. Otherwise, that wraps up our live coverage. Thanks for following along with OnlineGambling.com's coverage of the 2020 presidential election odds!
12:28 PM: The Associated Press has also called Nevada for Joe Biden. This call isn't surprising, either: many sportsbooks have long stopped taking bets on Pennsylvania and Nevada, while the results in Arizona, Georgia, and (to a lesser extent) North Carolina still carry at least some degree of uncertainty.
11:44 AM: Fox News has also called the election, meaning that "Yes" bets on networks calling the election today will come in (at rather generous odds) with over 12 hours to spare.
11:27 AM: It was only a matter of time.
BREAKING: JOE BIDEN WILL BE PRESIDENT-ELECT, NBC NEWS PROJECTS. https://t.co/gGS2tyKRy9 pic.twitter.com/s17hCZDvBR

— NBC News (@NBCNews) November 7, 2020
CNN has also made the call that Joe Biden will be the 46th President of the United States. Both networks made the call based on more votes coming out of Pennsylvania, which both networks called for Biden. Bettors will be waiting on what is likely an imminent call from Fox News as well, which will be necessary to settle wagers on certain markets related to the timing of the determination of a winner.
11:12 AM: Arizona remains the state that might provide the most late drama for bettors. As more votes come in from Maricopa County — where most of Arizona lives — Donald Trump continues to cut into Joe Biden's lead, which now stands at 20,573 votes.
The problem for Trump is that he is running out of votes faster than he's catching up. Biden shares in the state are trading at $0.84 (about -525) at PredictIt, while Bovada lists the former vice president as a -550 favorite there.
10:24 AM: The big question on everyone's mind is: when will news organizations begin calling the presidential race for Joe Biden? Interestingly, Bovada is offering -260 on both Fox News and CNN not calling the election by 11:59 pm Eastern today, even though all signs are that networks are closing in on the data they need to call Pennsylvania.
If Biden is winning 70% of newly-counted votes in PA, it would take ~12,000 votes to be counted there to get him to an 0.5000% lead. If he's winning 75% of new votes, it would take ~10,000 votes. If he's winning 80% of new votes, it would take 8,000 votes. https://t.co/m6D4iF2YQ2

— FiveThirtyEight (@FiveThirtyEight) November 7, 2020
If you think the call will come today, you can get +190 on that bet. PredictIt traders are a bit more bullish on networks calling the race today: shares predicting such an outcome are currently trading for $0.46, or about +117. PredictIt is using the same rules as Bovada, meaning both Fox News and CNN must make the call for the market to settle.
10:18 AM: Overnight, Joe Biden padded his lead in Georgia to 7,248 votes. While a recount still looms in the state, the margin has reached a level where it would be difficult to imagine the outcome changing even if relatively significant errors are found. While it's still possible that Donald Trump could close that gap a bit before the initial tally is completed, Georgia looks increasingly safe for Biden.
Bovada lists Biden as a -1200 favorite to win the state of Georgia.
Friday, November 6
10:48 PM: I've been quiet for the past few hours, mostly because there hasn't been much to say. In every remaining state, either Joe Biden or Donald Trump is an overwhelming favorite; in the overall election, Biden is essentially assured of victory. It is only a matter of time before some or all of the major news organizations make a call.
Numbers continue to trickle in, but the process is now moving slowly. If there are any updates that significantly alter the state of the race — or the odds in any betting markets — I'll continue to update this blog.
7:19 PM: Allegheny County — that's Pittsburgh and some of its suburbs — just reported a little over 5,000 absentee ballots, with Joe Biden winning more than three-quarters of them. Biden now leads Pennsylvania by 19,584 votes.
What's left? Some number of mail-in votes, plus up to about 100,000 provisional ballots. There's some reason to think that President Trump might do better than average in the provisional ballots, but considering they are disproportionately located in Democratic strongholds, it's nearly impossible to see how they would help Trump cut significantly into Biden's lead.
As I mentioned earlier, it's hard to even find odds on Pennsylvania anymore: while no network has called the state for Biden, sportsbooks aren't willing to put up any money against him. Paddy Power and Betfair are exceptions; each lists Biden as a -6600 favorite, meaning you would have to bet $66 to win $1 if you wanted to back the former Vice President to win the state.
6:35 PM: Another 22,000 ballots have been reported in Clark County, Nevada, and Joe Biden has padded his lead by 2,520 votes. If you're looking for a state that may well be called this evening, Nevada is probably at the top of the list (barring some major reporting out of Pennsylvania).
6:18 PM: Joe Biden picked up just a handful of votes over Donald Trump in a new batch of ballots reported by Yuma County in Arizona. That's notable only because Trump is winning Yuma County overall. Trump must outperform his overall numbers in the outstanding ballots if he hopes to catch Biden in the state.
Arizona is one of just three states in which Bovada is still offering betting markets. Biden stands as a prohibitive -800 favorite over Trump (+460).
6:05 PM: It hasn't shifted the betting markets much, but many people have noticed that Donald Trump gained a small amount of ground on Joe Biden this afternoon for the first time since Election Night. That's due to the counting of provisional ballots in some Republican-leaning counties.
Today, we did get initial provisional results in some very Republican counties. They were ~ the same as the non-provisional vote. That's not going to cut it for Trump, since a) he needs to win these ballots big to win by this means; b) Philly/dem areas have more provisionals

— Nate Cohn (@Nate_Cohn) November 6, 2020
It's unlikely, however, that these ballots will change the outcome of the election. While they are not as Democratic-leaning as the mail-in vote (what could be?), they may skew slightly towards Biden. Additionally, the biggest numbers of provisional ballots are in — you guessed it — Philadelphia and Allegheny County. Paddy Power lists Biden as a -6600 favorite over Trump (+1100) in Pennsylvania.
3:58 PM: One state we haven't heard a lot about? Alaska. It's going to take a long time to count the state, which includes a high proportion of mail-in ballots from rural communities.
Donald Trump is clearly favored to win Alaska, though the lack of data available leaves some uncertainty. Still, few expect Joe Biden to get close: Trump shares are trading at $0.97 on PredictIt, and the President is at -5000 on the Betfair Exchange. Traders at PredictIt give Democratic Senate candidate Al Gross a slightly better shot at upsetting Dan Sullivan, though Sullivan shares are still trading at a robust $0.92.
1:54 PM: With the political betting markets closing down one by one, the remaining drama largely comes from when the election will be called for Joe Biden. Bovada is offering -200 on both Fox News and CNN calling the election sometime between now and Saturday night at 11:59 pm Eastern, and +150 that the final call won't come during that period other point.
Another market that could still generate action is on how many electoral votes Biden will win. If Biden holds his leads in Pennsylvania, Georgia, Nevada, and Arizona, while Trump holds on to North Carolina and Alaska, Biden will win by a 306-232 margin.
Most traders at PredictIt are expecting exactly that. Shares on Biden winning by between 60 and 99 electoral votes are trading at $0.86. Longshot options include Biden winning by 100 to 149 EVs ($0.06), or by 30 to 59 EVs ($0.05). The former scenario could occur if Biden also picks up North Carolina, while the latter would require Trump to flip either Georgia or Arizona.
12:36 PM: Even as we all wait for news networks to make further calls, more and more markets are being taken off the board by some sportsbooks. At Bovada, the only remaining election winner markets are in Arizona, Georgia, and North Carolina.
Yes, that means that Bovada has even taken the overall winner market down. The decision makes sense: even European bookmakers are only offering -3300 to -5000 on Joe Biden to win the election at this point, the kind of odds you could get on the Democrat to win California a week ago.
The last batch of votes out of Clark County in Nevada have also made it clear that Biden should win the state by a comfortable margin, even if it takes a while to complete the count. Skybet is still offering odds on the state, but has made Biden a -3300 favorite there.
11:21 AM: NBC has called the Arizona special Senate election for Mark Kelly. That leaves the current called tally for the Senate at 48-48, and more or less assures that the coming runoff elections in Georgia will determine Senate control heading into 2021.
Republicans are favored in the outstanding races in North Carolina and Alaska, though neither has been called just yet. At PredictIt, GOP shares in the site's Senate control market are selling for $0.79, compared to just $0.23 for Democratic shares.
11:08 AM: Maricopa County just released another batch of just over 60,000 votes. For the last two days, the rule of thumb has been that Donald Trump needs to win approximately 59 percent of these votes to end up somewhere around a tie with Joe Biden. In the latest batch, however, he won just 53 percent of the two-party vote.
Along with another 1,386 votes that came in from elsewhere in the state, Biden now leads Arizona by 43,779 votes. If you're wondering how significant that last batch was: Biden shares at PredictIt immediately jumped from $0.82 to over $0.90 on the news.
9:38 AM: If you're wondering why Pennsylvania hasn't been called yet: it's simply too close for networks to do that, even if it is essentially a mathematical certainty that Joe Biden will win the state.
People aren't scared. The networks really often don't call races this close until the recount thresholds are cleared. You saw it in Michigan earlier this week, for ex, and that was painfully obvious https://t.co/XVoow3Wkkx

— Nate Cohn (@Nate_Cohn) November 6, 2020
In Europe, only a few bookmakers are still accepting bets on Pennsylvania. Biden is -1800 at Paddy Power, -5000 at Skybet, and -6600 at Betfair.
9:04 AM: As expected, Joe Biden took very small small leads in both Pennsylvania and Georgia overnight. The question: is there any chance for Donald Trump to make up ground and stay in the race? While Pennsylvania hasn't been called yet, it may only be a matter of time.
To begin the morning coverage, here's a rundown at where the remaining presidential odds stand at Bovada:
---
To Win Presidential Election (via Bovada)
Joe Biden: -1900
Donald Trump: +750
Arizona
Joe Biden: -370
Donald Trump: +260
Georgia
Joe Biden: -1000
Donald Trump: +550
Nevada
Joe Biden: -1400
Donald Trump: +650
North Carolina
Joe Biden: +425
Donald Trump: -700
Pennsylvania
Joe Biden: -2000
Donald Trump: +800
---
12:31 AM: It's late, and vote tally updates have slowed to a crawl. It's possible we might not get new results from Georgia simply because it's been a long week and, well, someone got tired:
The Georgia Secretary of State website is not updating again, just like last night. It is possible the Clayton numbers have been uploaded and the person who updates the website went home for the night. Seriously.

— Brendan Keefe (@BrendanKeefe) November 6, 2020
On that note, this is probably the last update of this blog until the morning. If there are any major updates before I fall asleep, I'll be sure to add them. Otherwise, we'll check back in on the state of the race in the AM, when Joe Biden could easily have taken the lead in both Pennsylvania and Georgia.
Thursday, November 5
11:22 PM: Since it's slow going with few updates, here's a look at the current PredictIt electoral map:
Traders still see some uncertainty in Arizona, and to a lesser extent, Georgia. The favorites in every other market — including the overall presidential election — are now priced at over $0.90.
10:30 PM: Currently, Bovada has Joe Biden as a -1000 favorite in both Pennsylvania and Georgia. That seems incorrect; while Biden appears headed to a small but comfortable win in Pennsylvania, he's likely to take only a marginal lead in Georgia by the time all of the absentee ballots are counted, and there's no telling what might happen after that.
The European bookmakers are even more tilted towards the former Vice President in both states, but give Biden a bigger edge in Pennsylvania. For instance, Betfair has Biden at -1800 in Georgia, but -2500 in Pennsylvania.
9:39 PM: Apparently, Clayton County in Georgia is expected to release the remainder of its absentee ballot count by midnight Eastern.
Important clarification: There are only 4K ballots outstanding in Clayton.

If Biden wins them by 87% (winning margin in last batch), this could still be enough to close the gap.

— Georgia Data Bear, PhD 🇺🇸🍑 (@dataandpolitics) November 6, 2020
Donald Trump still leads Georgia, but only by 1,902 votes. That means Biden has a strong chance to take the lead with the remaining absentee ballots in the state. Betting markets now make Biden a significant favorite to win the Peach State, with Paddy Power listing him at -800. However, it should be noted that if the race is very close, provisional and military ballots could still be a factor in determining a winner — not to mention recounts and even narrow legal challenges to some votes.
9:12 PM: It appears the batch of votes out of Arizona was a little larger than the networks initially reported, meaning that Trump's margin was actually a bit smaller than it appeared on a percentage basis. My guess: the on-camera analysts looked at the two party vote, not realizing there was also some third-party vote in there as well.
In today's wave of Arizona ballots, Trump won by under 17 points. That's…
–A bit better for Biden then yesterday
–Probably not good enough for Trump to win
–Probably not enough for networks to call it for Biden

— Nate Cohn (@Nate_Cohn) November 6, 2020
It's not a decisive difference by any means, but Donald Trump will probably need slightly larger margins over the next couple days to catch Joe Biden in the state. Bovada rates Biden as a -230 favorite over Trump (+170) in Arizona.
9:05 PM: Donald Trump once again picked up about 59 percent of the latest batch of "late early" votes from Maricopa County. He now trails Joe Biden by 46,257 votes in Arizona. If he keeps up picking the outstanding vote at this rate, the race could be very close to a dead heat.
8:55 PM: Let's talk about Arizona, where it is President Trump who is making up ground against Joe Biden as late votes come in. Biden currently leads by 56,833 votes, but there are still hundreds of thousands of outstanding ballots. Most of those ballots are in Maricopa County, where an updated tally is expected shortly.
As a reminder, Fox News and the AP have both called Arizona for Biden, but there is significant uncertainty over whether his lead is truly safe. Bet365 still has Biden as a -250 favorite, but Trump is a live dog at +175.
8:20 PM: Here's the state of the presidential election odds for the outstanding races, courtesy of online bookmaker Bovada:
---
Presidential Election Winner
Joe Biden: -1200
Donald Trump: +600
Arizona
Joe Biden: -200
Donald Trump: +150
Georgia
Joe Biden: -500
Donald Trump: +330
Nevada
Joe Biden: -4000
Donald Trump: +1000
North Carolina
Joe Biden: +500
Donald Trump: -900
Pennsylvania
Joe Biden: -900
Donald Trump: +500
---
8:04 PM: An update on the outstanding vote in Georgia:
Here's the outstanding votes in Georgia, by county (from the SOS's office):

Clayton 5726
Cobb 700
Floyd 444
Forsyth 4713
Gwinnett 4800
Laurens 1797
Taylor 456

Total 18,936

— Charlie Gile (@CharlieGileNBC) November 6, 2020
President Donald Trump currently holds a 3,486-vote lead over Joe Biden in the state of Georgia.
7:29 PM: As in Pennsylvania, even some red counties in Georgia are giving Biden a majority of their mail-in votes, though not to the same extreme. Nonetheless, that's a bad sign for Trump, and betting markets are responding accordingly.
Just in the last half hour, William Hill moved Biden from -400 to -600 to win Georgia. On PredictIt, Biden shares in Georgia are now trading for $0.88, after hovering between $0.60 and $0.70 for most of the day.
7:02 PM: While President Trump was giving a fiery address claiming that he is the victim of fraud in the presidential election and vowing to go to the Supreme Court, Chatham County reported what appears to be most or all of its outstanding votes.
The result: Joe Biden cut significantly into the president's lead. Trump now has a slim 3,635-vote advantage in Georgia, with most of the (relatively few) remaining absentee votes to be counted residing in the counties around Atlanta. In response, William Hill now has Biden as a -400 favorite to win the state of Georgia.
6:35 PM: Here's a market Bovada put up for Donald Trump's upcoming address: what will the president say first?

6:31 PM: It seems like we might get some very relevant news from Georgia tonight after all!
Chatham County update: they now expect to post the approx. 15K ballots they currently have sometime tonight. They don't know WHAT time. BOE Chair says they haven't uploaded before this because they would need to pause the adjudication process to do so. @gpbnews @stphnfwlr

— Emily Jones (@ejreports) November 5, 2020
Again: Even after these votes come in, it's highly unlikely that networks will make a call in Georgia tonight, since the margin will be very small and there are a number of late votes (such as military and other overseas ballots) waiting to be counted.
5:46 PM: Speaking of network calls, are you anxiously waiting for one in order to get paid on your presidential election bets? Hold your horses, because that may not be nearly enough to settle your market, especially if it's on the overall winner.
OnlineGambling.com's Andrew Pridgen wrote a piece on when bettors can expect to receive payouts on their presidential bets. The short answer: it could take a long time, especially if a candidate refuses to concede and challenges the results. Can't imagine that happening in this election, right?
5:34 PM: Do you think you have an inkling as to when the election will be called by the major news networks? If so, you might be interested in betting on the date of the call on Bovada:
---
When Will the Presidential Election Be Called? (via Bovada)
November 5: +400
November 6 or 7: -175
November 8 or 9: +700
November 10-16: +1200
November 17-23: +4500
November 24-30: +4500
December 1 to 14: +4500
After December 14: +4500
---
In order for the market to close, both Fox News and CNN must declare that the same candidate has won the election. The market will settle based on Eastern Time.
5:23 PM: The margins in Georgia also continue to shrink. Donald Trump now leads by under 10,000 votes in the tightly contested race. There appear to be about 39,000 outstanding absentee ballots, along with some provisional and overseas ballots that won't be entirely counted for several days.
I think Biden does this if the number of votes is estimated properly. There's always the chance its been misestimated though (e.g. maybe some ballots that are considered outstanding are already counted). https://t.co/VBcF1ohaFx

— Nate Silver (@NateSilver538) November 5, 2020
Bovada now sees Joe Biden as a -300 favorite to win Georgia when all is said and done.
4:11 PM: Donald Trump's lead in Pennsylvania has shrunk to less than 100,000 votes. It appears increasingly likely that Joe Biden could make up his deficit in the state sometime tonight, which could be enough for networks to consider calling the state for the challenger.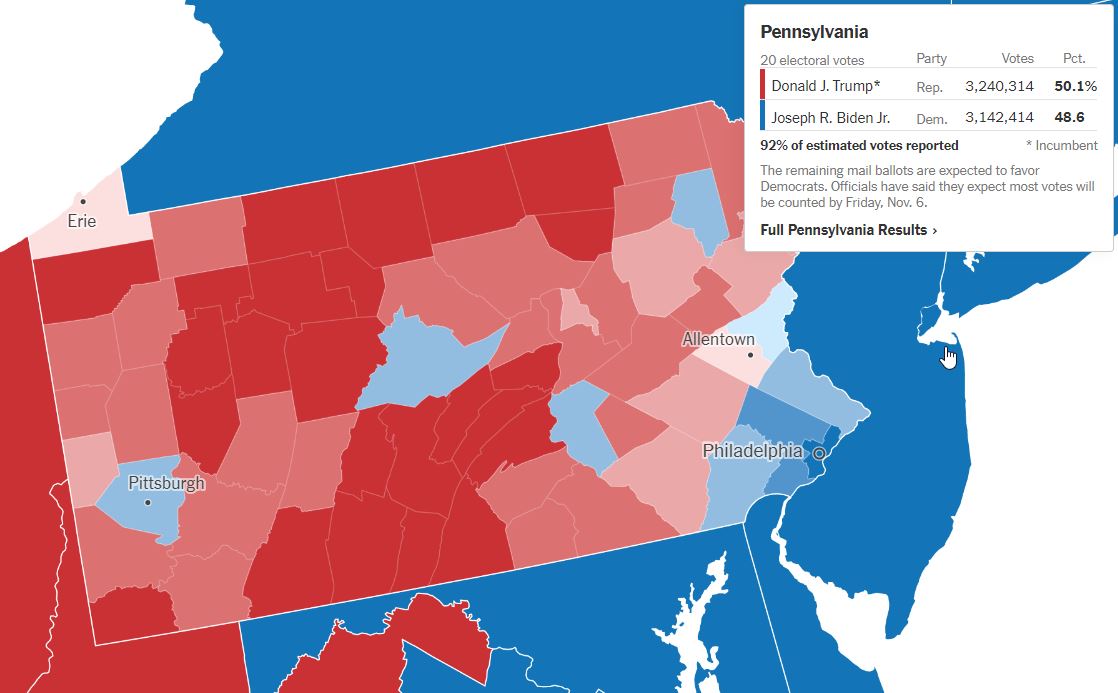 European bookmakers see little hope for President Trump in the state. Paddy Power and Betfair both list Joe Biden at -1400 in the Keystone State, while Bet365 is only slightly less confident at -1200. Bovada remains a bit more cautious, with Biden posted at -750 over Trump (+440) in Pennsylvania.
3:12 PM: Gabe Sterline, the Voting Implementation Manager for Georgia, is currently giving a press conference in which he is explaining that the state doesn't anticipate completing its vote count until the county-level certification deadline, which is 10 days after Election Day. That's due to the fact that even when all the absentee ballots are counted, there are still provisional and overseas ballots to adjudicate and count.
Donald Trump currently holds a lead of just under 13,000 votes in Georgia. Bovada lists Joe Biden as a -200 favorite to ultimately win the state.
2:51 PM: So far, I've largely stayed away from discussing any the the Trump campaign's election lawsuits, or any protests at vote tallying locations. That's because those efforts have yet to make any substantial impact on the election or betting odds.
If a lawsuit appears likely to impact one or more state races, I'll be sure to dig into it here! It is likely that legal issues and recounts are baked into the price at sites like PredictIt — they are why Biden shares are trading at "only" $0.93 in Wisconsin and $0.94 in Michigan, for example, despite his apparent victories in those states.
2:15 PM: Remember when I said that Georgia will be close? At least one state official is suggesting just how close it could be:
Surreal status report from Georgia … "Deputy Secretary of State Jordan Fuchs told the @AP that the final margin may be as small as 1,000 votes." #gapol #ElectionResults2020

— Rickey Bevington (@rickeybevington) November 5, 2020
Biden now stands as a -300 favorite to win Georgia at William Hill.
1:52 PM: Pennsylvania Secretary of State Kelly Boockvar says that her state still has over 500,000 votes left to count, and that the "overwhelming majority" of those ballots should be processed today.
Pennsylvania Secretary of State Kelly Boockvar tells @CNN that the state will have the "overwhelming majority" of ballots counted today. We may know today whether Biden or Trump won the state.
*550,000 ballots are left to count.
*"It's looking like we're ahead of schedule." pic.twitter.com/08B8CTdEwT

— Jim Roberts (@nycjim) November 5, 2020
That number is problematic for Donald Trump, to say the least. His lead is down to 114,000 votes in Pennsylvania, and Biden is gaining with every report of more mail-in ballots being counted, even in many Republican-leaning counties. Paddy Power now has Biden as a -800 favorite to win Pennsylvania.
1:43 PM: Nate Cohn of The New York Times makes a good point: that networks are struggling to make calls on some of these close races because, in at least some cases, it feels like their models may not be handling the very wide gaps in partisanship for mail-in/in-person/other votes.
Biden's 1 point lead in NV looks tenuous… if you *don't* know what's out is Democratic late mail/provisionals.
Biden's former 5 point lead in AZ looks great… if you *don't* know that what's out is late mail ballots that will be Republican

— Nate Cohn (@Nate_Cohn) November 5, 2020
In other words, based on what we know is outstanding, it would make a lot more sense to call Nevada for Biden, while leaving Arizona in the undecided column. However, the AP and Fox News have both done exactly the opposite. Betting markets largely reflect what experts are saying, however: Bovada lists Biden at -1800 to win Nevada, but as a narrower -295 favorite in Arizona.
1:32 PM: Gloria has also said that there are about 63,000 absentee ballots left to count in Clark County, and that all of them should be counted by this weekend. He appeared to say that 51,000 of those should be reported on Friday. However, there are other types of ballots that could take longer to count due to various exceptions.
Regardless of the specific numbers, it's not looking good for Donald Trump here. Bovada now lists Biden as a -1800 favorite in Nevada, as the expectation is that all of these Clark County votes — essentially, almost all of what is left to count in the state — will only serve to increase his margin of victory.
1:11 PM: Joe Gloria, the Registrar of Voters for Clark County in Nevada, just said that many of the remaining votes there should be reported…before his morning press conference tomorrow. Even if Nevada isn't a nail biter, that may prevent networks from wanting to call the election until that data comes in.
12:36 PM: Nevada looks increasingly likely to go to Biden, though networks aren't likely to call the state anytime soon.
Biden wins the new votes in Nevada by 14 points, and there's still more late mail and provisionals left. I don't know if anyone will call it on this basis, as it's still fairly close and there's no *hard* data on what's out. But you can still pencil this into the Biden column

— Nate Cohn (@Nate_Cohn) November 5, 2020
12:21 PM: While it wasn't the massive haul we were hoping for, Nevada (specifically, Clark County) did release a number of votes just after noon. That increase Joe Biden's lead to about 11,500 votes. Biden is a -900 favorite to win Nevada at Bovada.
12:09 PM: David Perdue has fallen below 50 percent of the vote in Georgia's Senate contest between him and Democrat Jon Ossoff.
U.S. Sen. David Perdue has fallen below the 50-percent mark in Georgia. If this holds, he will face Democrat Jon @Ossoff in a Jan. 5 runoff that, along with Georgia's other race, could determine control of the Senate. #gasen #gapol pic.twitter.com/nFVueLZ4jW

— Greg Bluestein (@bluestein) November 5, 2020
Given that the outstanding votes are expected to lean Democratic, it appears the Senate race there will likely head to a runoff. Along with the "jungle primary" that led to a runoff for the other Senate seat in Georgia, we will likely be looking at two runoff battles in that state to determine control of the Senate.
On Tuesday night, it looked all but certain that Republicans would retain control of the Senate. That's still likely, but Democrats appear to be alive. At PredictIt, Republican shares in the Senate control market are trading at $0.78, vs. $0.21 for Democratic shares.
11:47 AM: No matter how fast Pennsylvania counts its remaining ballots, there will still be outstanding votes to count on Friday.
Not just a day off. 29k of 35k left can't be legally counted until Fri. due to court order. 29k are replacement ballots bc a contracted company delivered wrong ballots last month. Election return board HAS to legally meet tmrw before counting can resume https://t.co/1tvsWBlZiC

— Ryan Deto (@RyanDeto) November 5, 2020
That's because there are legal orders that are preventing the count of some replacement ballots that were given to voters to correct mistakes made when the initial ballots were delivered. Bovada rates Joe Biden as a -575 favorite in Pennsylvania.
10:58 AM: For those frantically refreshing, we're likely to have a slow morning. But the pace of results should pick up around noon Eastern. That's when Nevada says it plans to release results, and when Georgia hopes to have its count of absentee ballots completed. Those numbers could dramatically shake up the betting markets in those states, even if they don't allow for immediate calls.
9:50 AM: Here's a breakdown of what Georgia may have left to count:
GEORGIA UPDATE. This from Gabriel Sterling, numbers guru at GA SOS office: There are 61,367 absentee ballots yet to be counted in GA (as of 915 am). Trump leads by about 18,500 votes. (Sterling warns that #s can always change). Here is the county by county breakdown:

— Richard Fausset (@RichardFausset) November 5, 2020
It's going to be a very close one. We could have most or all of the results from Georgia by noon today.
9:21 AM: Good morning, election bettors! We didn't see any dramatic shifts overnight, but here's where we stand in the remaining key battlegrounds:
Pennsylvania: Trump's lead stands at about 142,000 votes, and continues to fall with every update. Betfair lists Joe Biden as a -500 favorite to ultimately come out ahead and win the state.
Georgia: Biden has cut the Trump lead to approximately 18,600 votes. It appears that at least 50,000 votes are still outstanding, and that may be before counting things like provisional and military ballots. Biden has become a -225 favorite in Georgia.
Arizona: Trump continued to cut into Biden's lead in Arizona overnight, where Biden now leads by about 68,400 votes. We probably won't get another significant dump of ballots from Maricopa County until tonight. Trump has a chance here, but needs to continue winning at the rate he made up ground last night, without much margin of error. Biden remains a -350 favorite in the state.
Nevada: We've all seen the memes, right?
Live footage of Nevada working on those ballots pic.twitter.com/14RrZ2Ce8w

— Miss Cuffy, Unstable Genius🥃🔥 (@MissGFYCuffy) November 5, 2020
We are expecting a good chunk of results from Nevada sometime this morning. Biden leads by just 7,647 votes, and there are a ton of votes remaining to be counted. That's too close to call, though Biden remains a favorite because the outstanding ballots likely favor him. Unibet sees Biden as a -700 favorite in the state.
North Carolina: No new votes, so Trump maintains an edge of about 77,000 votes. This one could take a while, as mail-in ballots postmarked by Nov. 3 can be accepted through Nov. 12. But Trump is a clear favorite, with Bovada making him the -450 pick to carry the state.
Overall, Biden remains a significant favorite to win the election. Here are his odds at various betting sites:
Bovada: -650
Paddy Power: -700
Unibet: -700
William Hill: -700
PredictIt: $0.83 (-488)
Expect plenty of updates — and, if we're lucky, some clarity — today.
12:05 AM: With no call for the national election in sight, I'm going to call it a night. We've ended Wednesday with Joe Biden as a substantial favorite: Bovada lists him at -850 to win the election, while Donald Trump (+475) retains only a narrow path to a second term.
What can we look forward to overnight? Georgia could report all or virtually all of its remaining votes, giving us a good idea of if we have a decisive winner, or if a recount is looming. Arizona should also report at least some more votes from Maricopa County, but it's unlikely that we'll get calls from most major networks anytime soon. Reminder: both Fox News and the AP have called Arizona for Biden, much to the chagrin of the Trump campaign.
Tomorrow, Pennsylvania will take center stage, as Biden could surpass Trump as the state continues to tally its mail-in vote. If that happens, it's game over for Trump; if not, we could still be far away from declaring a winner in the 2020 presidential election.
Wednesday, November 4
10:52 PM: It is becoming increasingly unlikely that any more states will be called tonight. Arizona loomed as a possibility, but the first batch of votes out of Maricopa County tonight favored Donald Trump, which means he could continue to close the gap there.
Reports suggest that the Trump campaign is concerned about Georgia, but Trump still holds a slim lead there. The state is likely to remain close enough that it won't be called until the final vote totals are in, meaning we may have to wait until at least tomorrow — if not for a recount — before networks start making calls.
Officials continue to count votes in Pennsylvania, and Trump's advantage continues to shrink. The state expects to report large numbers of ballots from Allegheny County (Pittsburgh) and Philadelphia at some point tonight. But even if trends continue as expected, Biden is unlikely to overtake Trump before sometime tomorrow. Once that happens, networks might start to consider calling the state — and the election — for the Democrat.
While it may feel like the election is in a holding pattern, betting markets continue to respond to every new drop of votes or news report. Biden sits as a massive -1600 favorite at Paddy Power, though other bookmakers list him as low as -900. In any case, it's clear that the gambling world now sees Biden as an overwhelming favorite, and that Trump needs something to change in Pennsylvania — among other improvements — to win a second term.
10:22 PM: Biden now appears to be a clear favorite in Georgia, at least in the gambling world. Bovada has moved the former vice president to -170, while making Trump a +130 underdog in the state. Traders at PredictIt are showing an even more bullish attitude towards Biden, pricing him at $0.72 (the equivalent of -257).
Trump currently leads in Georgia by about 33,000 votes, but almost all of the outstanding ballots appear to be in Democratic-leaning counties.
9:39 PM: Some quick math to show why Biden has become a strong favorite in Pennsylvania, despite still trailing by nearly 200,000 votes.
Biden has won the last 600k ballots counted in Pennsylvania by 40 points, which is much bigger than the 22-point margin he needs the rest of the way out. https://t.co/U39Fdyumub

— Nate Silver (@NateSilver538) November 5, 2020
9:09 PM: The first batch of "late early" votes from Maricopa County just came in, going about 59 percent for Trump. That's potentially closing in on what he needs to make up the difference and potentially win Arizona. Biden still holds a lead of about 79,000 votes in the state, but things could get very interesting. The news pushed prices of Biden shares in Arizona down to $0.72 at PredictIt.
8:38 PM: A clarification on that last update: it seems like those votes from Pima were indeed in-person votes, making it far less of a positive sign for Trump. Still, Maricopa will tell the tale in Arizona tonight.
Those ballots that dropped from Pima are election day voters. This is good news for Biden. Trump carried election day in the state's bluest county 67.7 to 30.5. Early vote was 53.7 Biden to 44.9 Trump (and much larger). Biden has the county by nearly 100k votes. https://t.co/40E3fnePKx

— The AZ – abc15 – Data Guru (@Garrett_Archer) November 5, 2020
8:27 PM: Trump voters looking for rays of hope can look at the first new ballots to come in from Pima County in Arizona, where he won by a slight margin in an area that has leaned in Biden's favor overall.
Our first clue on the late vote in AZ. This is a Biden+18 county so far, so this is consistent with the expectation that things will tighten a lot with the late vote. We'll get a better sense from Maricopa later. https://t.co/GOlxaPDfhA

— Nate Cohn (@Nate_Cohn) November 5, 2020
Making up 199 votes won't do the job given the 88,000-vote lead Biden still holds. But as Cohn says, the much greater volume from Maricopa County — expected later tonight — could give us a definitive idea of whether some networks might have to retract their calls for Biden.
Paddy Power lists Trump as a +350 underdog in Arizona, with Biden at -600.
7:36 PM: The margin in Georgia has fallen to under 50,000 votes, and bettors are increasingly believing in Joe Biden's chances in the Peach State, a sign of Donald Trump's fading electoral hopes.
European bookmakers now have Biden as the slight consensus favorite in Georgia, with William Hill listing him at -125. At PredictIt, Biden shares to win Georgia are trading at $0.66. Bovada is sticking with Trump for the moment, however, making the president a -135 pick over Biden (+105).
WASHINGTON (AP) — Trump campaign files lawsuit in 3rd state, Georgia, seeking to pause vote count in key battlegrounds.

— Nick Riccardi (@NickRiccardi) November 5, 2020
Perhaps predictably, the Trump campaign has now also filed a lawsuit in an attempt to stop the vote count in Georgia. Similar lawsuits have already been filed in Michigan and Pennsylvania.
6:40 PM: It's hard to parse the Pennsylvania numbers at a glance. But analysts are suggesting that not only is Joe Biden trending toward a decisive win there, but that the final margin may not even be all that close.
I don't make predictions, but if the absentee votes continue to break for Biden by the margins they have so far–and as we have every reason to expect–then Biden would win by around 2 points https://t.co/dXuDEYU4Ck

— Nate Cohn (@Nate_Cohn) November 4, 2020
Bovada has pushed Biden to -600 in Pennsylvania, and an overwhelming -1000 to win the presidency overall.
6:15 PM: We've hit a bit of a lull in reporting, but more information should be released tonight. Officials expect to release updated numbers in both Arizona and Georgia tonight, which could further clarify the national race.
What won't we get tonight? Don't expect a result in either North Carolina or Pennsylvania. In North Carolina, officials will accept ballots that were postmarked by Election Day, provided they arrive by Nov. 12. Meanwhile, Pennsylvania will still be counting ballots for at least two more days — and that's before any battle begins over late arriving ballots.
Similarly, Nevada officials may release some more results on Wednesday night, but the expectation is that we won't receive any significant information until Thursday morning.
5:20 PM: Here's where things stand on PredictIt as we head into Wednesday evening. For those unfamiliar, the prices represent shares that will sell for one dollar if that candidate wins the state in question (or the overall election).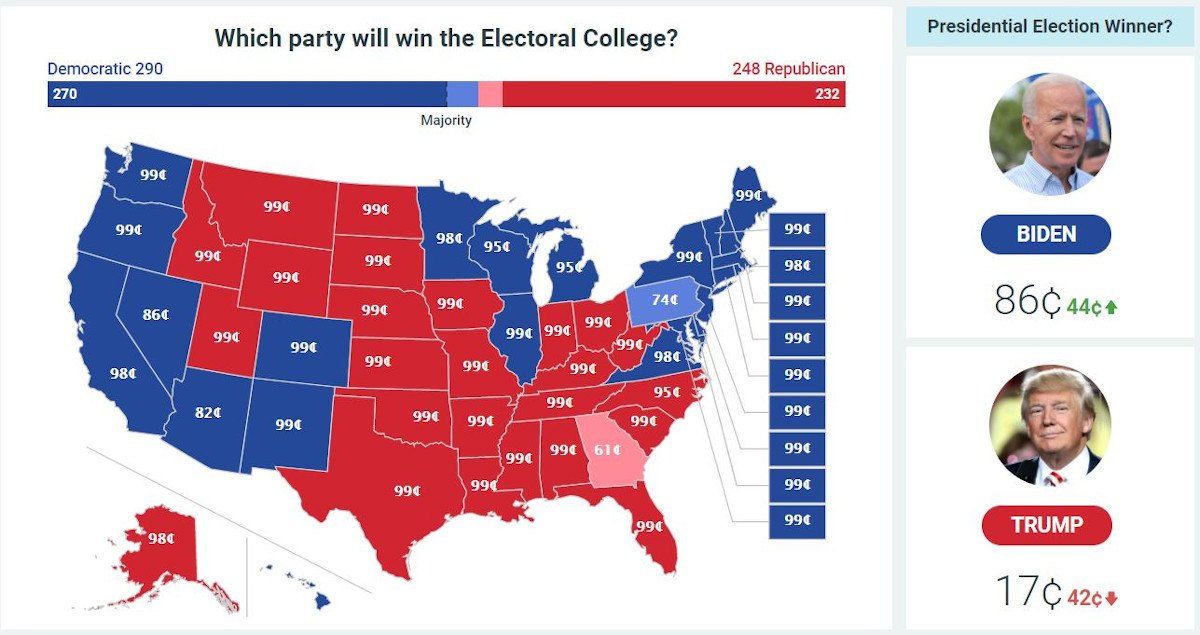 The favorites in states that have yet to be called by most news outlets include:
Arizona: Biden ($0.82)
Nevada: Biden ($0.86)
Pennsylvania: Biden ($0.74)
North Carolina: Trump ($0.95)
Georgia: Trump ($0.61)
Biden shares are selling for $0.86 to win the presidency, with Trump at $0.17.
5:00 PM: Donald Trump holds a 67,000 vote lead — good for 1.4 percent — in Georgia, with most of the outstanding vote located in counties around Atlanta. The outstanding votes figure to heavily favor Joe Biden, but it's still unclear whether the margin will be big enough to make up that gap.
The New York Times estimates that Biden has a slight edge, with the trend moving towards a 0.4 percent win for the Democrat. However, there's still a significant margin for error, and they give Biden only a 64 percent chance of carrying the state. Bovada has Trump as a slight -125 favorite in the state, while Paddy Power sees the race in Georgia as a pure tossup (-120 on both sides). If Biden wins Georgia, he needs only to pick up any other outstanding state — likely Nevada, Arizona, or Pennsylvania — to win the presidency.
4:29 PM: In just the past few minutes, both CNN and NBC have called Michigan for Joe Biden. A win in Pennsylvania would now clinch the presidency for Biden according to most projections; other paths, like winning Arizona and Nevada, are also available to the Democratic ticket.
BREAKING: Joe Biden wins Michigan, NBC News projects. https://t.co/5qPrYX3hbZ pic.twitter.com/21LGpTkB7a

— NBC News (@NBCNews) November 4, 2020
Bovada has made Biden a -650 favorite nationally over Trump (+400) on the news.
4:16 PM: Joe Biden gave remarks in Wilmington, Delaware minutes ago. While he did not declare victory, he said that he believes he and Kamala Harris will win based on the results in the outstanding states.
#BREAKING: Joe Biden says he believes he's triumphed in the 2020 election: "We believe we will be the winners." pic.twitter.com/Xo21pA5fLs

— The Hill (@thehill) November 4, 2020
Bookmakers continue to shorten their odds on Biden winning the presidency. William Hill lists Biden at -500, Bovada has him at -525, and Bet365 posts the Democratic ticket at -550.
4:00 PM: As Joe Biden stretches his lead to over 1 percent and over 60,000 votes in Michigan, few oddsmakers are still accepting bets on the outcome of the state. In Europe, Paddy Power now lists Biden as a -1600 favorite in Michigan, while they are offering +750 on Trump.
#BREAKING: Large, animated crush of "stop the count" protestors trying to push their way into TCF hall in #Detroit where ballots are being counted.

They're being blocked by guards at the door.

Pizza boxes are pushed against the window to obstruct view. It's tense. @NBCNews pic.twitter.com/zFhzd88skX

— Steve Patterson (@PattersonNBC) November 4, 2020
Trump's odds nationally continue to lengthen at Bovada, where he is now a +285 underdog to Biden (-420).
2:50 PM: This point has been apparent since early Wednesday morning. But considering Trump's calls for the election count to wrap up as quickly as possible, there's some irony in noting that he would lose if counting stopped right now, as many people have pointed out.
Worth mentioning that if you stopped counting ballots *right now*, Biden would win with this map. So Trump is reliant on ballots counted after Election Day for his comeback chances. pic.twitter.com/rGQQT3X2Ub

— Nate Silver (@NateSilver538) November 4, 2020
2:27 PM: With the state having seemingly counted all of its votes, NBC News has called Wisconsin for Joe Biden. Given the close nature of the race – Biden is up by about 0.6 percent – NBC is characterizing Biden as the "apparent winner." The Trump campaign has already vowed to request a recount in Wisconsin.
Biden has now moved to a -310 favorite to win the election at Bovada.
2:25 PM: As of now, Joe Biden stands as a -290 favorite to win the presidential election at Bovada, with Donald Trump fetching +210 odds. At prediction market PredictIt, Biden shares are trading at 79 cents, with Trump shares going for $0.25. Here's a look at the current individual state markets across the electoral map:
Arizona stands out on this map, with traders only paying $0.76 cents on the dollar for Biden shares. Similarly, Bovada lists Biden as just a -280 favorite. Those are solid numbers, but surprisingly low considering both Fox News and the AP have already called the state for Biden. Most of the outstanding votes in Arizona appear to be in Maricopa County, and there are more than enough ballots to make some news networks gun shy about making a call just yet.