Russell Westbrook's triple-double streak ended at 11 games when he fouled out in a thrilling 148-147 double-overtime victory for the Oklahoma City Thunder over the Utah Jazz.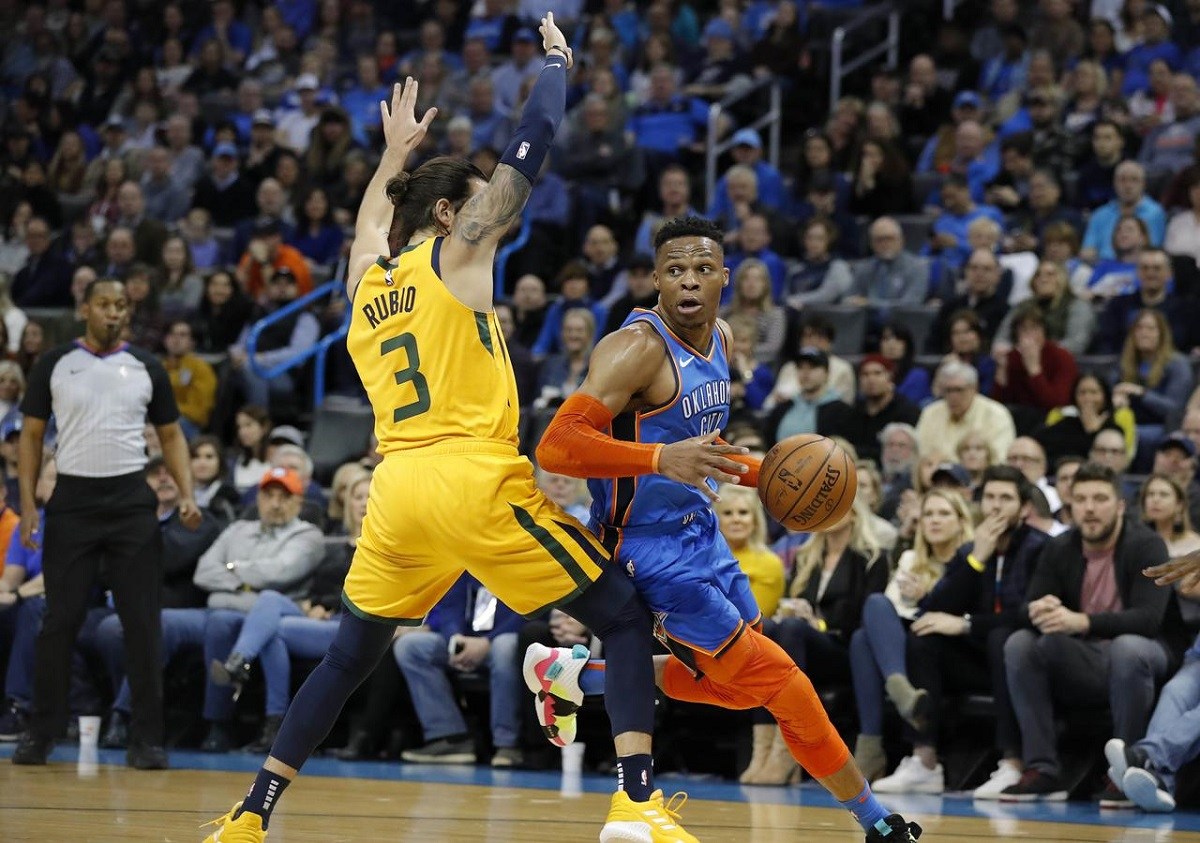 Westbrook and Paul George combined for 88 points in the win. Donovan Mitchell led the Jazz with 38 points, while Rudy Gobert added 26 points and 16 rebounds in a losing effort.
Westbrook finished two assists shy of ten to complete his 12th triple-double of the season. He dropped 43 points, but finished with 15 rebounds and 8 assists.
MVP-candidate Paul George led all scorers with 45 points and clinched the win with a huge bucket at the end of double OT. George has been on his own hot streak as well, averaging 38.6 points per game while shooting almost 50% from the field over the last ten games.
The high-flying Thunder scored at least 115 points in 19 consecutive games.
RWB Streak
Westbrook ended up setting the NBA record with 11 consecutive games with a triple double. Along the way he also broke one of Wilt Chamberlin's records. When you pick off a Wilt record, you know you're doing something right.  Westbrook's streak began on January 22 with 29 points, 14 assists and 10 rebounds against the Portland Trail Blazers. Prior to the Jazz overtime game, the New York Knicks were the last team to limit Westbrook to just a double-double.
Over his last ten games, Westbrook is averaging 23.2 points, 13.4 rebounds and 12.7 assists per game.
Westbrook now has consecutive 40-point games. In the last game before the All-Star Break, Westbrook scored 44 against the New Orleans Pelicans.
For a second season in a row, Westbrook is averaging a triple-double. After the most-recent run, he improved his season numbers to 22.1 points, 11.1 assists, and 11.3 rebounds per game. His PER is 20.93.
On Deck: Kings
The Thunder (38-20) are 18 games over .500. They have a playoff spot locked up, but it comes down to where they will end up in the final standings.
The Thunder are only four points behind the first-place Golden State Warriors. They trailed the Denver Nuggets by two games. The Nugs currently hold the #2 seed in the Western Conference.
The Sacramento Kings (30-28) come to town next. The young Kings are one of the teams on the playoff bubble. LeBron James recently activated playoff hunt mode, so the Lakers will be bringing it the last 20 games or so. It's going to be a fun fight down the stretch to see which teams can grab the final playoff spots.
According to the South Point Casino and Sports Book in Las Vegas, the OKC Thunder are 15/1 odds to win the NBA championship.