The game designers at EA Sports upgraded their player ratings for Madden Football 21, and Kansas City Chiefs tight end Travis Kelce earned much-deserved bump to a 99 rating, thereby becoming the newest member of the exclusive 99 Club.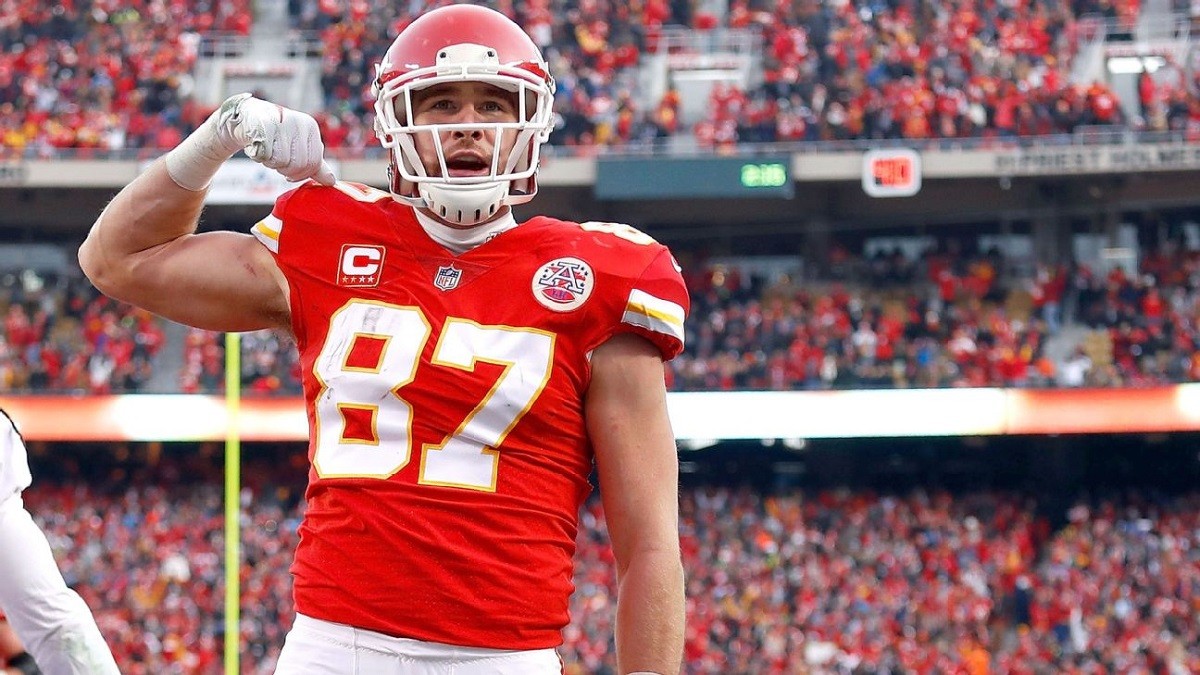 Four players entered this season with a 99 rating for Madden 21, including Christian McCaffrey, Michael Thomas, Aaron Donald, and Stephon Gilmore.
EA Sports regularly updates player ratings for Madden Football throughout the season to reflect real-life achievements and downgrades due to injuries or poor performances.
---
Christian McCaffrey
Aaron Donald
Patrick Mahomes
Stephon Gilmore
Russell Wilson
DeAndre Hopkins
Travis Kelce
---
After the season began, Russell Wilson and DeAndre Hopkins both earned bumps to a 99 rating. Hopkins joined the 99 Club after the "Hail Murray," an insane, game-winning touchdown catch that put the Arizona Cardinals ahead of the Buffalo Bills.
The Best TE in The Game‼️

Welcome to the #99Club @tkelce 💪 #Madden21 pic.twitter.com/zAWM6RHc4q

— Madden NFL 21 (@EAMaddenNFL) December 10, 2020
Kelce Bump from 97 to 99
The Kansas City Chiefs drafted Kelce, a TE out of Cincinnati, with a third-round pick in the 2013 NFL Draft. He averaged 70 catches for 870 yards and five touchdowns in his first two seasons. During a breakout 2016, Kelce surpassed the 1,000-yard receiving mark for the first time.
Kelce started the season with a 97 rating and he was super excited about it.
"I let my play do the talking, and I'm very comfortable with being a 97," Kelce said in an interview with the Bleacher Report. "That's an awesome rating, I know as a kid that if I saw anybody above a 95, I'm getting pumped up that I've got him on my team. Being that caliber and being recognized as a guy in the upper 90s, that's cool as hell."
EA Sports bumped Kelce to a 99 rating because of his record-setting season. He became the first player in NFL history to record 1,000 receiving yards in five-straight seasons. He's on pace to break his own career highs, which he posted in 2018 with 103 receptions, 1,336 yards, and 10 touchdowns.
Through 12 games, Kelce caught 82 passes for 1,114 and eight touchdowns for the 11-1 Chiefs.
Madden TE History: Gronk and Gates
If you're a video game geek, or have a passion for the tight end position, then you're aware of this remarkable achievement. Unless your name is Gronk, it's not easy to join the Madden 99 club as a tight end. Since the turn of the century, only seven tight ends earned at least a 99 rating on Madden Football.
Rob Gronkowsi, the monstrous and always reliable tight end with the New England Patriots, earned a 99 rating three times. Gronk is a three-time member of the Madden 99 Club. He's tied for the most nods with Antonio Gates, the Hall of Fame tight end from the San Diego Chargers. EA Sports boosted Gates to a 99 rating three times in 2007, 2009, and 2012.
---
MADDEN FOOTBALL TE 99 RATING
Mark Chmura (1999)**
Shannon Sharpe (1999)**
Ben Coates (1999)
Tony Gonzalez (2002)
Antonio Gates (2007, 2009, 2012)
Rob Gronkowski (2016, 2017, 2019)
Travis Kelce (2021)
** Rare 100 rating
---
Madden 1999 had two top tiers with a 100 Club and a 99 Club. Mark Chmura from the Green Bay Packers and Shannon Sharpe from the Denver Broncos were awarded perfect scores and 100 ratings. Ben Coates from the New England Patriots received a 99 rating in Madden 1999.
Tony Gonzalez earned his invite to the Madden 99 club during the 2002 version of the insanely popular video game title.