In the latest batch of NBA trade rumors, the Brooklyn Nets are interested in securing supreme scorer, Bradley Beal from the Washington Wizards. But if Beal has his way, he'll stay in DC and finish his career with the Wiz.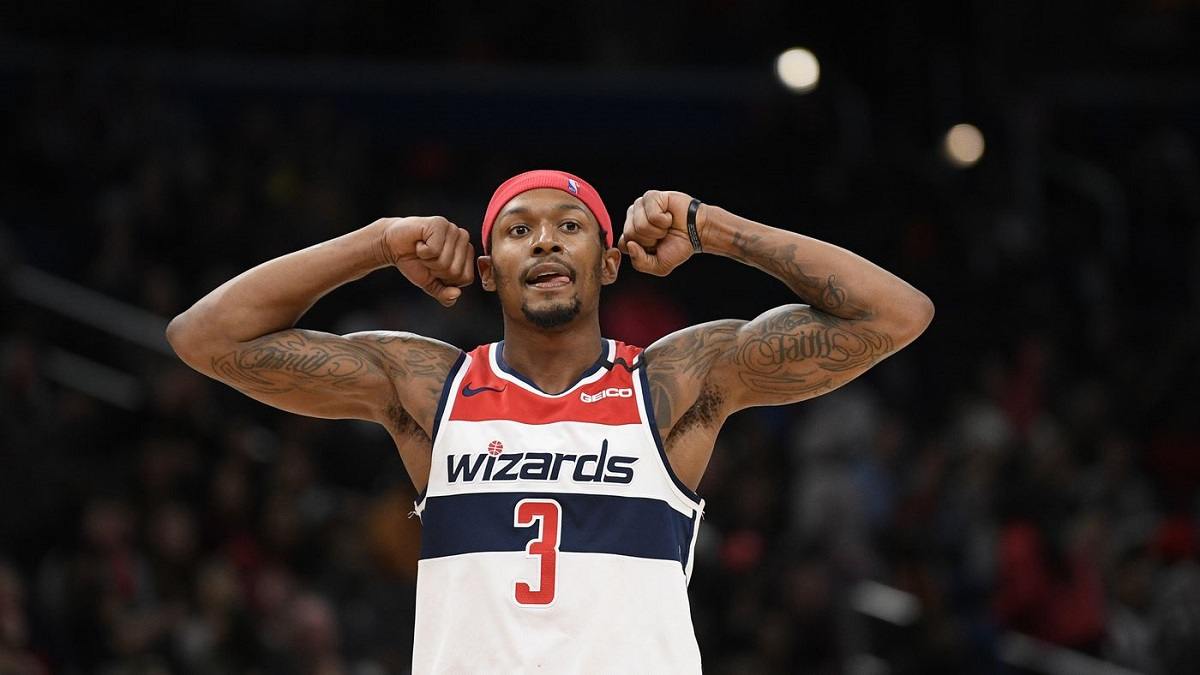 The two-time NBA All-Star averages 30.5 points per game and ranks second in the NBA in scoring average behind James Harden.
Beal, 26, got snubbed from the All-Star team this year, despite being the NBA's sixth-best scorer (28.7 ppg) at the time of commission.
"It's so political," Beal ranted to the local press. "NBA picks who they want and that's just how it's going to be. We have no TV games. It's frustrating. I don't know one guy to average 30 points a game and don't make an All-Star team."
The snub lit a fire inside Beal. Since the All-Star Break, Beal went on a scoring tear. He scored 30-plus points in 10 out of his previous 13 games, including back-to-back 50-plus point games. In his last game before the NBA shutdown, Beal dropped 39 points against the NY Knicks.
When the season stopped in March, Beal increased his scoring output to 30.5 points per game, good for second-best in the NBA. He also averaged 6.1 assists and 4.2 rebounds. His advanced stats ratings were also juicy with a 23.19 PER.
Beal averaged at least 22 points per game in his last four seasons with the Wiz. He posted a career-season last year with 25.6 points, 5.5 assists, and 5.1 rebounds per game.
The Wizards selected Beal, who played his collegiate ball at Florida, with the third overall pick in the 2012 NBA Draft.
Big 3: Durant, Irving, and Beal?
In a quest to construct a Big 3 or power trio in Brooklyn, the Nets are looking to add a third star to the Durant and Irving duo. Plus, Beal has demonstrated his durability and toughness, which the Nets need to combat the injury-stricken Durant and Irving. Beal didn't miss a game in the last two seasons. Over his last four seasons, he's missed just 12 games.
A scorer and shooter like Beal could be just the kind of player that the Nets could use to bolster their roster in a trade.
Last offseason, Beal signed a two-year extension worth $72 million. The Nets would have to give up several role players to match Beal's $30 million cap hit. That means players like Caris LeVert ($16.2 million) and Spencer Dinwiddie ($11.5 million) could end up in Washington.
Combining Beal with Irving would create one of the most dangerous backcourts in the Eastern Conference, let alone the NBA. It would be up there with the Splash Brothers, and Damian Lillard and CJ McCollum in Portland.
Beal survived the dysfunctional end of Ernie Grunfeld's reign as Wizards' general manager. He also survived the tumultuous relationship between John Wall and the rest of the coaching staff. Despite all the turmoil, he's loyal to the Wizards and wants to remain in DC.
"I hate change," said Beal. "If it happens, it happens. But if I can control it, I will finish in DC."
Bradley Beal, at heart, doesn't want a trade. He insists his desire is to retire as a member of the Wizards. But the NBA is a business and in the modern NBA, it's nearly impossible for one player to stay with the same team through their entire career.