The NY Mets beat the NY Yankees out in a race to acquire pitcher Marcus Stroman from the Toronto Blue Jays because the Jays wanted the Yankees top pitching prospect, Deivi Garcia, in any deal for Stroman. The Yanks did not want to give up Garcia, who is being compared to Pedro Martinez as he quickly advanced through the Yankees minor league organization.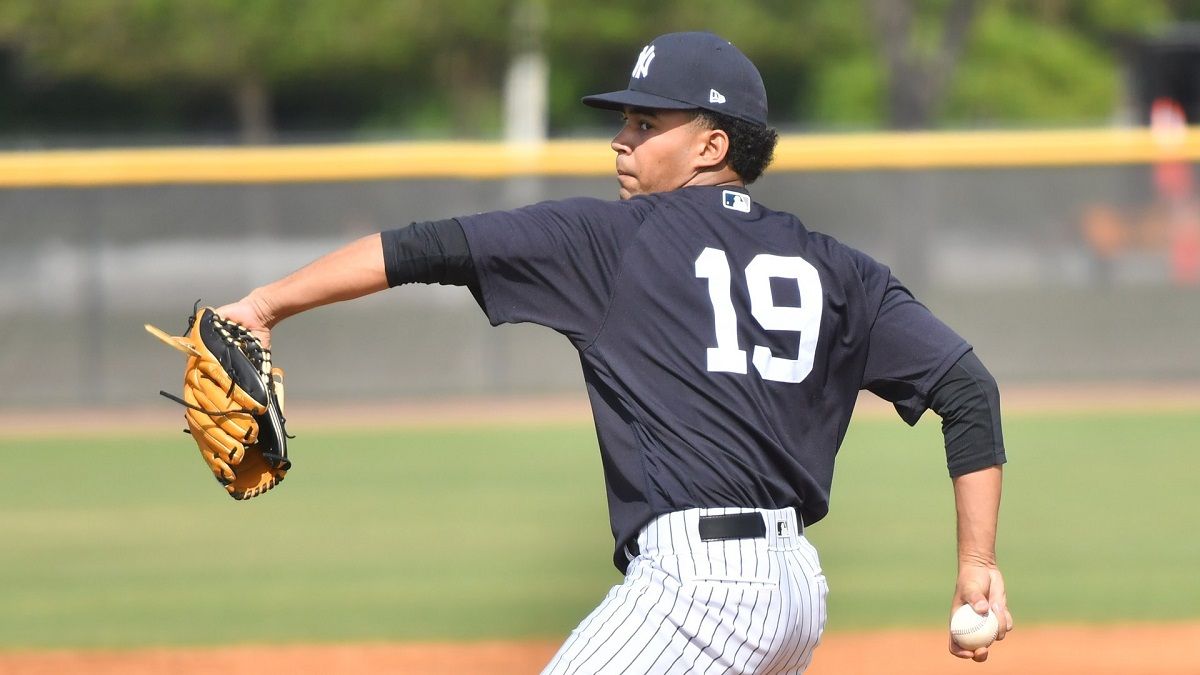 Yankees general manager Brian Cashman said Garcia is off limits in any trade talks. The Blue Jays also inquired about Gleyber Torres. It seemed like a laughable request that the Yankees would give up a two-time All-Star second baseman who is only 22-years old.
Garcia, 20, grew up in the Dominican Republic and he has been compared by numerous scouts to Pedro Martinez.
"When I was a kid, like 13, 14 years old, a lot of people back home called me, 'Little Pedro'," said Garcia. "It's because I'm not that tall like every other pitcher. I also used to throw a lot of curveballs too, like Pedro did."
"His size, the way the balls come out, the only name that comes to mind is Pedro Martinez," said Trenton Thunder manager Pat Osborn.
During his AA Trenton debut in the Eastern League, Garcia whiffed 15 batters. He only faced 18. Garcia picked up the win and held the Thunder lock up a playoff spot as first-half division winners.
AA > AAA
Last season, Garcia advanced through four levels. He made two major jumps this season.
Garcia went 4-3 in 10 starts in AA Trenton. In 51 innings, he had a 3.00 ERA and 1.20 WHIP. Opponents hit only .193 against him.
The Yankees recently promoted Garcia to AAA. In three starts, he's 1-1 with a 5.41 ERA and 1.50 WHIP. The jump from double A to triple A is one of the most difficult for a young player. Many prospects find making that adjustment harder than jumping from AAA to the pros.
"He's got the stuff. I can tell," said Yankees catcher Brian Higashioka. "I'm sure it's just an adjustment. He's got great stuff. He's got a ton of confidence, which is a really good thing for him."
There are rumblings down on the Yankees farm that Garcia will be among the September call ups. They will get to see what he's really got facing pro hitters. Perhaps if the Yankees cannot pull off a trade for another starter, they'll promote Garcia full time instead? For now, the Yankees golden arm is off limits in any trade discussion.
Garcia Scouting Report
So far, Garcia is living up to the hype. Scouts had nothing but good things to say about him.
"Overall the delivery is consistent and low energy, yet nearly reaching max efficiency," said scout Paul Martin.
ESPN's Keith Law gushed about Garcia.
"What comes out of his arm is pretty special," said Law. "The Yankees are a very sort of trackman-focused team when it comes to all players. But they love their high-spin guys throughout their system. He's a guy who has that and has command and has control."
"This kid can pitch," said Yankees minor league pitching coach Danny Borrell. "He's got three quality pitches."