The Toronto Raptors, led by Kyle Lowry's 26 points, defeated the two-time defending champion Golden State Warriors 114-110 in Game 6 of the NBA Finals to win the series 4-2 and secure the 2019 NBA Championship.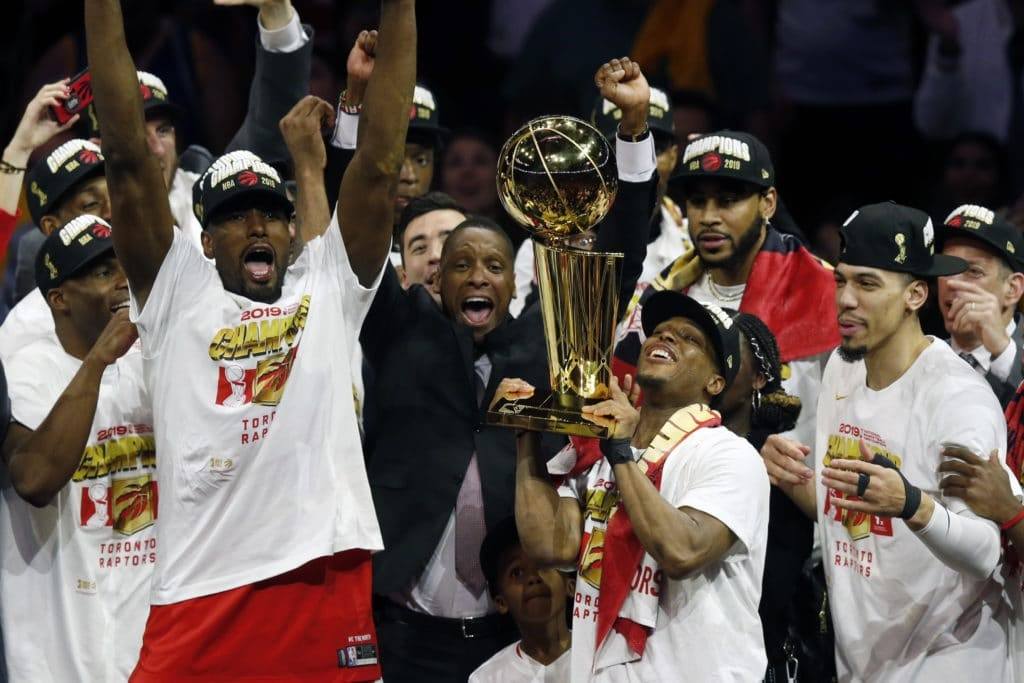 The Raptors came out firing in a high-scoring first quarter and connected on seven three-pointers. Lowry scored the first 11 points of the game for the Raptors and he dropped 21 points by halftime.
Pascal Siakam added 26 points, while Fred VanVleet scored 22 off the bench. Kawhi Leonard added 22 points.
This victory is the first NBA championship for Toronto. It is also the first title for a non-American team and Canada's first NBA crown.
NBA CHAMPIONS (SINCE 2011)
2019 Toronto Raptors
2018 Golden State Warriors
2017 Golden State Warriors
2016 Cleveland Cavaliers
2015 Golden State Warriors
2014 San Antonio Spurs
2013 Miami Heat
2012 Miami Heat
2011 Dallas Mavericks
Rookie coach Nick Nurse wins the NBA title in his first season with the Raptors.
Kawhi Leonard won MVP honors. He averaged 28.5 points per game in the NBA finals.
"I wanted to make history here," said Kawhi Leonard. "That's what I did."
The Raptors won Game 6 and clinched the title on the road in Oakland. The Warriors played their final game at Oracle Arena before relocating to San Francisco next season.
"This five-year run's been awesome but I definitely don't think it's over," said Steph Curry.
No Klay in 4Q
The Warriors were attempting a three-peat and their fourth title over the last five seasons.The Warriors failed to  defend their crown because of injuries to key players including Kevin Durant and Klay Thompson. Durant tore his Achilles in Game 5 and got sidelined for the rest of the NBA Finals.
Klay Thompson injured his knee late in the third quarter and did not return to the game in the fourth quarter. Thompson led all scorers with 30 points when he went down. Thompson suffered a torn ACL at the time.
Steph Curry had another tough night. The Raptors did not give him an easy shot all night. Curry finished with 21 points including 3-for-11 from three-point range.
The Warriors had to fend off the Raptors with Kevin Durant and Klay Thompson in the fourth quarter. Andre Iguodala stepped up with 22 points and Boogie Cousins hit a couple buckets in crunch time. The Warriors defense kept Kawhi Leonard in check, but Fred VanVleet killed them with a couple huge treys.
Boogie Cousins put up 12 points in a valiant effort, but the Warriors bench were outscored 37-18.
CANADA, THE @NBA TITLE IS YOURS! #WeTheNorth pic.twitter.com/QaCvuX5bsK

— Toronto Raptors (@Raptors) June 14, 2019