Just because New England quarterback Tom Brady wasn't in the Super Bowl for the first time in three years didn't mean he couldn't make an impact on Sunday's big game. The 42-year-old, who is scheduled to be a free agent in March, might have added to the rumors about where he'll play next season. Brady was in a Super Bowl commercial for Hulu, and had some interesting lines in the 30-second advertisement.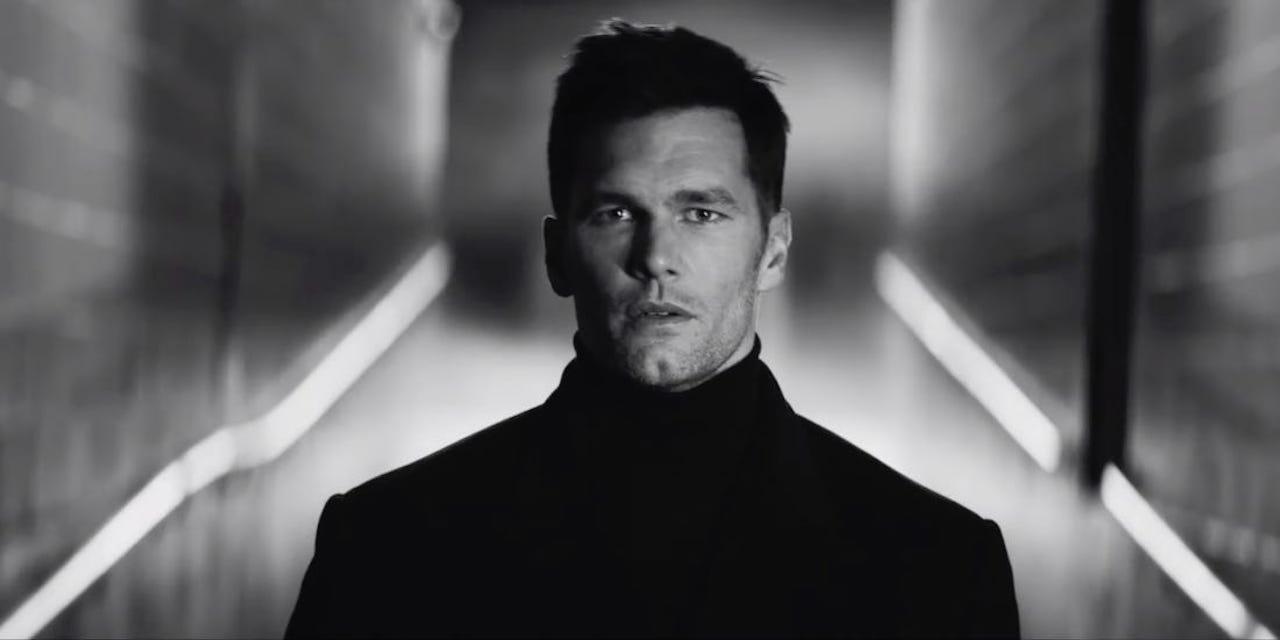 The spot opened with Brady in a stadium tunnel, and his dialogue begins with a cryptic message.
"They say all good things must come to an end, that the best just know when to walk away," Brady said. "So to my teammates, my family, and most of all, my fans, you deserve to hear this from me."
Then Brady's next line is, "Hulu doesn't just have live sports."
What is Brady Hinting At?
The end of the Brady Super Bowl commercial should give New England fans something to hold on to in hope that #12 returns to the Patriots.
"So it's time to say goodbye to TV as you know it. But me? I'm not going anywhere," Brady said.
Where Will Tom Brady Play Next Season

Team                                                          Odds

New England Patriots                                 -200

Las Vegas Raiders                                     +300

Los Angeles Chargers                                +400

Tampa Bay Buccaneers                              +700

Carolina Panthers                                       +900

Indianapolis Colts                                       +900

Cleveland Browns                                      +1200

Miami Dolphins                                          +1400

Chicago Bears                                           +1600

Tennessee Titans                                       +1600

Denver Broncos                                        +1800

Minnesota Vikings                                     +2500

Arizona Cardinals                                      +2800

Cincinnati Bengals                                     +2800

Jacksonville Jaguars                                  +2800

Odds Courtesy of BetOnline.ag
The Patriots still remain the favorite to keep Brady, according to Draft Kings. They have him at -335 to return to New England.
BetOnline, however, has seen the odds tighten a bit. Two weeks ago, Brady was a -300 to stay with the Patriots, and the Los Angeles Chargers were next at -200.
Now the online sportsbook has Brady staying with New England at -200. The new front runner, if Brady decides to test free agency, are the Las Vegas Raiders at +300. The Chargers are next at +400.
Brady Moving to Sin City?
A Boston radio sports talk show broadcast last week that Brady has bought a house in the Las Vegas suburb of Summerlin. Raiders fans on Twitter subsequently lost their minds, convinced this was the latest piece of evidence that the six-time Super Bowl champion was joining the team. Brady was seen at UFC 246 in Las Vegas two weeks ago chatting with Raiders owner Mark Davis.
Also, ESPN had a story on Sunday citing a source within the NFL that the Raiders would go after Brady if he doesn't resign with New England. Davis and head coach Jon Gruden see the advantages of signing Brady to replace current QB Derek Carr.
First is the upgrade Brady would bring to the position. Second is that the move would be a marketing coup for a team is preparing for its first season in Las Vegas.
Reporters asked Raiders running back Josh Jacobs on Friday about Brady possibly becoming his teammate.
"I think that Derek is an amazing quarterback, I think that he's actually one of the smartest guys I've ever met," Jacobs said on Friday. "I mean, whatever they decide to do, we'll be in good hands. You can't ever really compare another quarterback to Tom Brady. But, I think that whatever they decide to do we'll be in good hands."