Finishing second to stablemate Delta Work in the Cross Country Handicap Chase at the Cheltenham Festival didn't provide the storybook ending everyone wanted for the renowned chaser, Tiger Roll. Even so, the 12-year-old gelding left tears in the eyes of his connections as he rode off into retirement.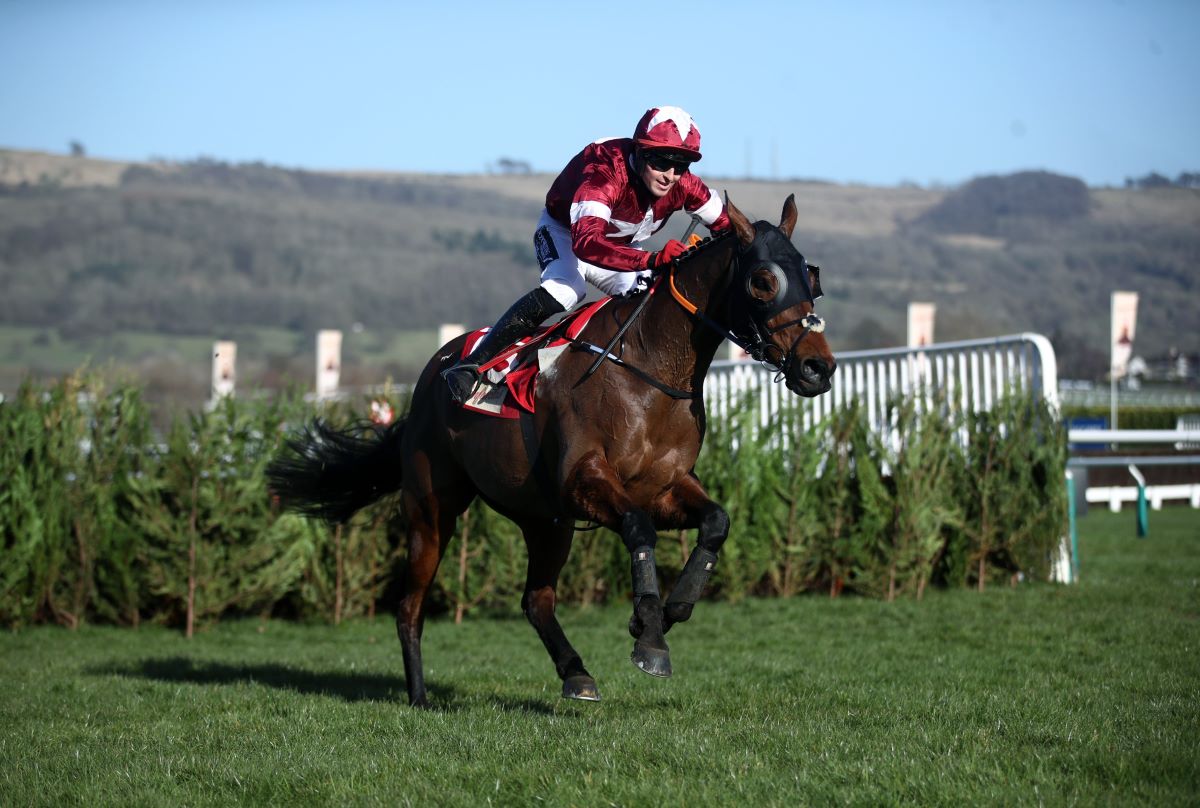 "He's been the horse of a lifetime and I'm very lucky to have had him — he goes back to (owner) Michael O'Leary now," trainer Gordon Elliott told reporters after Wednesday's race. "He's been with us for nine years now and to be honest, I had a tear in my eye there. It's unbelievable. If he'd have won it, it would have been special, but he ran his heart out and we're absolutely delighted."
Tiger Roll won five times at Cheltenham, including three Cross Country Chase titles (2019, 2019, 2021). He retires with career earnings just shy of £1.5 million. But it was his back-to-back Grand National titles (2018 and 2019) that made him a racing icon in the UK.
So much so that fans were booing Jack Kennedy aboard 5/2 favorite Delta Work as he caught and passed Tiger Roll (3/1) in deep stretch. Delta Work pulled off a three-quarter-of-a-length victory, giving O'Leary's Gigginstown House Stud his 32nd Cheltenham victory, Elliott his 34th, and Kennedy his 10th.
Rival jockey wears the black hat well
"Everybody hates me now, but I don't care, Kennedy said afterward. "I thought I was always going to get there really. A lot of people don't like me now after that, but it doesn't really bother me to be honest. After I schooled him the other day, I said to my brother that I might be the most hated man in Cheltenham on Wednesday evening, and I was right."
Good morning everyone except those who are backing against Tiger Roll.#CheltenhamFestival

— Road To Cheltenham (@RoadCheltenham) March 16, 2022
O'Leary himself was caught up in the moment, torn between two of his charges. But as tears welled up, even he knew what made a better story.
"I was booing myself and was saying 'Please, Jack, don't go past him. Let him win it, God help us,'" O'Leary said. "It is not often you want to give away a win at Cheltenham, but it really would have been fairytale if he could have won today. He has run a fantastic race and owes us nothing."
Tiger Roll overcame almost everything
With rains pelting the Festival all day, Tiger Roll looked like a massive underlay at 3/1 because he's a horse notorious for favoring good conditions and firm ground.
And, the Cross Country Chase isn't a race for old legs in any weather. It's a 3-mile, 6-furlong marathon chock full of obstacles ranging from ditches, fences, timber rails and jumps to the cheese wedges. There are 32 different obstacles awaiting jockey and horse, not counting the demanding tight turns over three different circuits.
The race demands stamina, course knowledge, and technical skill from both horse and rider. Delta Work was only the third favorite in the last 10 years to win the event.
'… Come home in one piece'
That 12-year-old Tiger Roll came less than a length from conquering that for a fourth time is remarkable in its own right.
"He could have slipped at the first or pulled up after two fences," O'Leary said. "All I wanted today was for Tiger to run well and come home in one piece. The risk was, as I told you before, that he might pull up on ground he didn't like, but he was brilliant. He is a warrior."
Happy retirement, Tiger Roll 🐅 pic.twitter.com/9bQFmOH2mb

— Racing Tales (@Racing_Tales) March 16, 2022