Two of the lowest-scoring teams in the NFL face each other on Thursday Night Football. The Denver Broncos (2-4) are trying to stop a four-game losing streak when they visit Arizona to take on rookie QB Josh Rosen and the last-place Cardinals (1-5).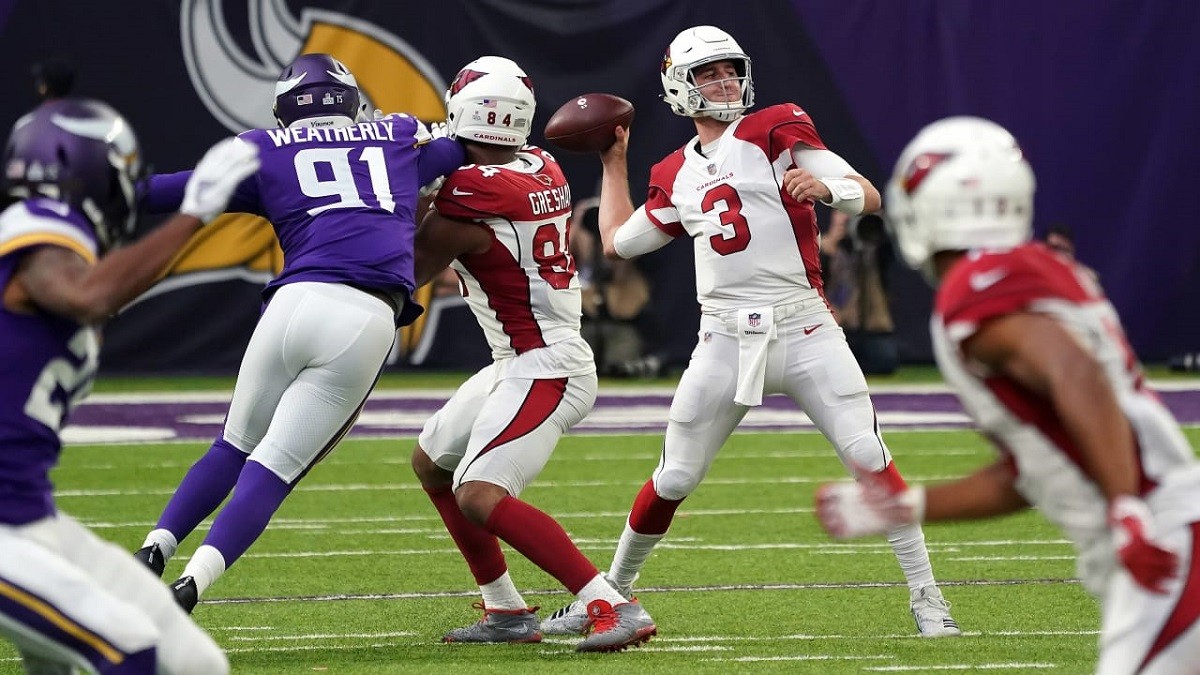 Downhill Slide
After starting the season 2-0, the Denver Broncos lost four straight games.The Super Bowl odds for the Broncos dropped from 40/1 to 200/1 at the South Point Casino in Las Vegas.
The Broncos can only win in Denver. They are winless on the road this year at 0-2. Overall, the Broncos are 1-4-1 against the spread.
QB Case Keenum has been erratic for Denver and tossed more interceptions (8) than touchdowns (7). That's why the Broncos rely on their running game.
Denver Broncos (2-4) at Arizona Cardinals (1-5)

Kickoff: 5:20pm PT
Location: State Farm Stadium, Glendale, Arizona
Point Spread: Denver -1
Over/Under: 41.5
Overall, the Broncos are ranked 10th in the NFL in rushing yards and average 5.3 yards per rush.
So far, a running back-by-committee strategy has been moderately effective with rookie Royce Freeman (3 TD) and Philip Lindsay (1 rushing, 1 receiving TD) splitting the load almost evenly. The Lindsay/Freeman tandem will be facing an easy Cardinals defense that is second-worst run D in the NFL allowing 151.3 yards per game.
Swiss Cheese D in Denver
Run defense is the Achilles heel for the Denver Broncos. It's the worst in the NFL with opponents averaging 161.3 yards per game. The Broncos gave up 500+ yards in the last two weeks combined and opposing running backs exploded for 200-yard games. Rams RB Todd Gurley killed them last week with 208 yards and two touchdowns. Two weeks ago in a loss against the Jets, Isiah Crowell setting a career-record with 219 yards and Bilal Powell added 99 yards. Three weeks ago, Kareem Hunt from Kansas City rushed for 121 and a touchdown.
The Cardinals lack overall offense, but their running game generates a paltry 64 yards per game. That's baffling considering the Cards have an outstanding RB with David Johnson (5 TD). The Cardinals have been unable to get Johnson involved more in the offense, but they have an opportunity to exploit the Broncos' porous run D.
Overall, the Broncos yield 403.8 yards of offense per game. The Cardinals struggle on offense with 220 yards per game.
No Arizona Homefield Advantage
The Cardinals are 0-3 at home in Arizona this season with their only victory coming on the road against San Francisco two weeks ago.
If the Cardinals do not turn things around immediately, there will be multiple job vacancies in Arizona.
Head coach Steve Wilks said, "All our jobs are in jeopardy, including mine, if we don't win."
Unchosen Rosen
Quarterback Josh Rosen was irked on Draft Day when several teams passed over him before getting nabbed by the Cards as the 10th overall pick. The UCLA superstar (59 TD, 26 INT in 30 games). Rosen let the other teams know that he would make it his mission to make them regret their underestimation of him.
But as a rookie with a chip on his shoulder, Rosen (2 TD, 2 INT) is struggling with a 55 percent completion rate. (Though he has shown flashes of brilliance.)
Despite the slow start, Rosen remains upbeat.
"The positive of this whole situation is the fact that we are a really good football team not playing very well as opposed to a not very good football team playing to its absolute potential," Rosen said. "Hopefully, we're at our floor and there's only up to go from here as opposed to having a low ceiling and being right at it."
High Time for Scoring?
Arizona scores only 13.7 points per game, while the Broncos average 20.0 ppg. The projected total for points scored opened at 39.5 and currently sits at 41.5 — unusually low for 2018.
This season, teams across the NFL have been cranking out points, but not these two. Both of the defenses that will be on display on Thursday are giving up about 400 yards per game. But neither side has an offense that has shown an ability to exploit such a deficiency.
If anything, the defensive edge probably goes to the Cardinals, who are allowing only 23.2 points per game. The Broncos are allowing 25.7.
According to defense-adjusted value over average (DVOA) — an advanced metric that looks at a team's down-and-distance for each play, then compares that calculation to a league average – the Cardinals are ranked #8 in defense efficiency, significantly better than the Broncos who come in at #22 in DVOA.