After taking two months to review its hearing report, the New York Racing Association suspended trainer Bob Baffert for 365 calendar days, effective immediately.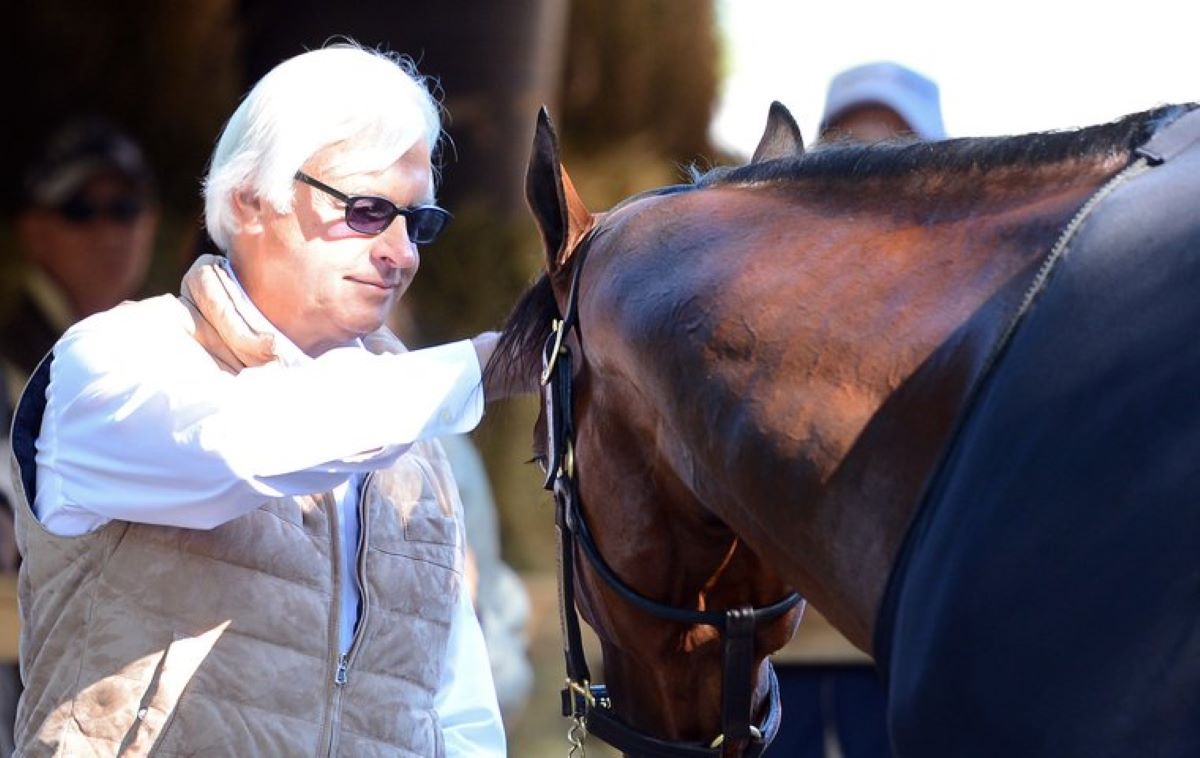 The three-person hearing panel that reviewed Judge O. Peter Sherwood's 50-page report from the April hearing credits Baffert with 59 days served. That came via NYRA's previous temporary suspension. There's also time served through the 90-day Kentucky Horse Racing Commission's suspension that the New York State Gaming Commission honored under reciprocity rules.
That means Baffert's NYRA suspension, which prohibits him from racing or training at any NYRA track, runs through January 25, 2023. This takes the Hall of Fame trainer out of this summer's lucrative Saratoga Meet. It does, however, open the gate for Baffert to return in time for next spring's Belmont Park meet.
That technically means he's eligible for the 2023 Belmont Stakes, along with such lucrative races as the Met Mile and Ogden Phipps, even if he remains ineligible for the 2023 Kentucky Derby.
NYRA claims 'integrity of the sport' defended
"This was an impartial and deliberative process that has resulted in a lengthy suspension of the sport's most prominent trainer," NYRA President and CEO Dave O'Rourke said in a statement. "However, this is not simply about Bob Baffert or any one individual, but about protecting the integrity of the sport here in New York. Today's decision advances that goal."
The panel's 14-page decision also comes with finality. According to Rule 16(f) in the NYRA hearing rules and procedures, the decision of the hearing panel is "final."
The panel's report did find fault with a few planks of Sherwood's report and didn't agree with Sherwood's finding that Baffert doped horses.
"While the Panel agrees with Justice Sherwood that NYRA has sustained its burden of proof, and, further, that Justice Sherwood's Hearing Report is supported by the facts, we hereby clarify that Baffert was not charged with 'doping' in any jurisdiction. Justice Sherwood's finding that Baffert was guilty of 'multiple instances of doping (emphasis added) horses he entered in races is incorrect."
Sherwood didn't get off without criticism
The panel also took issue with Sherwood's claim that "Baffert has engaged in a pattern and practice of unlawful conduct that has no parallel in the modern history of Thoroughbred racing." The panel's report said "there is scant support in the record for such a statement."
Baffert's NYRA hearing ran for five days at the end of January. It arose after the organization originally suspended Baffert for the repeated drug positives in his horses. That culminated with Medina Spirit's positive test for the banned-on-race-day, anti-inflammatory betamethasone. The late colt tested positive for betamethasone after crossing the finish line first in the 2021 Kentucky Derby.
Medina Spirit was posthumously stripped of his Derby title in February, 2 1/2 months after he died after a morning workout at Santa Anita Park.
Baffert enjoyed initial success here
Baffert appealed his initial NYRA suspension, claiming he was not allowed due process under the law. This was upheld last fall, leading to the January hearing.
In April, Sherwood issued his report. From there, it went to the three-member panel. That panel: Saratoga Springs, NY lawyer John J. Carusone, William Alempijevic, the executive director of the New York Thoroughbred Horsemen's Association, and Rev. Humberto Chavez of the New York Race Track Chaplaincy, reviewed Sherwood's report before issuing Thursday's ruling.